It's going to be a nice warm weekend and my girlfriends are coming over for some afternoon tea! We are all mothers so we needed much sacred time to just be girls and chat about motherhood.
I thought that it'll be a great idea to serve some homemade custard pudding to go with tea and coffee. After all, these puddings have been my go-to dessert at family gatherings and for gifting!
What is custard pudding?
Custard or pudding? Which one is it?
Custard pudding, also known as egg pudding, is a popular Asian dessert. In Japanese, it's called Purin (プリン). In Chinese, it's 布丁.
Custard pudding is similar to custard in which they are both made by blending egg and milk. Similar to custard, custard pudding is also served with soft caramel topping.
Unlike custard, custard pudding is lighter and airy in texture. It is usually less sweet and has a less lavish flavor than custard.
Due to its high nutritional value, custard pudding is a stable in kids-friendly recipes. This was also one of the "safe-foods" I ate frequently when I was having morning sickness from being pregnant.
Custard pudding is:
similar to custard
served over soft caramel topping
light and airy
less sweet than custard
served chilled
kid and baby-friendly due to its high nutritional value
Please note that this post may contain affiliate links. Please see my disclosure.
Here's how to make this easy custard pudding
Ingredients
Caramel sauce
60g sugar (4.80 tablespoons)
30ml water (2 tablespoon)
30ml hot water (2 tablespoons)
Custard pudding
3 eggs
90g sugar (0.5 cups)
400ml milk (1.7 cups)
NOTE: if you don't have a scale, I highly recommend you invest in one. Scales are inexpensive, make cooking neater and is far more accurate than measuring cups. Here is the one I use and highly recommend!
How to make the caramel sauce
Add the sugar and 30ml room temperature water to a small pan. Cook under low heat. DO NOT STIR! Just let the sugar melt to amber or light brown color, about 4 minutes.
Immediately remove from heat. Note: Do not overcook. The caramel will taste bitter if it is overcooked!
3. Slowly add the 30ml hot water (I just microwave the water in a cup?). Be careful when adding the hot water. The caramel will splatter!
4. Slowly pour the caramel into desired containers.
How to make the custard pudding
5. Warm the milk in the microwave or on stove top. Let chill a bit.
6. Beat the eggs, about 3 minutes, and then add the sugar. Continue beating for another minute.
7. Continue mixing and add the warm milk slowly into the egg mixture. Make sure that the milk is not burning hot or else it will solidify the egg mixture!
NOTE: To make things easier, I had my KithenAid Mixer on at level 4 at all times!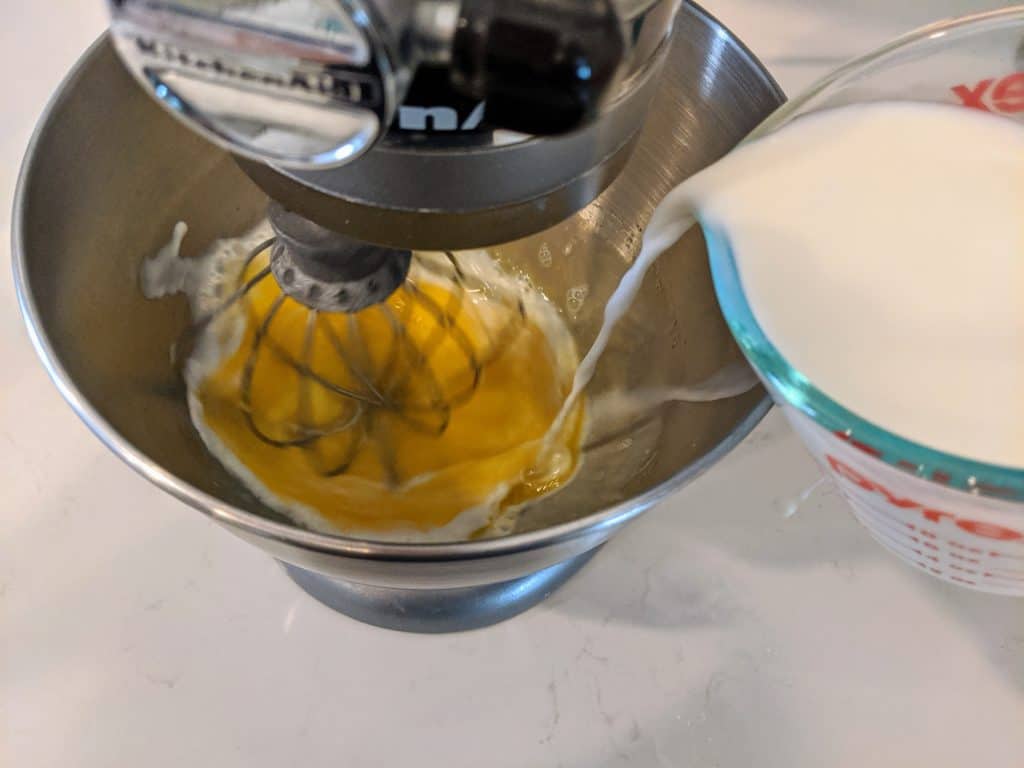 8. Sieve the egg mixture with a fine mesh strainer. To make extra smooth custard pudding, you can sieve the egg mixture twice!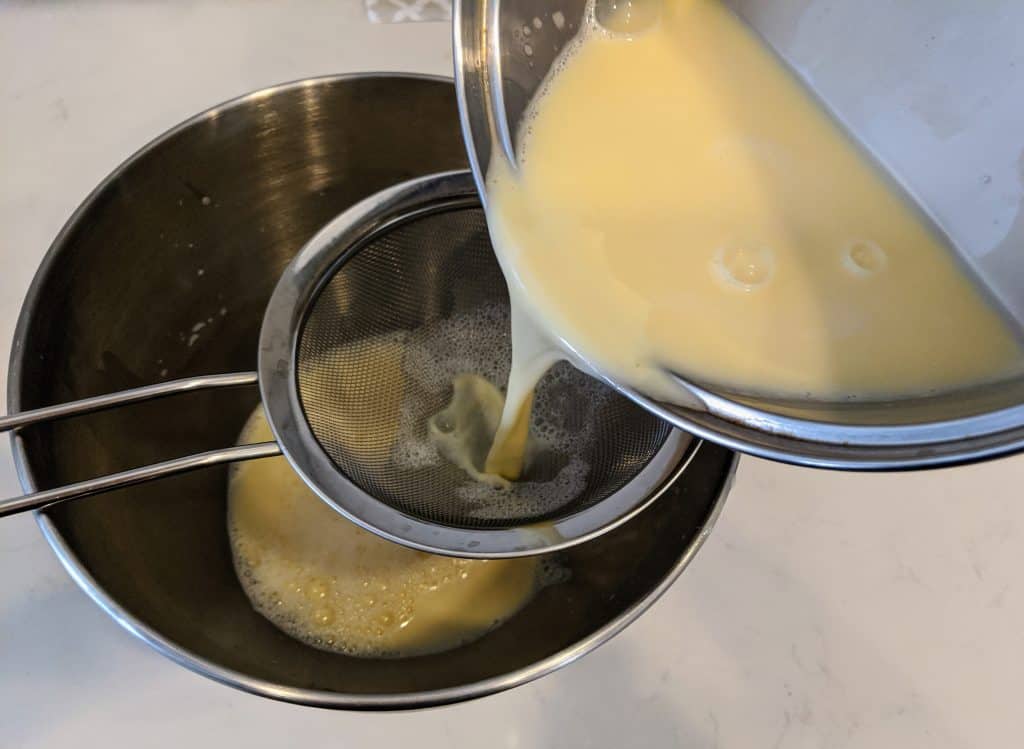 9. Slowly pour the egg mixture to the container and be careful to not disturb the caramel that's already on the bottom of the container.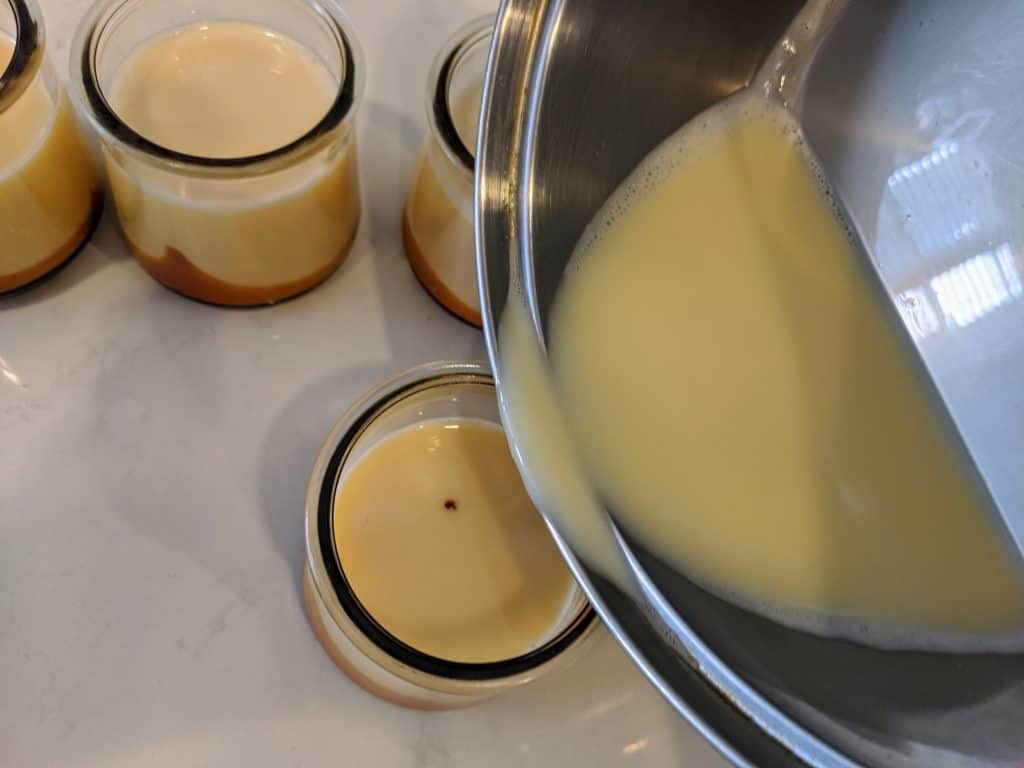 How to set the custard pudding
What's unique about custard pudding is that it is set with a technique call bain marie, or the fancy word for hot water bath. This setting method evenly distributes heat around the custard, ensuring that the eggs don't curdle. And this is what makes the custard pudding so smooth and airy.
Here, I set the custard pudding in my multi-functional rice cooker. Add a cup of room temperature water to the rice cooker. Insert the steaming rack and place the custard pudding on top of the rack.
Place a chopstick between the lid and the cooker to create a gap. This is to prevent air bubbles from forming in the custard pudding.
You can also create a water bath using a big deep pan such as a wok. As for the steaming rack, it can be replaced by placing a small bowl upside down in the middle of the pan /wok. Add a plate on top of the bowl to house the custard pudding. Don't forget to place a chopstick or spatula between the lid and the pan/wok to create a cap!
Steam for about 20 minutes. Gently tap the jars to see if the custard pudding has solidified.
Transfer the set custard pudding to the refrigerator and chill for 3-5 hours before serving.
How to serve custard pudding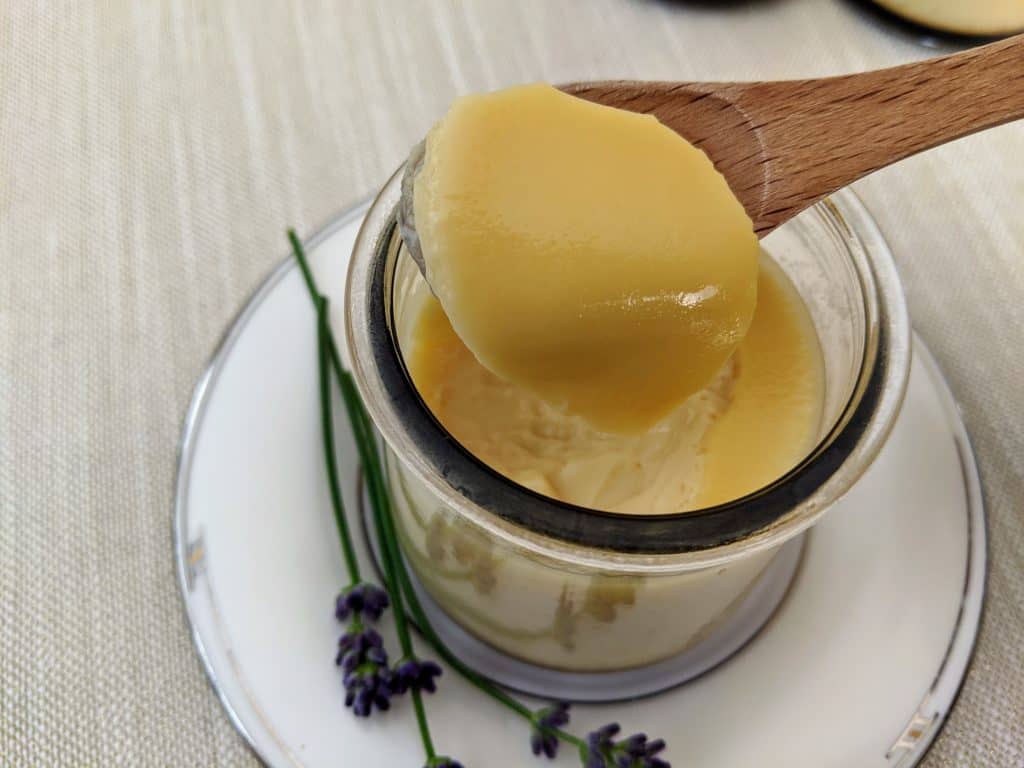 Custard pudding is always served chilled so there is no need to heat it up before serving.
The custard pudding is delicious by itself, but serving it with the caramel topping brings this dessert to a whole new level. Since I have my custard pudding in individualized jars, I always make sure my spoon dips to the bottom of the jar to get some of the caramel with the custard.
If your containers have lids, you can seal it to extend its life in the fridge. I usually make a batch of 10 and they are still tasty after 7 days in the fridge.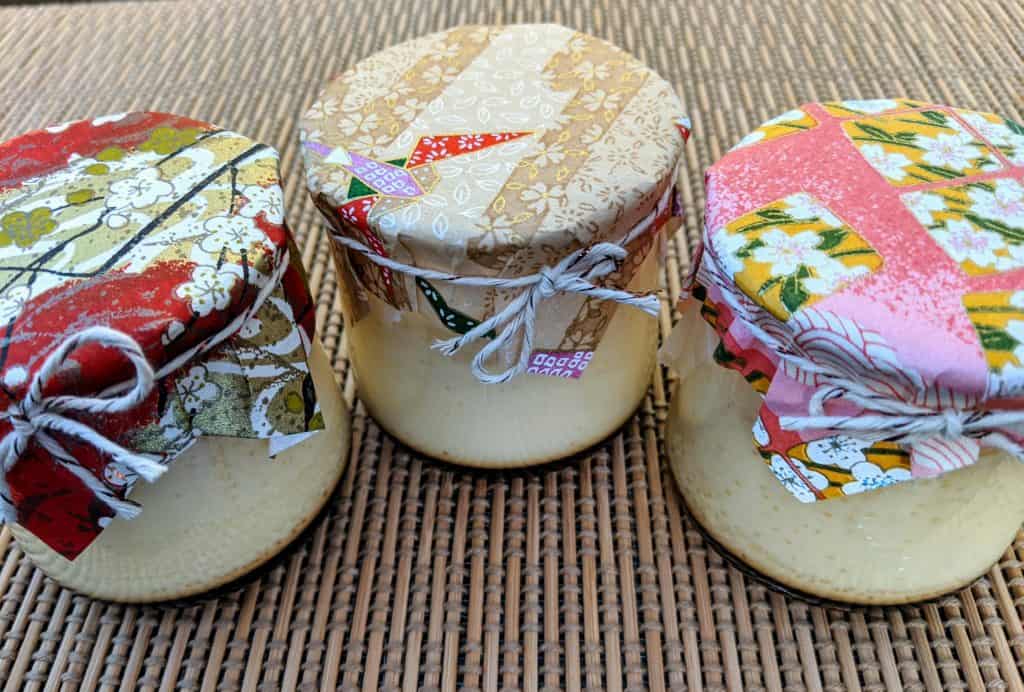 Frequently asked questions (FAQ)
Q: How to prevent hardening of the caramel sauce?
A: Adding the hot water in the last step of making the caramel is crucial. It will prevent the caramel to become too hard and sticky.
Q: Can I make this custard pudding in the oven if I don't have a suitable pan for setting the pudding?
A: Yes, you may place the custard pudding in a deep baking pan. Add room temperature water to the baking pan to create a water bath. The water should be no more than 1/2″ from the bottom of the custard pudding. Since there is no release of air, the custard pudding will have more holes and less airy than setting in a water bath.
Q: I can't get the caramel sauce to harden.
A: Did you add too much water when making the caramel? Make sure that the ratio of 60g sugar/15ml water is maintained. It seems that the water is very little when you add it to the sugar, but as the sugar melts it will create the caramel consistency you want.
Q: Can I substitute the whole milk with plant based milk (almond/coconut/rice/oat)?
A: Plant-based milk works fine, though one thing to keep in mind is that they have very low fat content, so they won't offer the same richness as whole or 2% in this recipe. Coconut milk has a similar fat content than milk, but since it has a strong flavor using it in this recipe will make the custard pudding taste like coconut.
Q: Where do you get the glass jars featured here?
A: These jars are actually recycled from my favorite yogurt – OUI French Yogurt! They even sell reusable lids to go along with the versatile glass jars.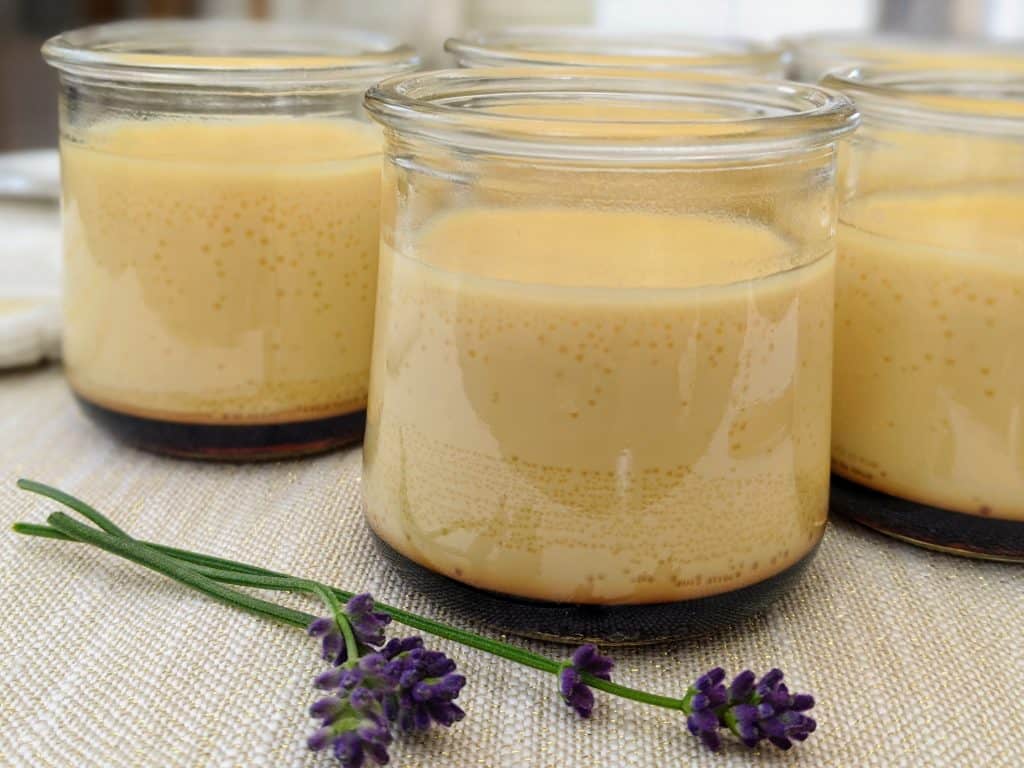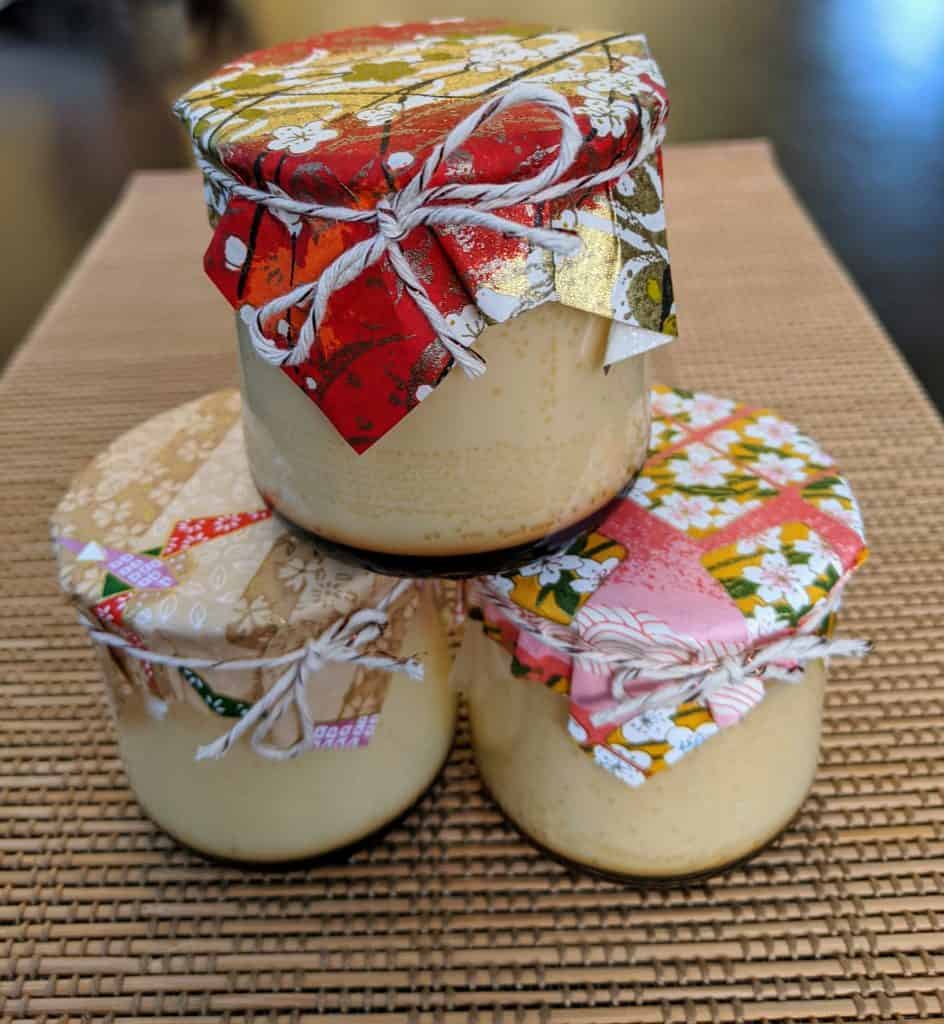 [penci_recipe]
Loving this custard pudding recipe? Be sure to click like and share!