30 Essentials You Need To Have In Your Pregnancy Survival Kit
Congrats on your pregnancy, mama!
While your body gets accustomed to the amazing changes in the months to come, a pregnancy survival kit will help you with the crazy symptoms and feel more healthy and beautiful.
Do you have someone in your life who's expecting? Use this guide to make the perfect mom-to-be gift basket.
Regardless if you are making a care package for yourself or for your pregnant loved one, add some or all of the following must-haves to your list. Use the following navigation to see what are the essentials for each category.
This post may contain affiliate links, which means I'll receive a commission if you purchase through my link, at no extra cost to you. Please read full disclosure here.
What goes into a pregnancy survival kit?
Essentials to ease morning sickness
I had pretty bad morning sickness, or I should say ALL DAY sickness, during both of my pregnancies. The following items were life changers and helped ease my pregnancy nausea.
Preggo Pops
I think I purchased 10 of these during both of my pregnancies. In my second pregnancy, my nausea didn't completely go away until the end of my second trimester.
These Preggo Pops not only taste delicious (basically taste like tart fruity candies) but they ease my morning sickness right away.
There are many varieties of Preggo Pops to choose from Preggo Pops Plus Vitamin B6, Organic Proggo Pops, and Lollipop Preggo Pops.
Organic ginger tea bags
One of ginger's active ingredients, 6-gingerol, is known to help relax gastrointestinal muscles and may alleviate queasiness. Taking ginger is considered safe during pregnancy and causes no harm to the baby.
To be honest, I never liked the taste of ginger but I find that drinking ginger tea with honey helped ease my nausea.
I love these Organic Ginger Tea Bags because of their high purity and the tea bags are made from hemp fibers – free of dyes, adhesives, and nasty stuff.
Sea-Bands
Sea-Bands uses the concept of acupressure to alleviate nausea. Pressing the P6, or Nei-Kuan pressure points on the wrist is proven to relieve nausea and vomiting.
When worn correctly, the Sea-Bands provides a non-invasive and safe way to reduce morning sickness.
Although the effect is not immediate, I have found that wearing both bands for over an hour had alleviated my queasiness.
The Sea-Band Mama! Is designed with the pregnant mama in mind. The bands are lavender in color and come in a lightweight carrying case. I wear them all day long at work and keep the case in my bag for easy storage.
Vitamin B6
I wish I had known about Vitamin B-6 during my first pregnancy. It wasn't until the second pregnancy that my doctor recommended I take daily 50mg of Vitamin B-6 to help with my morning sickness.
Not only did it help my morning sickness but I felt more energetic after taking these supplements for a week.
Nature's Way Vitamin B-6 is carefully tested and produced to superior quality standards. These supplements are gluten-free, free of yeast-derived ingredients, wheat, soy, corn, dairy, or artificial colors, flavors, or preservatives.
Also, I have found that these supplements are cheaper on Amazon than in other nutritional stores. If you can get these for less than $6, then it's a great deal!
Pregnancy body and back pain relief
Almost every woman will experience some sort of body ache during her pregnancy. For me, it was the debilitating back pain and neck/shoulder aches I had during my second and third trimesters. I personally found all of the following relieves very effective in curbing my body aches.
Maternity support belt
My back pain became so unbearable I asked my obstetrician for remedies. The first thing he suggested was to wear a maternity belt!
The belt, when worn correctly, supports the lower back by redistributing pressure more evenly and lessening the burden of your pregnancy weight.
And no, it causes no harm to the growing fetus.
I can wear this belt all day long without feeling it there. I mean, 7,800+ reviews and 4.5 stars on Amazon. That's a stellar product!
Memory foam seat cushion
Sitting on a well-cushioned surface will provide support and comfort by taking pressure off the tailbone. I have a desk job where I sit over 8 hours a day so investing in a good cushion is a must.
This extra-large memory foam seat cushion saved my life! I felt relieved only after using it for a few days. The numbness feeling around my tailbone disappeared and my pregnancy back pain improved significantly.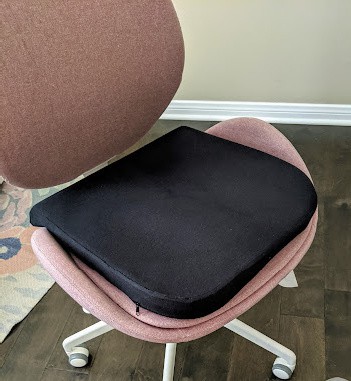 Cushioned house slippers
Wearing cushioned shoes is a recommended remedy from my doctor for lower body pains. Walking or standing on hard surfaces takes a toll on your feet, knees, and back due to its inflexibility. Your lower body muscles become tense and stressed, which is the culprit for lower body aches.
These fuzzy house slippers saved my life! The plushy slippers have built-in arch support and an orthopedic heel cup that alleviates pressure on your feet. It doesn't only look cute but also comes in 6 different colors.
Heat and cold therapy pad
Heat or cold therapy is a safe way to alleviate pain areas. When I was pregnant, I used this heat pack twice a day on my lower back. Within minutes, I can feel the tension in my back dissolve.
When warmed, this heat pad exudes a stress-relieving aroma, which is a huge plus.
Not only can this pad be heated in the microwave, but it can also be put in the refrigerator to be used cold.
I also love that it is made with herbs and grains that easily mold into the area needed.
Pregnancy body pillow
The pregnancy body pillow is a must for every pregnant woman. It's uniquely designed to follow the shape of the growing belly and provides total body support for a night of better sleep.
This U-shaped pillow completely changed my sleep quality. It cradles every inch of my body and is long enough for my ankles to rest on. Did I mention that it has 4 sizes to choose from?!
What's more, the velour cover is super soft to the touch and is machine-washable.
Related Article: 14 Natural Pregnancy Back Pain Reliefs That Really Work
Healthy snacks for a healthy pregnancy
These healthy dry snacks are a must if you a putting together a gift basket for your pregnant friend. If you are including these in your own pregnancy survival kit, don't forget to stock them up!
Wheat Crackers
These wheat crackers are one of the very few items I can consume during my morning sickness days. It is bland and salty like your typical saltine crackers. But unlike saltine crackers, it is more nutritious and provides more calories.
I was afraid that I wasn't gaining enough weight from all the nausea episodes so I often ate these with peanut butter (and it tasted amazing!)
Heart-healthy mixed nuts
A pregnant woman's heart needs to pump harder to supply more blood to her growing body.
These heart-healthy nuts contain omega-3-rich peanuts, almonds, pistachios, pecans & hazelnuts.
I keep a jar in my office and another one at home to munch on throughout the day!
Organic protein bar
During pregnancy, hunger can strike from out of nowhere. So, keep some protein bars within reach when that time comes.
I got hungry easily when I was pregnant with my second child. I could have a big lunch at noon and an hour later, my stomach would growl. I always have these organic protein bars laying around my house for instant satisfaction.
Best of all, who can resist these delicious chocolate brownies?
Essentials for a healthy pregnancy
Tumbler for water
Pregnant women need to drink at least ten 8-ounce glasses of water per day. To ensure that I get enough water, I fill my 64-ounce tumbler with water and drank 2 of these a day.
These cute stainless steel tumblers can retain cold for 48 hours and hot for 24 hours. The cap can also be interchanged into a straw cap. It also has various colors and different sizes to choose from.
Prenatal vitamins
I have been taking these prenatal vitamins for both of my pregnancies and I highly recommend them.
It has all the vitamins and minerals a pregnant woman needs, plus DHA for the baby's brain development.
I've tried other prenatal vitamins such as the gummy multivitamins and the organic ones, but most of these require you to take 2-4 gummies/pills a day.
The Nature Made Prenatals are tasteless and you only need to take one and done!
Pantyliner
During pregnancy, vaginal discharge increases due to increased estrogen and blood flow to the vaginal area.
As the pregnancy progresses, this discharge usually becomes more noticeable, and it's heaviest at the end of the pregnancy. Wearing an unscented panty liner will make you feel more comfortable and clean.
Sitz bath soak
When I was having lots of discharge and some itchiness during my third trimester, my doctors recommended I do a sitz bath.
Sitz bath is basically sitting in a warm water bath to reduce the pain, discomfort, itching, burning, and swelling down there.
Most people use a sitz bath for postpartum recovery with vaginal delivery, however, a sitz bath can be used during pregnancy as well.
Having soaked myself in these salt baths greatly reduced my discomfort from discharge and itchiness during my pregnancies.
Compression socks
Swelling in the legs is common in pregnancy. This is due to the increase in body fluids that can build up in your legs. Some pregnant women also notice varicose veins and some are at high risk for developing blood clots.
Wearing compression socks can help with all the discomfort in the legs. Also, if your work requires you to stand or sit for an extended period of time, compression socks are a must.
These compression socks are medical grade and commonly used in hospitals. Unlike other compression socks out there, this one is very thin and has many sizes to choose from. It can also be worn on opened toes or closed toes.
TUMS
Heartburn is very common in pregnancy, especially during the first trimester. The active ingredient in TUMS is Calcium Carbonate, which provides safe heartburn relief.
TUMS also adds calcium to your body and these fruit chews taste great. Be sure to add it to your pregnancy survival kit!
Toothbrush and floss
During pregnancy, you are more likely to have problems with your teeth or gums. If you have an infection in your teeth or gums, the chance of your baby being born early or having other complications may be slightly higher than if your teeth and gums are healthy.
Besides keeping up with your regular dental checkups, taking care of your teeth and gums at home is crucial.
These 100% natural dental kit is not only trendy, but the charcoal toothbrushes are a natural way to eliminate plaques and stains. The charcoal and mint dental floss are made from bamboo fibers and come in a reusable glass jar. And no, they do not make your teeth black 😁
This set is not only perfect for yourself, but it will also be a great addition if you are making a mom-to-be gift basket for your friend.
Essentials for a beautiful pregnancy
Mustela stretch marks prevention cream
Related Article: Best Stretch Mark Prevention During Pregnancy Every Expecting Mom Should Know
Lip balm
My lips were incredibly chapped when I was pregnant. Thanks to eos Natural & Organic Lip Balm, my lips finally came back to life. This line of the award-winning brand is made from 100% sustainably sourced ingredients and is USDA organic. Best of all, it's under $3!
Comfy pregnancy/nursing outfits
Rock your pregnancy belly with these cute pregnancy outfits. I've bought 3 of these (with 3 different designs) to be worn throughout the week. The best part is that these dresses are very soft and stretchy, and offer sizes up to XX-L. These dresses also make the perfect nursing outfits!
RELATED POST: Stylish Postpartum Outfits for Hospitals (That Aren't Hospital Gowns)
Stress relief items for the pregnancy survival kit
Epsom bath salts
A warm bath helps calm the soul, especially if you are having lots of stress during pregnancy. Adding Epsom salt to your bath is like adding icing to the cake.
Epsom salt contains magnesium sulfate that can revitalize sore and achy muscles. It is often recommended to treat pregnancy back pain and leg cramps. Magnesium is also believed to be a natural stress reducer.
I love Dr. Teal's pink Himalayan mineral soak because it contains extra minerals to soothe my achy muscles and soften my skin. I also like their soothe & sleep lavender scent and relax & relief eucalyptus scent but I find them a bit strong to the nose during my pregnancy days.
Scented candles
Aromatherapy is often used as a natural remedy to relieve stress and anxiety. Lighting up some fragranced candles is an easy way to take away some stress from being pregnant.
I'm in total euphoria when I light up these candles (I especially love the Hawaii Lei scent) while soaking in my warm bath at night.
What I love about these candles is that they burn clean without being overwhelming or leaving an abrasive after-scent. They are all hand-poured in the USA with natural soy wax, cotton candle wicks, and premium fragrance oils.
Although I love these Vacation scents the most, check out here for their wide selection of scents.
Super soft fleece blanket
What's better to pamper a mom-to-be than to snuggle her with a super soft fleece blank? What's unique about these blankets is that they come in a variety of colors and sizes (from smaller throw size to king bed size!).
This very reasonably priced and high-quality blanket is a must-have for the mom-to-be!
Books
A perfect gift for the first-time mom, this easy-to-read parenting book provides strategies and philosophies to help moms develop a parenting strategy that works for their family. Most parenting books simply give textbook answers to address common parenting issues, but there is no one-size-fits-all solution because every child and parent is different.
The authors take into account the cultural diversity, social-economic, and individuality of each parent and present excellent principles to help the parent make the best decisions that work for her family.
This is a parenting book I have read many times and I highly recommend it to new and veteran moms!
Other great reads for the mom to be:
Unique mom-to-be gift basket ideas
If you're making a gift basket for your pregnant friend, add a few items listed above and include all or some of the following. These are some thoughtful gift ideas that a mom-to-be wouldn't get for herself (but would love to receive as gifts!)
Pregnancy Journal
This is an award-winning journal/diary to hold memories of the growing bump, the birth & the first year with the baby.
The hardbound journal is very high quality and the pages are very nicely laid out with welcoming graphics. It's a great way to document the weekly things that happen during pregnancy with spots to put the ultrasound pictures.
This journal makes a great gift for a mom who just found out she's pregnant.
Personalized necklace
This beautiful personalized necklace will make a sweet and memorable gift for the mom-to-be. She will feel that her baby is close to her heart (literally) with his name and birthstone around her neck.
I already have a personalized necklace for Baby Chunbao and I can't wait to get another personalized pendant for Baby #2 so I can wear them together!
Gift card
Gifts cards make a great addition to your gift basket. Here are some gift cards that will be appreciated by the expecting mom.
Related Article: Best Gifts For New Moms That She'll Actually Use
Final thoughts on pregnancy survival kit
I hope today's article showed you the essentials for your pregnancy survival kit. Which of these must-haves have you found the most useful?
Tell me by leaving a comment below.
Pregnancy survival kit related articles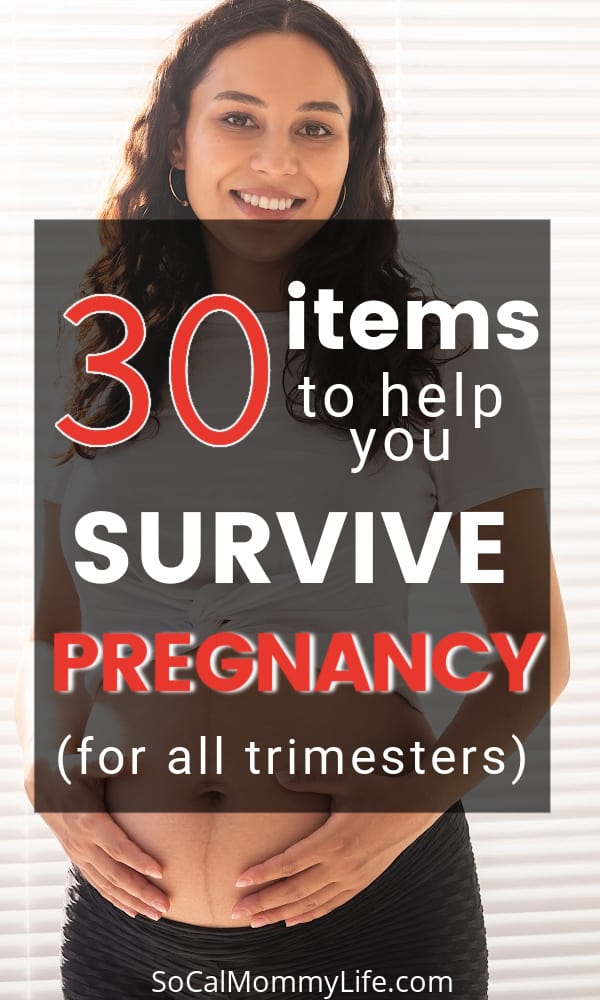 The Ultimate Pregnancy Survival Kit: 30 Essentials for the Mom to be Care Package