Your due date is around the corner and getting your hospital bag checklist essentials can be overwhelming. Knowing what to pack in your hospital bag is easier said than done.
There are essentials you must have and the things you want to leave behind. Some "essential" items like the breast pump, pacifier, maxi pad… to name a few… will be provided by the hospital already so these items will just take up space in your hospital bag.
Here is a list of hospital bag checklist items for mom, dad, and baby from a second-time mom (myself!) and a doula friend.
This post may contain affiliate links, which means I'll receive a commission if you purchase through my link, at no extra cost to you. Please read full disclosure here.
When Should I Pack My Hospital Bag?
If you are type A like me, you probably have your bag packed by 30 weeks pregnant. Although it doesn't hurt to get your hospital bag ready early, there is no benefit in doing so either.
This is because if you go into labor before 32 weeks pregnant, you probably won't go through the labor process like you would have had with a full-term baby. Also, any preemie that's born earlier than 34 weeks gestation would spend several weeks in the Newborn Intensive Care Unit.
Have a Labor Bag and a Postpartum Bag
When I was pregnant with my first child, I did lots of research on what to pack for my hospital bag. I thought I had the perfect hospital bag checklist.
Then, I met a celebrity doula that gave me a different perspective on what to pack for my hospital bag. The hospital bag should contain a labor component and a postpartum component.

Separate the things you need before and after the baby arrives will make you and your partner's lives earlier.
The labor bag is essentially everything you need during labor. You can be in labor for hours and shuffling through a bag of unorganized items is the last thing you want.
Within the labor bag, you can separate items with 1-gallon food storage bags. Label bags by Labor – Mom, Labor – Dad, and Labor – snacks.
Do the same thing for Postpartum – Mom, Postpartum – Dad, and Postpartum – Baby.
In addition, to make it easier for your partner to carry, put everything in a wheeled luggage.
Hospital Labor Bag Checklist
Essentials for Mom
1. Insurance card/ ID/ registration documents
Even if you have already registered with the hospital, always bring your insurance card and ID card with you.
2. Lip balm
Hospitals are known to have dry air. Keep your lips soft with lip balm (hubby can help you apply) so you'll look amazing in your first mother and baby picture! I love my eos Natural & Organic Lip Balm because it's super smooth to apply and smells amazing. This line of the award-winning brand is made from 100% sustainably sourced ingredients and is USDA organic. Best of all, it's under $3!
3. Mom's favorite music
Create a labor playlist with your favorite tunes. As labor can be a long process, I recommend no shorter than 20 songs.
4. Hair tie
You want to get your hair out of the way when you get sweaty from labor.
I don't use any other types of hair tie other than these traceless, ouchless hair rings. Even after a full day of a high top ponytail, these hair ties leave no marks! It's also easy to take out of wet hair without tangling. And unlike other hair ties, they don't pull my hair when I take them out. Perfect for postpartum hair loss too!
5. Water bottle that has a straw system
This comes highly recommended by my experienced doula. You will be very thirsty during labor so enjoy spill-proof sipping as opposed to drinking from a cup.
6. String bikini top
If you are planning to do skin-to-skin right after your baby is born, you can easily pull your bikini top off and do skin-to-skin/breastfeeding.
7. Pre-written thank you notes (5-10)
Show some appreciation to your nurses and doctors with some thank you notes. If you are a crafter, check out this link on how to make this amazing Doctor's thank you card!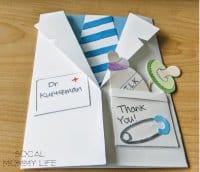 Essentials for Dad
1. Comfortable shoes
Dad is there to support and get whatever you ask so wearing comfortable shoes to accompany you for labor is a must.
2. Camera/smartphone
3. Chargers for phone and camera
4. Cash for the vending machine
Most people nowadays don't carry cash around due to the ease of credit cards. But some cash for the vending machine will come in handy to keep anyone from going hungry.
Snack Items
1. Smart water (4 bottles)
I love SMART water because it contains electrolytes to give you some extra boost while in labor.
2. Coconut water (2 bottles)
Coconut water is naturally hydrating. It's jam-packed with vitamins, nutrients, and ELECTROLYTES to give you extra energy.
3. Energy bars
As labor can be a long and intensive process. Munch on energy bars (especially those with extra protein) will help keep you going.
4. Peanut butter sandwich
The peanut butter sandwich is super easy to make and can last for hours. When you need extra calories to keep you going, a peanut butter sandwich is a great choice.
5. Candies/mint/chocolate
Pack a a bag of your favorite sweets in your hospital bag checklist. When going through the pain of labor, your mind will thank you later.
Hospital Postpartum Bag Checklist
Essentials for mom
1. Dermoplast spray (red cap)
This numbing spray brings sweet relief for painful, itchy stitches, and nerve-wracking hemorrhoids. Just spray a fair amount whenever you go to the restroom. It does sting a little when you spray but the relief if pretty much immediate.
Note that there is the blue Dermoplast without antibacterial medication. I used the red packaged ones with antibacterial medication to fight off potential infection from my wound.
2. Witch hazel
The pain after you've birthed your baby can linger for weeks, especially if you have tears or repairs. Witch hazel contains chemicals called tannins that can help reduce swelling and fight bacteria, which in turn decreases pain and helps prevent infection. It also has hemostatic properties, which means it can help stop minor bleeding.
For me, I pour it on the maxi pad provided by the hospital. I had tears and repairs but I recovered in just a week! I recommend 100% natural and alcohol-free like this very popular brand.
3. Memory foam seat to sit on after birth
This memory foam cushion saved my life! The unique doughnut shape relieves pressure on the perineum, making it a nice cushion following childbirth and episiotomy. I just leave it in my hubby's car and I sat on it on our way home and going back and forth to the NICU.
4. Toiletries
5. Nipple cream
If you are planning to breastfeed, you'll want to start breastfeeding or pumping shortly after your baby arrives. If your breastmilk doesn't come in right away, start pumping can get the milk production going.
Since your nipples are not used to the sucking from the baby or the breast pumps, applying some nipple cream will prevent cracked and sore nipples.
I keep a tube of the travel-sized Lansinoh Nanolin Nipple Cream in the diaper bag and a jar of the Organic Nipple Cream by Earth Mama at home.
6. Nursing bra
7. Going home 2 pieces outfit
In case you need to nurse on the way home, you can easily nurse your baby with a nursing top in the car.
8. Socks or comfy slippers
Essentials for dad
1. Snap cowboy shirt (for skin to skin with baby)
This is not an item to pack per se, but dad can wear a snap shirt when accompanying you to labor. It is equally important for dads to do skin-to-skin with the baby. To make it easier, dad can unsnap his cowboy shirt and put baby on his bare chest without taking his shirt off.
2. Money for incidentals
3. Sweats for sleeping
Be prepared to spend overnight stay with mom and baby.
4. Toiletries
5. Change of clothes
Essentials for baby
1. Sleep sacks
To make baby super comfortable while in dreamland, put him in a sleep sack will help reduce startle reflex. I have a few of these since Baby Chunbao sleeps in them until he's 6 months old. My favorite is the Halo sleep sack because the 2-way swaddle ensures baby's best sleep and an easy transition when it's time to stop swaddling.
Also, the hip-healthy design allows the hips and legs to move freely. The International Hip Dysplasia Institute recommends not swaddling babies tightly around the hips and legs to avoid developing hips issues later in life. Love To Dream sleep sack is another great choice.
2. Water wipes
Baby wipes at the hospital may contain nasty ingredients and unnecessary additives. Give your baby the purest wipes possible from birth with Water Wipes! The wipes are 99.9% purified water with a drop of fruit extract. It has won numerous awards and is accepted by National Eczema Association. I use it on my baby from head to toe ever since he was born! Don't forget to stock up on some travel size wipes to carry in your diaper bag!
3. Safflower oil (in travel size container)
Safflower oil is a miracle baby oil! I never heard of it until my doula friend told me about it. She recommends it to every mom because it cures baby's dry skin.
The oil is rich in linoleic acid, moisturizing and soothing for inflamed skin. My infant has pretty bad eczema and we really saw a difference when we put safflower oil on him. Safflower oil is also popular amongst baby massage oils. Whichever oil you choose to use on your baby, make sure it is cold-pressed, unrefined vegetable oils!
4. Aquaphor healing ointment
This is a stable for baby skincare and you probably have a jar of these for yourself! As the newborn's skin is very delicate, a good moisturizer will nourish and prevent dry chapped skin. The Aquaphor ointment is a bit greasy but you don't need a lot. A little goes a long way!
5. Butt paste (40% zinc oxide)
Even a little red spot on your newborn's diaper area can make him uncomfortable. To tame diaper rashes, apply a generous amount of Butt Paste. Unlike other diaper rash cream, Boudreaux's Maximum Strength Butt Paste treats and helps protect against rash with no harsh ingredients. We apply this every time after Baby Chubao had a bowel movement.
6. Baby going home outfit
7. Baby blanket and cap
8. Car seat cover
You never know if your baby will be going home during the day so give some shade with a car seat cover! I highly recommend this 2-in-1 car seat cover. It can be converted to a nursing cover on the go!
---
After you've packed all the essentials, leave the hospital bag in the car or by the front door if you plan to have someone pick you up for labor.
Getting your hospital bag checklist shouldn't be a hard task.
Download this handy checklist below.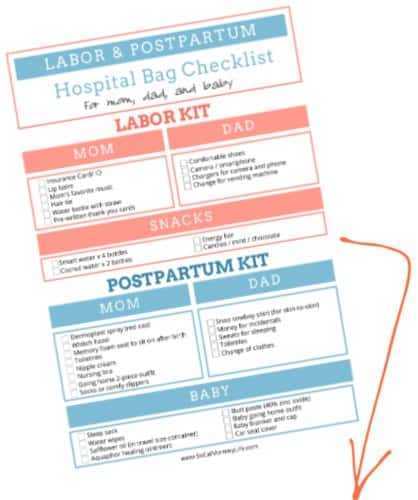 Hospital Bag Checklist Related Posts
Did I leave something behind my bag? Tell me by leaving a comment below.

Save these pins now!