15 Tips To Surviving The NICU From A Twice NICU Mom
Surviving the NICU is tough. There are so many things to worry about, from your baby's health to your own emotional state.
I know mama, I've been there too.
Baby W wasn't breathing when he came out 5 weeks early. The doctors resuscitated him for 6 minutes until he came back to life. Due to the brain trauma he suffered, he stayed in the NICU for 44 days. I didn't know if he'll make it or ever be "normal".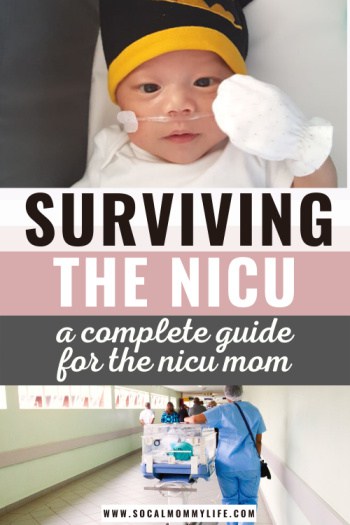 I found strength through learning from the resources offered by the hospital. I'm proud to say that I survived the NICU!
I applied exactly what I learned when Baby #2 had to stay in the NICU. I don't feel defeated and the short NICU stay didn't stress me a bit.
This guide will help to ease some of that stress when surviving the NICU. You'll learn everything from taking care of yourself to caring for your baby while they're there.
With this guide, you'll feel like a pro when it comes to surviving the NICU!
This post may contain affiliate links, which means I'll receive a commission if you purchase through my link, at no extra cost to you. Please read full disclosure here.
Strategies For Thriving and Surviving The NICU
Know your resources in the NICU
You are probably overwhelmed and beginning to accept the fact that your little bundle of joy is sick. It's ok to take a few days to digest what just happened. But at the same time, find your resources and support.
NICU Nurses Will Be Your Best Resources
There is always a nurse assigned to care for your baby. You can ask her practically about anything from your baby's health status, getting supplies for you, and scheduling appointments with specialists.
Every day at the NICU, I would ask our nurse what Baby W's weight was and how much he ate during the night. Since I pump in the NICU, I asked for bags of milk containers and gave her my expressed milk to put in the hospital's refrigerator. I also requested to see the lactation consultant through the nurse.
These are just a few things I've requested help with so don't be afraid to ask your nurse about anything.
We were so blessed that all of Baby W's NICU nurses were very professional. If by any means you are not 100% satisfied with any of the nurses, don't be afraid to speak up.
You have the right to talk to the nursing manager about your baby's nurse.
Attend Daily Physician Roundings
If you are like me, having your baby transferred to a highly specialized teaching hospital for children (aka Children's Hospital) from where you delivered, you will be introduced to a hierarchy of doctors.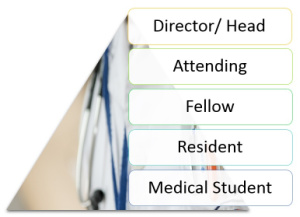 Attending physicians are senior doctors directly responsible for medical decision-making and treatment. Every day, they lead a group of less senior doctors such as fellows, residents, and sometimes medical students to discuss the treatment plan for the day during rounding.
Other healthcare professionals such as nurses, dietitians, pharmacists, respiratory specialists, and other specialists in charge of your baby's care may be present.
Since roundings take place in your baby's room, it is very important to listen in and ask any questions you may have. For both of my babies, I attended the roundings every day in the NICU.
Get In Touch With A Social Worker
Another resource worth mentioning is social workers. They are trained professionals to help families cope with baby's NICU stay. They are a great resource because they help families get information about the baby's medical condition, give emotional support, help families work with medical insurance issues, and help plan for when the baby comes home.
You will most likely be introduced to a social worker during your first day at the NICU. Our social worker was particularly helpful. She even got us discounted parking!
Visit your NICU baby every day
Some NICUs have visiting hours while some allow you to sleep in the same room as your baby. Either way, be present for as long as your schedule allows! I'm fortunate that we live about 15 miles away from the Children's Hospital and the NICU accommodates parents' overnight stay.
Although I never stayed overnight, for the reasons explained below, I visited Baby W every day. I read, sang, do kangaroo care, and talked to him whenever he was awake.
Even if your baby is in the incubator and you can't touch or hold her, she knows you are there for her.
Baby W's NICU roommate was in the incubator and his mom was there all day and night. She touches her tiny baby through the incubator opening and sees him eye to eye. As if he knows mommy wanted to hold him so badly, he thrived and was out of the incubator in no time!
NICU babies need extra TLC so be there for them!
Tips for visiting a preemie in an incubator
Before touching the incubator, wash your hands up to your elbows with warm soapy water.
Put both hands on the incubator and tell your baby "mommy and daddy are here to see you"! ♥
If the incubator is covered with blankets, open the side on the rear end first. This way, your baby can get used to the light.
Carefully put both hands on the baby. Never stroke their skin since a preemie's nervous system is not fully developed. You want to touch your baby to make her feel calm, cared for, and loved.
Do Kangaroo care with the NICU baby
I can't say how important it is to do skin-to-skin or kangaroo care with your hospitalized baby. Research has shown that putting a naked diapered baby to the bare chest (yes dads can do it too!) in an upright position has numerous benefits to both baby and parent.
Benefits Of Doing Kangaroo Care
A few benefits include stabilizing the baby's heart and respiratory rates, improving oxygen saturation rates, and better regulating the baby's body temperature which are all typical challenges of NICU babies. When the baby is placed skin-to-skin with her mother, the breast has shown in research to change the temperature in order to accommodate the baby's own body temperature.
The baby usually falls asleep within minutes during kangaroo care because of the reminiscence of the womb.
One of the best benefits of doing kangaroo care is increased breast milk supply. As soon as you get clearance from the nurse or doctor to do skin-to-skin, go ahead and do it as long as you want!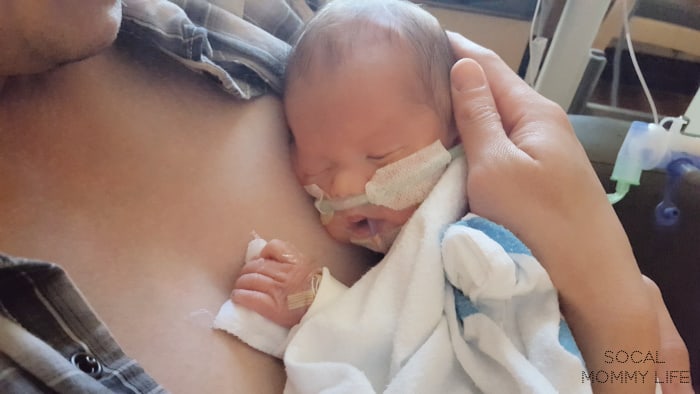 A few tips on kangaroo care in the NICU
Ask the nurse for a comfortable nursing chair: It is basically a reclining couch with heavy padding ideal for breastfeeding. You never know if your hospital has it. I didn't find out that our NICU has it weeks after until one of the nurses asked me if I want to sit in one!
Skin-to-skin 30 minutes to 1 hour every 3 hours: If your baby's condition allows, do at least 30 minutes every skin-to-skin session. During our NICU stay, Baby W feeds every 3 hours. Since he always falls asleep on my bare chest, we do skin-to-skin about an hour before his feeding time so that he can feed after a good hour-long sleep.
Kangaroo care with Boppy pillow made easy: The boppy pillow is such a genius invention. When kangarooing, you can rest your elbows on the pillow, alleviating strain on your shoulders and neck while holding the baby for an extended period of time. If your baby is small like Baby W (a 4-pounder), he can sit on the boppy and feel even more snugly with the pillow wrapped around his butt. On a side note, if you don't have a nursing pillow yet I highly recommend the Original Boppy Pillow. After your baby goes home, you can use it to help him achieve his developmental milestones!
Wear a button-down shirt or use a nursing cover: Every NICU staff encourages kangaroo care, but if you don't want your boobs hanging out while you share your golden moments with your baby, like me, you can wear a button-down shirt or dress. So I put the poppy on my waist, unbutton my shirt (but still keep it closed), bring the baby close to me, open one side of the shirt, and tuck the baby in while opening the other side of the shirt. If I wear a nursing cover, I just take off my shirt completely and put the baby under the nursing cover. I highly recommend this nursing cover since it can be converted into a car seat cover.
How to establish breast milk supply for the NICU baby
What is the best nutrition for a NICU baby? Yup, it's mother's milk!
It's true, mother's milk changes the composition according to baby's needs proven by this viral post. If you are worried about your underweight baby, human milk fortifier (HMF) may be added for more caloric breast milk.
Whether you are still waiting for your milk to come in or have already established your supply, pump! pump! pump! to get those liquid gold flowing!
I used to pump every 2.5 hours (including nights) for the first 2 months and was able to establish a mini stash. Most hospitals have lactation consultations, so be sure to ask for one if you have any issues with milk production.
Tips And Tricks On Getting More Breast Milk Supply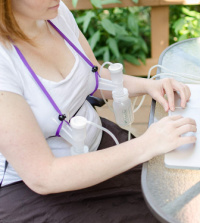 I use the LactaMed Simplicity Hands-Free Pumping Bra Kit rather than a hands-free pumping bra for many reasons. The kit is way cheaper, more compact, more durable, easy to wash, and one size fits all. Most importantly, you can massage your breasts while pumping.
Massage while pumping will get more milk out in less time. Watch this video on how to do hands-free massage.
There are so many tips and tricks out there on how to pump more milk but what worked well for me was a warm compress prior to pumping and breast massage during pumping. Like the phenomenon, heat expands while cold contrasts. Apply a warm compress (such as a warm towel or a breast heat pack) to the breasts to expand all the blood vessels in the breast.
This increases blood circulation and stimulates milk ducts herby activates let down.
When the breast milk starts to follow, gently massage the breasts to get as much milk out from the ducts. This will produce more expressed milk otherwise contained in milk ducts.
RELATED POST: How to pump more breast milk for the NICU baby
Massage your NICU baby daily
There are significant evidence-based research findings on the advantages of infant massage. To name a few, massaging your baby can facilitate weight gain in preemies, lowers the stress hormone, increases muscle tone, improves sleep/wake patterns, and support parent-infant interaction.
It's best to massage your baby on his bare skin. However, you may still apply pressure points with clothes on. Always wash your hands or sanitize before you begin and make sure your hands are warm before you touch your baby.
If you wish to use massage oils, use fragrance-free food-grade oils such as this organic coconut oil.
Before you begin, tell your baby, "mommy (or daddy) is going to give you a world-class massage!"
Technique 1 – Stride along the spine: Place baby on his tummy or slightly sit up. starting from below the neck, firmly but gently stride your palm along with your baby's spine.
Technique 2 – Circles along with back muscles: Place baby on her tummy or slightly sit up. use your middle finger and draw firm but gently circles along both sides of her spine.
Technique 3 – milking the limbs: Hold your hand in a "C" shape while stroking your baby's limbs.
Technique 4 – foot massage: Starting from the bottom of the foot, move your thumbs to gently press upwards toward the toes.
Technique 5 – relax jaw muscles: If your baby is feeding by mouth, stroke along her jaw muscles can help release tension from sucking.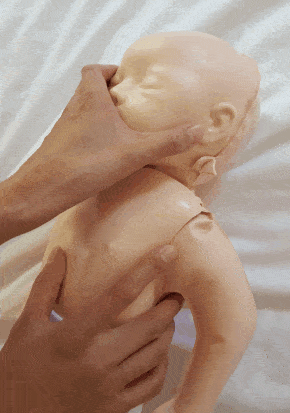 Technique 6 – between eyebrows: pressing the space between eyebrows has a relaxing effect. Gently but firmly press on this special spot with your thumb and stride up to the forehead and down to the nose.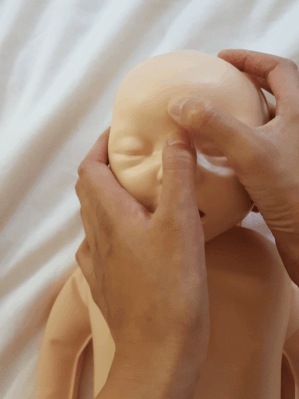 These are just a few massage techniques I've learned while surviving the NICU. Ask your nurse or therapists before you perform any messages on your baby.

RELATED POST: 8 Things to do before bringing baby home from the NICU
Learn basic baby care from the pros
Since Baby W is our first baby, we learned so much about baby 101 from our nurses. Through the NICU boot camp, we learned diaper changing, bathing, bottle feeding, dressing, taking temperature and much more. Don't be shy to ask your nurse to teach you anything you want to know so you can be an expert on caring for your baby even before he gets home!
Have your NICU baby look at black and white cards
Babies LOVE preliminary colors like black, white, and red. Since they can't see very well, bold pictures with contrasting colors will stimulate their eyesight development.
I downloaded my free infant stimulation cards here. You can line them up on both sides of your baby's bed and he will be so enticed.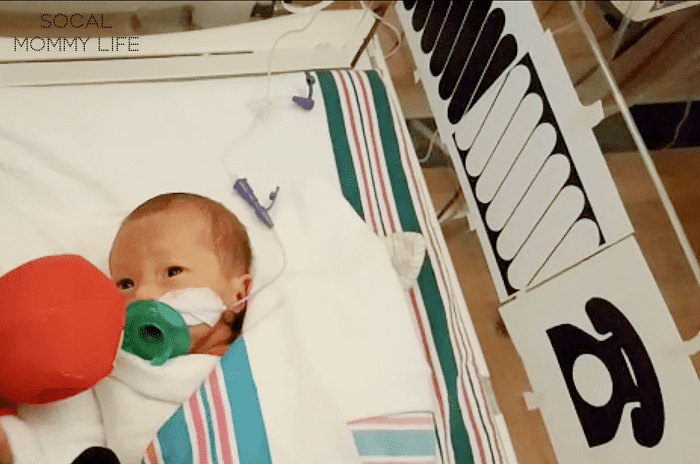 RELATED POST: Developmental Activities for a Smart Baby (0 to 3 months)
Take care of yourself
As if having a NICU baby isn't stressful enough, visiting her, getting to know her, doing skin-to-skin, and pumping in the middle of the night can really take a toll on your health. I knew from day one that the best thing I can do is to provide Baby W with the best nutrition – my breast milk. Since stress can adversely affect milk supply, I chose to not stay overnight at the hospital so I don't burn myself out.
I usually go home around 8 pm and got plenty of sleep albeit waking up twice in the middle of the night to pump. I kept myself hydrated with at least 64 ounces of water every day. Last but not least, I also ate a good diet full of protein, good fats, and some extra carbs.
As far as supplements go, I found fenugreek worked wonders in upping my milk supply. I take 2 capsules 3 times a day and I can totally see the difference on the days I forgot to take them. If you are struggling with milk supply, read my tips on how I established a mini freezer stash when Baby W was still in the NICU!
At times when I feel engorged, lecithin has helped tremendously. My engorgement would clear up after taking lecithin for just 1 day. Also, taking postnatal vitamins every day is a must. The special blends of postnatal vitamins are optimal for postpartum recovery and provide the unique nutritional needs of breastfeeding women. I used to take Mother's Select postnatal but later fell in love with New Chapter postnatal. These postnatal are expertly formulated for new moms. They contain the perfect vitamins & minerals to support lactation, energy, and mood. It's made with organic, non-GMO ingredients. Just a week after taking the New Chapter postnatal, I felt more energetic and saw a real boost in my milk supply!
---
I hope these tips on surviving the NICU are helpful. Leave a comment if you have any questions 🙂
Hang in there strong mama! Sending you lots of love for you and your baby!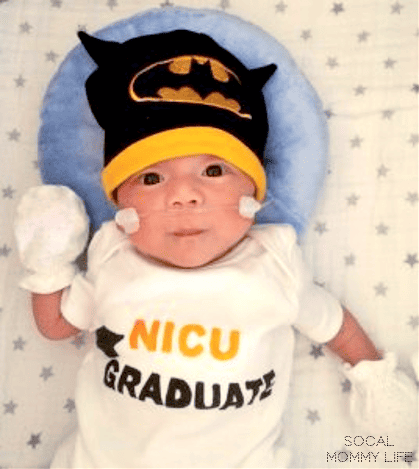 This post was all about surviving the NICU.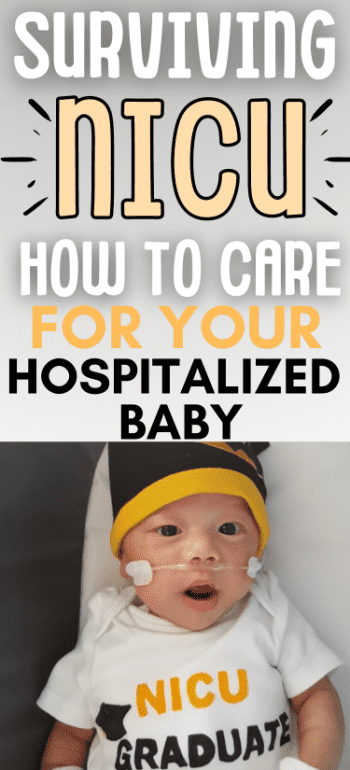 Surviving the NICU Related Posts
The Ultimate Guide To Surviving The NICU