Are you getting ready to send your little one off to their very first day of preschool?
It's an exciting (and a little bit nerve-wracking) milestone! What should you pack in their school bag to make sure they have everything they need?
Check out our checklist of supplies below.
This post may contain affiliate links, which means I'll receive a commission if you purchase through my link, at no extra cost to you. Please read full disclosure here.
First Day Of Preschool Checklist – The Basics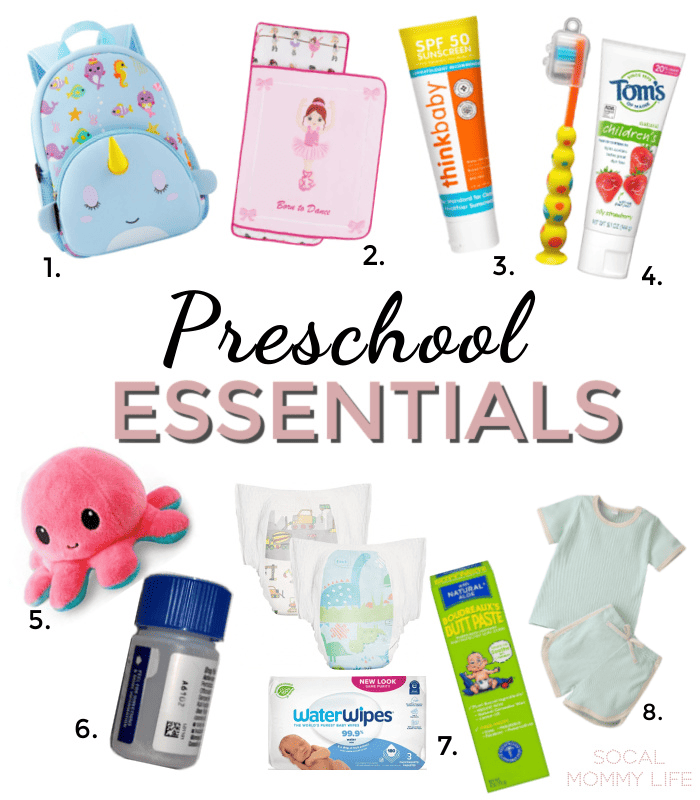 In a hurry?
See the first day of preschool essentials here
1. Small Backpack
Your preschooler won't need a big backpack since they won't be carrying books or homework. A small, lightweight backpack that fits the lunchbox and other essential items will work. We love this toddler backpack because it has roomy pockets for lunch box, toys, water bottle, pencils, and snacks. It's made of waterproof material, so you don't have to worry about spills. And the cute animal design will make your child stand out from the crowd.
2. Blanket And Pillows For Naps
This nap mat set is perfect for preschoolers. The all-in-one design includes a nap mat, ultra-soft blanket, and pillow. There's a carry handle and fastening straps for easy transport. The rollup design makes it easy to store, and the soft microfiber fabric is gentle on your little one's skin. Plus, the removable pillow provides extra comfort.
3. Natural Sunscreen
While you want your child to enjoy every minute of their first day, you also want to make sure they're protected from the harmful effects of the sun. Thinkbaby SPF50+ sunscreen is the perfect choice for kid's delicate skin. With Broad spectrum UVA and UVB protection, this sunblock is ideal for daily use. We love Thinkbaby sunscreen because it's so easy to apply. The fast-absorbing sun lotion won't leave skin feeling oily or sticky and has no unpleasant chemical scent.
4. Toothbrush & Toothpaste
If your child will be brushing their teeth at school, don't forget to pack a toothbrush and toothpaste. I like to send my kids to school with these toothbrushes with suction cup for fun storage and dust covers. The suction cup makes the toothbrush easy to track at school. And the dust cover protects the bristles when it's not in use.
6. Comfort Items
Many children find it helpful to bring along a favorite toy or blanket on their first day of preschool. This can provide comfort and reassurance in an unfamiliar setting. Baby W's preschool requested a family picture so we brought a picture to keep in his cubby at school.
6. Any Necessary Medication
If your child takes daily medication, pack enough for the entire school week. If your child has allergies, be sure to send along their EpiPen. And don't forget to write a note from the doctor explaining the medication and how it should be administered.
7. Diapers, Wipes, and Cream
If your child isn't potty trained yet, be sure to pack a week's worth of diapers, wipes, and butt cream. Don't forget to label everything!
8. Extra clothing
Accidents are bound to happen, and that's why packing extra clothes in your preschooler's backpack is a must. Not only will this save you the trouble of having to rush to school with a replacement outfit, but it will also provide your child with a sense of comfort and security. I always include a set of top and bottom in a zip-lock bag.
First Day Of Preschool Checklist – Lunch Box Packing Essentials
1. Lunch Box
Send your little one off to school with a nutritious and delicious lunch packed in the OmieBox Bento Box! This bento box features three compartments that are perfect for packing a variety of foods, plus an insulated thermos food jar to keep hot foods warm or cold foods cool. The OmieBox Bento Box is made with high-quality, durable materials and is BPA-free, making it a safe and eco-friendly choice for lunchtime. Plus, it's easy to clean and top-rack dishwasher safe. With the OmieBox Bento Box, you can be sure your child will enjoy a healthy and tasty lunch at school!
2. Spill-Proof Water Bottle
If you're looking for a kid's water bottle that can withstand even the most active lifestyles, look no further than the YETI Rambler Jr. This tough little bottle is made from 18/8 stainless steel and can take whatever your child throws at it – literally! It's also BPA-free, so you can rest assured that your child is drinking safely. Plus, the yeti Rambler Jr. comes in various fun and trendy colors that your child will love.
3. Reusable Muffin Liners
If you're looking for a way to make packing your child's lunch box more fun, these reusable muffin liners are a must-have! Made of food-grade BPA-free silicone, they're ideal for holding snacks and come in a variety of colors that will brighten up any lunch box.
4. Utensils
Every little one needs their very own set of utensils, and this adorable fork and spoon set is perfect for your preschooler. The 100% food-grade stainless steel material is safe for your child to use, and the curved handles are easy for them to grab. The set comes with a travel carrying case, so it's easy to take on the go.
5. Ice Packs
Whether you are packing sandwiches or yogurt for your preschooler's lunch, ice packs are a must for keeping foods cold and fresh. We love these ice coolers because of their slim and compact design. Throwing a couple of these in my preschooler's backpack doesn't weigh it down. My preschooler has reported that his lunch remains cold all day!
6. Insulated Food Jar
If you're looking for a top-quality food jar for your preschooler, the Thermos FUNtainer is a great choice. Made of durable stainless steel, this vacuum-insulated jar will keep food hot or cold for hours – perfect for keeping little ones' lunches at the right temperature. The lightweight, compact design is easy to carry and features a push-button lid for easy opening. Plus, the included folding spoon means your child can eat on the go. I've put pasta, oatmeal, and yogurt in these. The food jar always comes back empty from school!
7. Fun Sandwich Cutters
If you want to make lunchtime more fun for your preschooler, you will need a sandwich cutter and sealer set! With this set, you can make all sorts of fun-shaped sandwiches that your kids will love. You can also use it to make Uncrustables – just spread bread with any filling of your choice and a cute sandwich or Uncrustable will be made in a second!
First Day Of Preschool Checklist – Clothing Essentials
Clothes, Socks, and Underwear
Make sure your child has 3 extra sets of clothes. This includes T-shirts, pants, underwear, and socks. I label everything by writing my child's name on the tags with a Sharpie.
Seasonal Outerwear
Since school starts in the fall, be sure to pack a lightweight jacket. It's always sunny here in SoCal, so I also pack a hat and a pair of sunglasses for my preschooler to keep at school.
Indoor Shoes
If your child's preschool requires, be sure to pack a pair of indoor shoes. Sneakers are one of the good options. Shoes with lights, open-toe or open-heel are not recommended. Well-fitting and closed-toes ones are best for your child's safety. We got Baby W a pair of Crocs for his school's indoor shoes.
Download this handy checklist to help you prepare for your child's first day of preschool 👇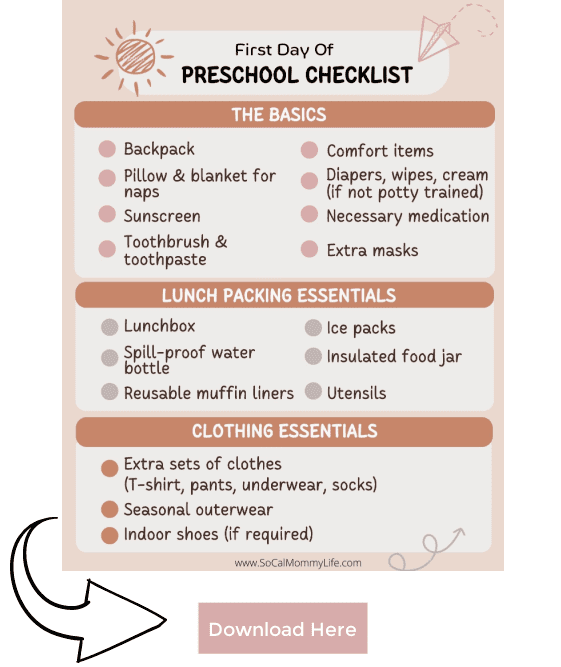 First Day Preschool Readiness Tips for Parents
The first day of preschool is a milestone for both parents and children. It can be a time of excitement, but also anxiety. To help your child (and yourself) prepare for this big day, here are a few tips:
Talk About What To Expect
Take some time to discuss what preschool will be like. Talk about the activities they will do, the people they will meet, and how long they will be there. This will help your child understand what to expect and feel more comfortable in an unfamiliar environment.
Nail Down The Morning Routine
Make sure your child is accustomed to the morning routine the week before their first day of school. This means getting up at the same time every day, eating breakfast, and getting dressed. This will help to avoid any last-minute scrambling and reduce stress on both you and your child.
Give Your Child Some Control
One of the best things you can do is give your child a sense of control on their first day of school. Let them choose what they want to wear or pack in their backpack. This will help them feel like they're in charge and ease any separation anxiety they may be feeling.
Create A Goodbye Ritual
Establishing a ritual for saying goodbye on the first day (and every day after that) can help ease separation anxiety. A simple hug and kiss goodbye will do the trick.
---
It can be hard to say goodbye on the first day of preschool, but with a little preparation, it will be easier for both you and your child. By following our first day of preschool checklist for parents, you can help make the transition smooth and stress-free. We hope that this information was helpful and that your child has a great first day of school!
Tell me about your experience sending your child off to preschool in the comments below. Was there anything I missed from my list?
First Day Of Preschool Checklist Related Posts