Growing up in Orange County, one of my favorite places to hang out is downtown waterfront at Long Beach, CA.
I had so much fun hitting up the parks there with my friends back in the days, and I appreciate it, even more, visiting with my own little family.
With so many things to offer, you can easily spend a whole day there. The miles-long esplanade will take you through an array of beautiful waterfront attractions that you can't stop but take pictures of.
There are lots of shopping, dining, and entertainment options for the family. Both kids and adults will never be bored.
Must visit places
Rainbow Harbor Esplanade
The Rainbow Harbor Esplanade is a mile-long boardwalk that connects all the landmarks within Long Beach waterfront.
The scenic route is super walkable. You'll get to visit the lighthouse-centered Shoreline Aquatic Park, Rainbow Harbor, Shoreline Village, Aquarium of the Pacific, and tons of interesting finds along the way.
Street vendors are scattered throughout the boardwalk.
Feeling hungry? Grab a churro and soft-serve ice cream.
Feeling romantic? Buy a lock from one of the stands and lock in on the fence with your loved ones.
Feeling chilly (or hot)? Shop cozy blankets or hats from one of the apparel street vendors.
Feeling photogenic?
Get a picture with parrots!
There's this cool photo place where you get to pose with beautiful and well-mannered parrots.
Rainbow Marina
The marina is filled with recreational and commercial boaters.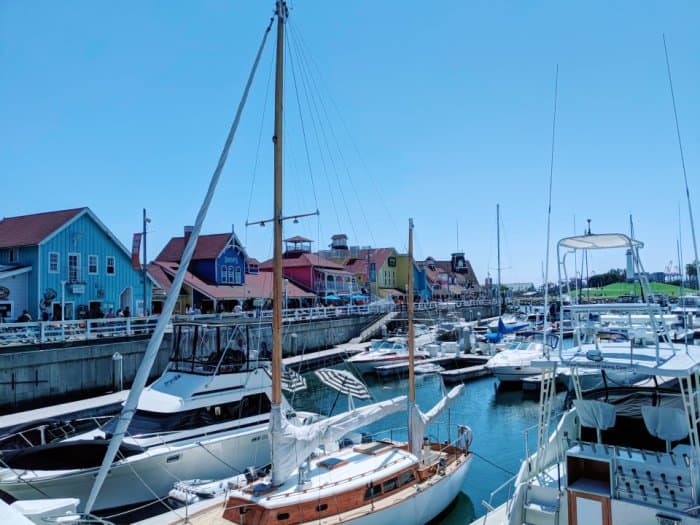 It's also a homeport to an array of exciting waterfront attractions, including sports fishing; whale watching tours; private dinner cruises; private charter boats; rental boats; personal watercraft rentals; and more.
Shoreline Aquatic Park
This Park is essentially a huge lawn for pictures and water views.
Pack some snacks and enjoy a laid-back picnic here. During summertime, you'll see lots of sunbathers soaking up the sun here.
We didn't visit this park during our trip this time but you can see the park from the shoreline.
The park is very easy to find. Just look for the lighthouse!
Shoreline Village
Shoreline Village is a popular destination to visit. It's a little village filled with shopping, bars, and family fun things to do.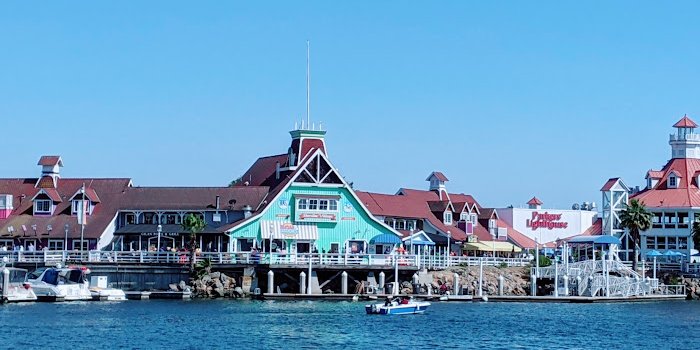 Refreshments from the village range from casual to sophisticated. An ice cream cone or funnel cake will do the trick for a quick bite. Fine dining is an option for special occasions with spectacular views of the harbor and Queen Mary.
You'll also find lots of specialty shops within the village, ranging from souvenirs, paintings, apparel, and more.
If you're up for a ride, you can rent all sorts of bikes here. Including this fancy bike!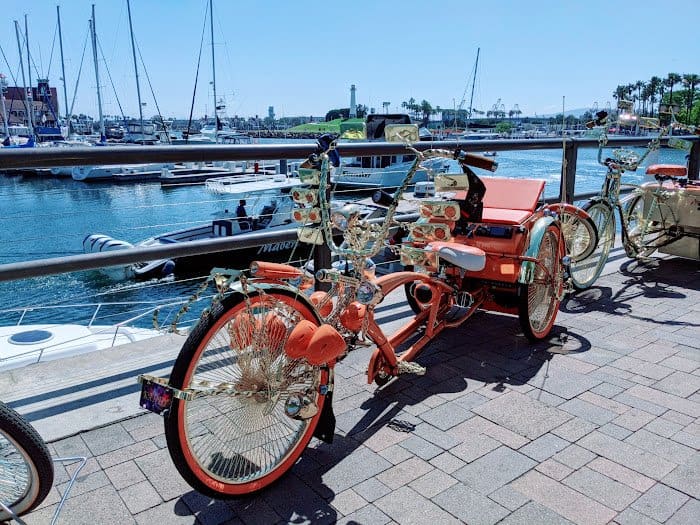 When you stroll further down from Shoreline Village, you'll see the iconic Queen Mary docked along the shore.
By the way, if you're looking for a great place to see 4th of July fireworks, Queen Mary has by far the best views.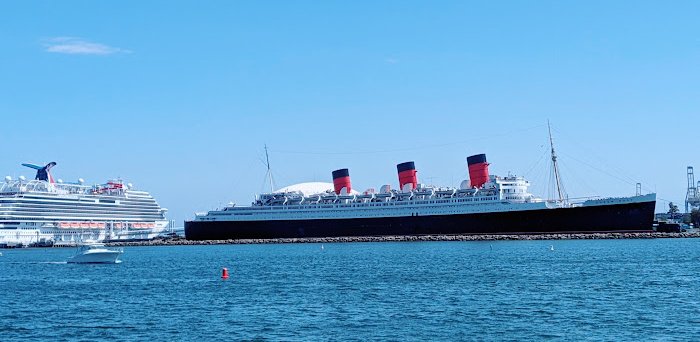 Pelican Pier Pavilion
This is the arcade that'll keep your kids entertained. There is a giant sea-themed carousel and numerous arcade games.
No coins are accepted so you'll need to buy a pass and you can load money in it. Kids (and adults) can play games and win prizes. There are games for everyone, even for my 3-year-old boy!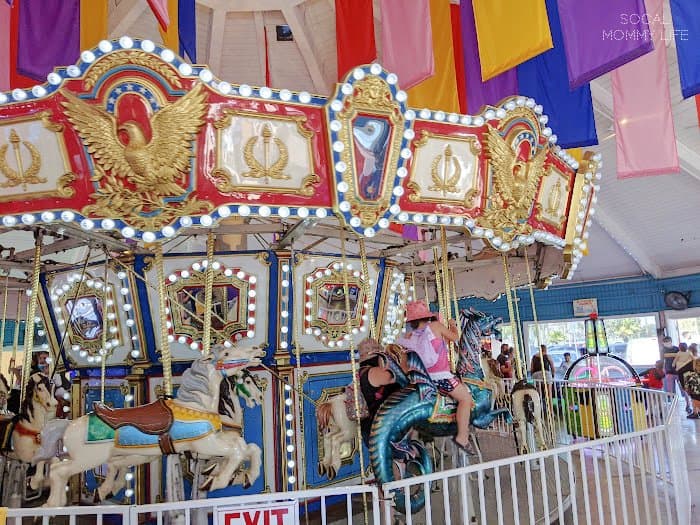 Where to park
Parking can be hectic when visiting this popular tourist spot. If you want to be close to all of the attractions listed above and restaurants, the best place to park is in the parking structure across the street from the Aquarium of the Pacific – between Chestnut Place and Aquarium Way.
You can just google Aquarium of the Pacific for the address. You'll see a 5-story parking structure nearby.
This parking garage can accommodate aquarium visitors and shoppers. Even during weekends, we have no problem finding a spot to park.
Other nearby parking garages are available on the City of Long Beach website.
Tips for visiting with family
Check events before visiting to avoid closed roads and crowds
The city of Long Beach hosts a variety of events from summer music festivals to the Grand Prix car race. Roads can be closed to accommodate these special events. To avoid getting lost in the crowds, check out the events page before you visit.
Get on restaurant reservation when visiting on the weekends
During peak dinner hours, restaurants can have a very long waitlist. I remember when we were looking for places to eat around 5:30 pm on a Saturday, restaurants have an average of 1 hour wait time. Our babies were hungry and crying so we left to get dinner elsewhere.
We've learned from our experience to always call ahead to make reservations before we go.
Wear comfortably
There will be a lot of walking so be prepared to wear comfortable shoes. We spent around 4 hours there and a big chunk of that time was spent on walking and sightseeing. Benches are scattered throughout so you can always stop to catch some rest or breastfeeding 🙂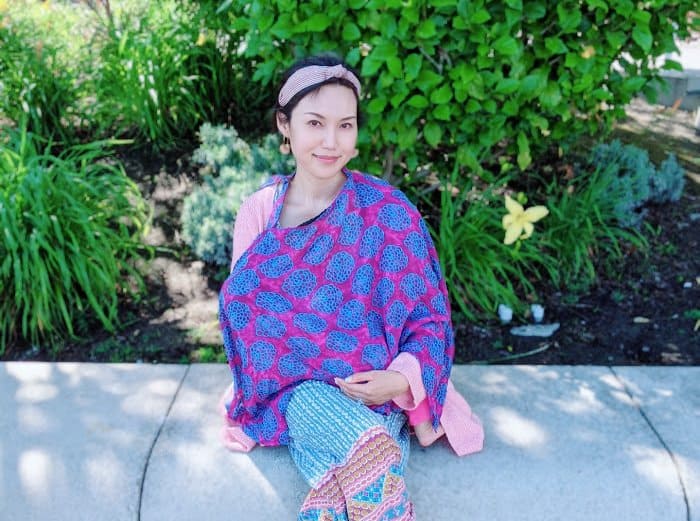 ---
Long Beach waterfront is a very kid and baby-friendly place to visit. Spending a relaxing day with family here has never been so easy and blissful.
Things to do with kids in Long Beach, CA