Is your child sensitive to certain textures? Is your child a picky eater? Are you running out of play ideas with your child?
Here is what you can do to help with those issues:
Make a sensory bin!
Now, obviously giving your child another "toy" won't singly solve his tactile defensiveness or make him a ravenous eater. But it can help wake up his senses and with repeated exposure, address common developmental issues linked to the five senses.
In this post, I'll show you:
How to easily create a sensory box full of toys your toddler will love
The best places to curate your assortment of toys
Other creative sensory bin ideas
Ever since exposing my NICU baby to different textures through my sensory bin, I've noticed that my toddler is less afraid of certain textures. He used to cringe at anything neon-colored, slimy, spiky, hairy, and grainy. Did I mention that he went from an extremely picky eater to a not-so-extreme picky eater?!
Let's save that to another topic.
If you gather the correct types of toys and efficiently present the sensory box to your child, you'll notice a change in your child's behavior. Whether it be happier, healthier, or smarter!
This post may contain affiliate links, which means I'll receive a commission if you purchase through my link, at no extra cost to you. Please read full disclosure here.
What is a sensory box
A sensory box is simply an assortment of small items stored inside a clear plastic container that stimulate a person's senses. It can be used for anyone from healthy babies to mentally ill adults.
Types of sensory box
You can have a sensory box as small as a shoebox or as big as a moving box. Some sensory bins contain fillers such as rice, bird seeds, water beads, hedge balls, pasta stars, and more. Kids can dip their little hands and feet in the boxes for extra sensory stimulation and practice pouring skills with the fillers. The downside to these types of sensory boxes is that they tend to be very messy and play needs to be supervised in case the little ones accidentally ate the fillers.
Another type of sensory box, which I'll show you how to make one below, is simply an assortment of small items with different textures. No fillers needed so no mess to clean!
Why every toddler should have a sensory box
A sensory box is amazing for a young child's development. It gives tons of sensory stimulation and each stimulation plays a role in building nerve connections within the developing brain's neural pathways. The brain uses those stimulations to form perceptions, behavior, and learning.
In short, the more sensory stimulation a child receives the more power to the brain!
As sensory and eating go hand in hand, many pickers refuse to eat certain types of foods because they don't like how the food look, feel or smell. By exposing a picky eater to items with different textures will help wake up her senses. In return, make her less sensitive when it comes to foods. This is the reason why I let baby Chunbao play with his sensory box prior to mealtime. It eases his hypersensitivity and makes him more open to trying new foods.
Here are the many benefits of playing with sensory boxes:
Stimulate the senses – Especially important for kids oversensitive to touch. The more exposure to things they feel peculiar on, the less sensitive they have towards them.
Speech development – You can name the items in the sensory box or encourage your child to call out each item during play.
Encourage imaginary play – Sensory boxes can be themed and the small toys in it can strike up children's creativity on how they play.
Social interaction – Sensory boxes are a great tool to be played together while children learn how to take turn and share.
Motor skills – Sensory boxes help a child develop fine motor skills associated with practical life skill such as dumping, scooping, and transferring.
Learn how to clean up – Playing with sensory boxes can be messy. So why not teach your child how to clean up after herself when play is over.
Therapeutic & can be calming or help manage anxiety. A must-have for children with autism or sensory processing disorder.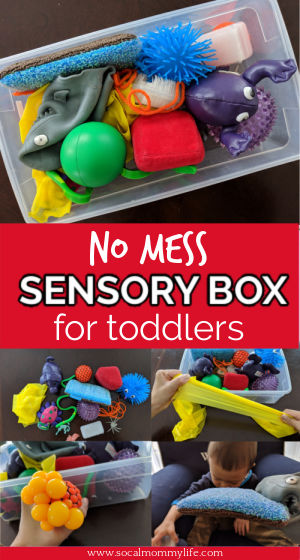 How to Make A Sensory Box For Your Toddler
First, find a clear plastic container with a lid for easy storage. Our bin is 6 quart, which is about 13″ x 8″ x 5″. The size of the bin doesn't really matter. Just use whatever you can find. Next is the fun part. Look for small items or toys with different textures, the more contrasting the better. I'm constantly adding things to our box but below are items with different textures that are currently in baby Chunbao's sensory box.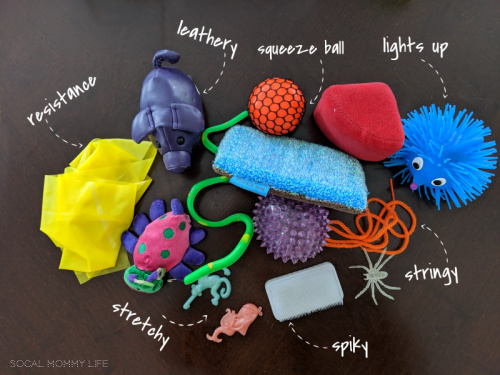 Here are some textures and toys ideas:
Soft – mini plush pillow, cotton ball, feather.
Hard – golf ball, rocks, seashell, pine cone, wooden cube, tangle fidget toy
Rough – air-dried washcloth, scrub sponge, sandpaper, rough fabric like corduroy
Smooth – plastic spoon, a piece of silk, tiles
Slimy – slime toy
Stretchy – rubber band, rubber/latex glove, stretch toy
Fuzzy – pompoms, fuzzy sticks
Spiky – dish brush, spiky ball toy
How to Present the Sensory Box to a toddler
I keep the sensory box in our closet and bring it out prior to mealtimes or when baby Chunbao's friends are over. He's still getting used to some of the textures so playing feed-the-shark is a great way to encourage him to touch and grab the little toys.
To help with speech development, name the objects as your child goes through each one. Tell him what color is it, what texture does it have, and how do you feel when you touch it. Let your creativity run wild!
You can also invite independent play as you leave the sensory box out for your child to play and explore. I also love that this sensory box is no mess. We have another sensory box with rice in it and the grains got everywhere no matter how carefully we play. As a busy mom, I really enjoy this set of little items since clean up is a breeze.
Related post: Developmental activities for a smarter baby (3-6 months)
Important things to consider for a sensory box play
Safety first! Some small toys can be choking hazards. So, if your baby is still putting things in his mouth, be extra careful and supervise during play.
I know that it can be hard to keep things clean in the house, but the sensory box can get dirty after repeated play. Wash or wipe the small toys frequently to keep germs at bay.
Lastly, do not force your child to touch anything he is adverse to. Instead, encourage him to imitate you as you gently touch the object. Or, get one of your child's favorite toy and interact it with the things he is sensitive to. If you want to lessen your child's adversity towards a thing, leave it out along with his other toys so that it becomes part of his environment. Eventually, he'll get used to it. And one day when curiosity strikes, he'll start to play with it.
Where to get sensory box toys
The possibilities are endless when it comes to curating toys in the sensory box. From no cost to some pricier alternatives, you can practically make a sensory box for your child with little to no effort. Here are some places that offer the best sensory toys.
In the Kitchen
My personal favorite! Think scrub sponge, dish brush and a plastic spoon. If you opt for fillers, rice, oats, beans, macaroni are all great filler materials. Measuring cups and mini food storage containers are great for scooping. The best thing is that it's free. Well, not technically free since you purchased those items, but using available items saves time and money. Score!
99 Cent Store, Dollar Tree, or your local dollar store
I love treasure hunting at the 99 Cent Store. You can usually find unique small toys for a dollar such as squeezable animals, plastic creatures, slime toys, fuzzy unicorns, and much more. The under $5 aisle at Target is also filled with small sensory toys perfect for your toddler to explore.
Amazon:
Amazon is great if you know exactly what you're looking for. Since baby Chunbao is afraid of anything spiky, I got these spike balls to help with his texture defensiveness. Here are other great finds from Amazon:
Stretchy man
Rubber shark puppet – Use this shark puppet to encourage your child to pick up the little items in the sensory box. Ready for some serious pretend play?
An assortment of sensory toys
Leave it to the pros:
For busy moms with extra cash, sensory box subscription services like Sensory TheraPlay Box offers professionally designed sensory boxes delivered to your door monthly. You'll get a box full of sensory toys (5-7 items) hand-picked by Occupational Therapists (pros that specialize in children's sensory and feeding development). Subscription is $40/month with free shipping within the US.
Here is a look at one of their boxes.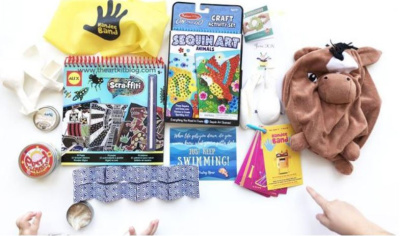 Other amazing sensory box ideas
Possibilities are endless when it comes to sensory boxes. See below for some inspirations.
♡ Rice sensory box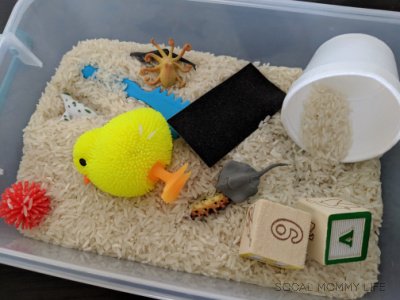 ♡ Garden sensory bin – Mess For Less
♡ Treasure Chest sensory bin – I Can Teach My Child
♡ Frozen Snow Dough sensory bin – The OT Tool Box
♡ Indian corn sensory bin – Still Playing School
♡ Spring sensory bin – Fun With Mama
There you have it. All you need to know about making a sensory box for your toddler. Is your little one ready for some serious sensory play?