You have decided to sleep train your baby. And you have probably decided on how you would sleep training your baby. But do you know that having the right things can be a huge plus while you and your baby take on this endeavor?
We were successful in sleep training baby Chunbao in 5 days with the Ferber method. However, I have to attribute to the list of essentials I'm sharing here that had helped us in our short and painless sleep training journey!
Best products to help sleep train your baby
A parent's role in sleep training is to set the stage for relaxation. In babies, sleep is related to issues of trust and safety as well as physical rejuvenation. Babies need to feel a sense of security in their world in order to let themselves fall asleep.
Using the right gears and hacks to create the perfect sleep environment will ensure that the baby's needs are met so he feels comfortable and safe falling asleep.
A parent's role in sleep training is to set the stage for relaxation.
This post may contain affiliate links, which means I'll receive a commission if you purchase through my link, at no extra cost to you. Please read full disclosure here.
Essentials to help sleep train your baby
Sleep sack for a safe sleep training
Newborns are born with a startle reflex. If the reflex is strong, your newborn may startle herself awake at night and during naps. That's why swaddling a baby up like a jelly bean works wonders to help comfort the fuzzy one. Most babies don't outgrow the startle reflex until 4 or 5 months of age. And it is also around the 5-months mark that a baby is able to roll over.
Swaddling should be stopped when your baby is able to roll over on to her tummy while she sleeps as it increases the risk of SIDS!
If you are ready to sleep train your baby, she is probably old enough to break out of swaddling (or sleep with her arms in). Sleep sacks replace loose blankets in the crib for a safer environment that can provide the needed feeling of security of being swaddled. Their hands need to be free to reposition themselves when they roll over so they can push up off the mattress.
When choosing the best sleep sacks for sleep training, I opt for the ones that offer the arms-in and arms-out options. Better bang for the bucks we're talking about here!
Another important feature to look out for is that the bottom of the sleep sacks are roomy enough for the legs to bend up and out at the hips. This position allows for the natural development of the hip joints and prevents hip dysplasia. Avoid choosing sleep sacks that confine the legs.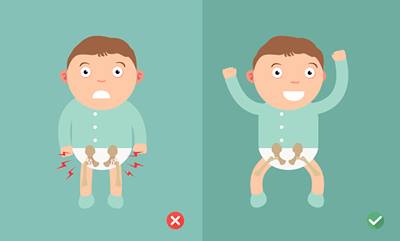 Below are sleep sacks we have for baby Chunbao and I highly recommend each and every one of them. the Halo and Love to Dream sleep sacks can be used as a swaddler for infants with the arms-in option. If your baby is having a hard time "breaking" off swaddling, you can have one arm in and one arm out to help him with the transition. I bought these before we sleep train baby Chunbao, used it during the transition phase, and after he is sleep trained!
Lovey to give security
The lovey can be a security blanket, a small stuffed animal, or a small piece of blanket. Having a lovey, or a comfort object a baby goes to sleep with, will help your baby ease to sleep and help him fall back to sleep when he wakes.
Provide a lovey to your baby only for sleeping. Avoid having her carry the lovey all day long. This will help your baby associate the lovey with sleep when she finds the lovey in her crib.
Baby Chunbao had no idea what to do with the stuffed doggie we gave him. Regardless, we place the doggie next to him when he naps and sleeps each day. Within a few days, he started holding the doggie to sleep, and now, he wouldn't sleep without it!
Even when he wakes in the middle of the night, he wants his doggie instead of me!
Nice warm bath
A nice warm bath as a part of the bedtime routine will calm your baby down from a day's play. Our bath time is no more than 5 minutes long, but I sing songs and teach baby Chunbao about body parts while bathing him.
I have been using this infant-approved lavender bubble bath since we brought baby Chunbao home from the hospital. The plant-based formula, with ultra calming lavender essential oil, is the perfect addition to our bathing routine. It is also gentle enough to be used daily.
As a precaution, always ensure that the bathwater is not too hot for your delicate one. Use this fun & cute bath floating turtle thermometer to display the optimal temperature.
Books for story time
There are just so many benefits on ready books to your baby. It teaches them about communication, builds listening, memory, vocabulary skills, and many more. Cuddling while you read helps your baby feel safe, warm, and connected to you.
Reading books is a part of our daily bedtime routine. All you need is 5 minutes or 2 books per night.
But what are the best books to read at night? Books about going to bed! Below are the 3 of Baby Chunbao's favorite books for winding down the day.
The Going to Bed Book by Sandra Boyton is a short and silly board book perfect for 6+ months old baby.
Good Morning, Good Night! by Tresa Imperato is a touch & feel book. Have your baby feel the soft, fluffy fur of each animal as you both say, "good night!"
Goodnight Moon by Margaret Wise Brown has simple rhythms and ritual of saying good night to all favorite things in the house.
– Sandra Boynton
– Teresa Imperato
– Margaret Wise Brown
Humidifier for a purified air
Having a humidifier when your baby sleeps will make the air feel warmer & improve breathing comfort, nasal congestion & dry skin. After I put baby Chunbao down on his crib, I turn on the humidifier for his entire nap or sleep. There were a couple of times I forgot to turn on the humidifier and he had awaken in the middle of the night. Ever since then, I always have the humidifier turned on whenever he sleeps.
When choosing a good humidifier for your baby, opt for easy to clean and low noise levels. The Pure Ultrasonic Humidifier is a fan favorite on Amazon. It has a sleek design, very easy to clean, and does not require filter replacements.
Since we live in Southern California where the air is super dry, we upgraded from the Pure Humidifier to another fan favorite on Amazon, the Honeywell Humidifier. This humidifier is very durable and can run up to 24 hours with a filled tank. A plus is that when it is turned on, the fan creates this low sound that is very soothing to sleep with. With over 6000 reviews on Amazon, this humidifier is a must-have for the nursery.
When using a humidifier, be sure to drop in a tank clearer to reduce bacteria and mold build up!
Sound machine to ease your baby to dreamland
White-noise machines create a comfortable, womb-like environment that calms anxious babies, encouraging them to stop crying and fall asleep faster. Should baby begin to stir naturally, the calming drone of the white-noise machine provides comfort, encouraging your still-sleepy baby to sink back into a deep sleep.
We love this White Noise Sound Machine that offers 6 other soothing sounds- thunder, ocean, rain, summer night, and brook. After Baby Chunbao grew out depending on white noise to fall asleep, I stared using it for myself on sleepless nights ? This sound machine is very portable that I had taken it with me on a few business trips!
Video monitor to monitor baby's sleep
No matter which training method you use, sleep training your baby involved a certain degree of separation from your baby. Take the anxieity out of now knowing how your baby is doing by investing in a video monitor.
Practice safe sleep training by watching your baby through the monitor during naps and sleeps. Even though we were successful in sleep training our baby in 5 days, we continue to watch him for about 2 weeks. You don't need to watch your baby for hours or be attached to the monitor like a hawk (even though it's hard to resist).
We love the Nest Cam because the video is HD, has Wifi, night vision, 2-Way talk, and works with Google Assistant. When we were sleep training baby Chunbao, we put him in his crib awake, closed his door, and walked away. I leave my phone on so I can see him through the Next app while we watch TV in the living room.
Black-out curtain to block off unnecessary lights
When sleep training, you want to offer the optimal environment for sleep as much as possible. Too much light when your baby is trying to sleep can be very bothersome. These beautiful embroidery curtains are the ones we have for the nursery. It not only does the job but I have received so many praises on them.
Make sure you open the curtains during the day, except during nap times, especially if your baby plays in the nursery during the day. Exposing your baby to strong cues about day versus night will help program your baby's "internal clock". When they sense darkness, they inherently know it's about time to sleep!
Set the right temperature
It is recommended that babies sleep in a temperature between 68° and 72°F (20° to 22.2°C). Maintaining a safe room temperature for your baby is important because it reduces the risk of overheating, which has been linked to SIDS.
It might be hard to gauge whether your baby is actually comfortable so the best way to gauge their comfort level is to consider how you feel in the room.
If you haven't already, consider switching to a smart thermostat such as the Nest Learning thermostat. The best thing I love about Nest thermostat is that it learns the temperature you like and programs itself. Early-On, Nest learns how your home warms up and keeps an eye on the weather to get you the temperature you want when you want it.
Nice to haves to help sleep train your baby
Massage your baby to promote better sleeping
While baby Chunbao was in the NICU, the nurses stressed how important it is to massage my preemie. Research has shown that infants who have their skin stroked regularly cry and fuss less than those who don't. Rubbing your baby the right way will lower the stress hormone cortisol and increase the release of the sleep hormone, melatonin.
Since I learned how to massage baby Chunbao from the Physical therapists, I have incorporated in our daily bedtime routine.
Make sure you use some baby-safe massage oil. All you need is a quarter size for the entire body. Our favorite is the Mustela Baby Oil because of its high quality, combats baby Chunbao's eczema, and smells amazing!
Here are 4 easy ways to massage your baby for full-body relaxation. Starting from the forehead, extend your thumbs to the nose and scalp. Gently squeeze your baby's four limbs as you slowing move away from the body. Turn your baby over and use your palms to rub from top to bottom. Finally, stroke the bottom of the feet with your thumbs.
Diapers especially made for bedtime
Not all diapers are created the same. Nighttime diapers are typically more absorbent than the daytime varieties. Putting your baby to sleep with overnight diapers can avoid unnecessary diaper changes in the middle of the night when he pees out. Generally, nighttime diapers are more expensive but I don't have any doubts about investing in these to get a longer sleep at night.
We have tried many brands and we love Pampers Baby Dry Diapers. These are the ones used in our NICU and we continue to use it until baby Chunbao is potty trained. I also noticed that the Pampers diapers are longer than other brands giving more protection in the back. Sometimes we switch to Honest Overnights diapers because of its natural awesomeness. Their diapers are free from chlorine and chemical bleaches. It hugs the thighs very well making it super leak-free. This one is for you if you are looking for natural diapers.
Musical mobile to sooth baby's sensory
We used to have a crib mobile with a musical box and cute rotating animals. However, the music that comes with our crib mobile doesn't sound very good so I sought to replace it. I replaced it with this musical mobile and it is such a game-changer! Not only does it come with 60 different songs, but the tunes are very soothing. The sounds remind me of an old-fashioned ballerina music box.
The musical mobile can be attached to any crib mobile and it can play songs and spins separately.
I usually turn it on when I massage baby Chunbao during our bedtime routine and turns it off after we kiss goodnight. Since baby Chunbao loves the music that comes with it, I take the music box with us whenever we travel. Even at 3 years-old he still enjoys listening to the music box before bedtime.
Glider to encourage bonding
Where is a better spot to read books to your baby before bedtime than to snuggle in a comfy glider? Reading is part of our daily bedtime routine, just before I put baby Chunbao in his crib. The only place that allows us to read books together comfortably is on our glider where I used to nurse him on.
When choosing a glider, opt for the ones that are easy to clean come with an ottoman for some extra leg rests. We love the Windsor Glider and Ottoman because it comes with storage pockets and removable cushions for easy clean-up.
A safe and firm crib mattress
Having a comfortable crib mattress can help your baby fall asleep and stay asleep. If your baby is still sleeping in the pack n' play, it's time to upgrade to the crib!
We made the transition from having baby Chunbao sleep in the pack n' play in our room to sleeping in his own crib in the nursery on Day 1 of sleep training.
Investing in a safe and durable crib mattress is crucial. I highly recommend the 2-stage crib mattress from Sealy. Place your infant on the firmer side and when she becomes a toddler, flip the mattress over for the softer side. Another better bang for the bucks!
Key takeaway
While we can't force our baby to sleep, we can set the stage for relaxation so our baby feels secure falling asleep. So, set a bedtime routine, be consistent, and choose the right gears for sleep training and we will be heading to a good night's sleep!
What other sleep training essentials have you tried? Let me know by leaving a comment below

Pin these Pins so you can reference late!