How To Entertain Your Toddler With These Life-Saving Airplane Activities For Toddlers
If you're like me, the thought of traveling with a toddler makes your skin crawl. It seems like every trip is a battle between entertaining them and keeping them from disturbing other passengers. But with the right airplane activities for toddlers, you can make your travel experience much less miserable.
I've always loved traveling and I'm not letting having kids hold us back from exploring the world. Before Baby W turned 3, we managed to fly across 3 different countries including a 2-weeks vacation in Asia – that's about 80 hours total on flights around this great planet of ours (not to mention countless hours waiting to be boarded)!
I've put together a list of our favorite activities that will keep your little one busy and happy during your trip.
So don't pack any extra stress along with your bags – just let your toddler have fun with these activities and enjoy your trip!
This post may contain affiliate links, which means I'll receive a commission if you purchase through my link, at no extra cost to you. Please read full disclosure here.
What To Look For In Airplane Activities For Toddlers?
When choosing activities to do on the plane, look out for these features:
Weight and Size
We don't want to carry around anything unnecessary other than our luggages, so the lighter it gets for us as passengers-the better! Bring something that's lightweight and compact such as coloring pages and lego pieces.
Concentration and sensory-driven
Activities that require concentration or sensory perception will help toddlers stay engaged and distracted from the airplane surroundings.
Mess-free
Air travel with young kids is stressful enough so to make the experience more pleasant for everyone involved, it is helpful to plan ahead and pack some "mess-free" activities for toddlers. Some good options include books and puzzles. These items will help keep your child entertained during the flight, and they won't create any extra mess for you to deal with.
Contained in a box or pouch
Small toys can easily get lost under the seat so be sure to bring activities that can be stowed in a box or pouch. If you must bring small toys such as crayons or lego pieces, you can make them more travel-friendly by storing them in ziplock bags.
Quiet
Leave musical toys and anything that requires batteries at home. It's important to be considerate of others when flying. That means no loud toys that could disturb other passengers.
If you're bringing new toys for the flight, make sure you wait until the plane has taken off before giving them to your toddler. The excitement of meeting new toys and exploring them will keep your toddler happy while traveling.
Puzzles Games
One way to keep your toddlers busy on a plane is to give them puzzles to solve. Not only will this help to pass the time, but it will also help to develop their problem-solving skills. There are a variety of puzzles that are designed specifically for airplane use, so be sure to pack one before your next flight.
I highly recommend this travel-friendly wooden puzzle. The puzzle pieces are chunky so you won't have a hard time looking for them if they fall underneath the seat. They're compact – each board is less than 6″ wide and you can choose between a 4-pack or 6-pack. And better yet? It comes with a cute little bag to store all the puzzle pieces together.
Toddlers will be so addicted to this lightweight foam puzzle kit that they won't want it any other way. The pieces are made of material perfect for little than. Even though the finished product may seem simple at first, there's always something new about exploring how each piece goes together!
Bedtime Books
Reading books is a great activity for passing time on flights because it's easy to carry, educational, and does not make loud noises that can be disturbing to other seatmates.
If reading books is part of your toddler's bedtime routine, read some books to ensure your child has gotten all the snooze buttons pressed.
You can't be too careful when flying on an airplane- make sure your toddler's naps are planned accordingly. If you have a full day of adventure ahead, it's best to let your child sleep before landing. Conversely, if visiting at night and heading straight for bed, then make sure they are awake at least 2 hours before landing.
When traveling with my toddlers, I also bring along books from our bedtime collection. Since they're so used to reading these books right before they go down for the night, reading these books on the plane will signal them that it's time for bed.
The Going to Bed Book by Sandra Boyton is a short and silly board book. This little book even fits in my purse! Madi's favorite is the Good Morning, Good Night! book by Tresa Imperato because she gets to feel the soft, fluffy fur of each animal in the story.
RELATED ARTICLE: How To Get Your Child To Sleep Alone
Mess-Free Coloring Activities
If you're looking for airplane toys for toddlers that will keep them entertained without making a mess, the Crayola Mess-Free Coloring Pages are a must. These kits come with special markers where the colors appear only on the special paper, not on skin, clothing, or anything else.
Plus, there are so many themes to choose from: Frozen, Blippi, Baby Shark, Cocomelon, Disney characters, you name it! Baby W's favorite is the Paw Paltrow version and you can see his masterpiece below 😅
In getting ready for our upcoming trip, I got this mess-free coloring kit that has added stamps and stickers. And better yet, it comes in a portable box. I let my 18-month-old toddler try it out at home first and she literally drew for 30 minutes straight!
Window Clings or Stickers
If you're looking for airplane activities for toddlers that will keep your little one entertained, window clings or stickers are a great option. These reusable stickers can be attached to the airplane window, providing a fun and engaging way for your toddler to look out at the sky. And when it's time to land, simply peel them off and store them away until your next flight.
We love these puffy sticker playsets by Melissa & Doug. There are 3-Packs in each set and include double-sided glossy backgrounds and reusable puffy stickers. This puffy sticker activity set comes with a convenient carrying handle that makes it great for travel and on-the-go play.
No-Mess Sensory Box
It can be hard for little ones to focus on just one activity. That's why I've found that a sensory box is a perfect solution. By filling a small plastic box with small household items, you can give your little one something fun and interesting to play with throughout the flight. Plus, with no mess or loose pieces involved, you won't have to worry about spills or clutter in the cabin.
This ingenious invention is simply an assortment of small items with different textures. No fillers (think rice and beans in a traditional sensory box) are needed so no mess to clean!
Here are some textures and toys ideas:
Soft – cotton ball, feather.
Hard – golf ball, rocks, seashell, pine cone, wooden cube
Rough – air-dried washcloth, scrub sponge, sandpaper, rough fabric like corduroy
Smooth – plastic spoon, a piece of silk
Slimy – slime toy
Stretchy – rubber band, rubber/latex glove, stretch toy
Fuzzy – pompoms, Chenille Stems
Spiky – dish brush, spiky ball toy
Gather all items in a container with a lid or simply put everything in a zip lock bag and you're good to go.
RELATED POST: How to Make a Mess-Free Sensory Box for Toddlers That Will Save Your Sanity
Sorting and Stacking Activities
Sorting and stacking activities are great for occupying toddlers on a plane. Children can sort objects by color, shape, or size, and then stack them in towers or build other structures. These activities help to improve problem-solving and fine motor skills while also keeping little ones entertained. This type of activity is so simple yet addicting!
Baby W can spend hours stacking the colorful pegs in this Pegboard set. Since it comes in a travel-friendly bag and is super lightweight, we carry this toy wherever we go.
Here's also a great stacking toy for toddler girls!
---
If you have a toddler who's coming with you on your next airplane trip, make sure to include these activities! Not only will they keep your little one occupied and out of trouble, but they may also help make the experience less miserable for everyone involved.
Do you have any other favorite airplane activities for toddlers? Let me know by leaving a message below.
Airplane Activities For Toddlers Related Posts
15 Of The Best Card Games For Toddlers We've Ever Found Online
How to Make a Mess-Free Sensory Box for Toddlers That Will Save Your Sanity
10 toddler fine motor activities you should do at home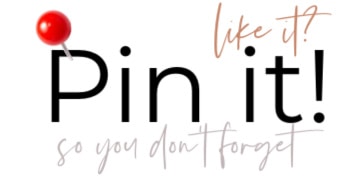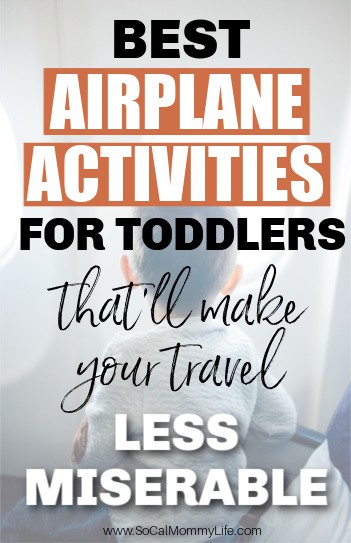 6 Simple Airplane Activities For Toddlers That Actually Keep Them Happy