*This post may have affiliate links. Please see my disclaimer.
Making foods for a picky eater kills my brain cells. One day baby Chunbao only wants to be spoon-fed and the other day he'll only want fruits. Everyone says every toddler is picky eating but this is extreme! Since my lil' monster will almost never pass on crunchy foods, these healthy almond crisp cookies are here to satisfy his crunch sensation.
Almonds are loaded with healthy fats, antioxidants, vitamins, and minerals. One ounce (28 grams) contains 6 grams of proteins, 161 calories, and 14 grams of fat! I often make these cookies for my underweight baby for that matter. The riboflavin in almonds is also essential in boosting brain development.
I've replaced the almonds with pepitas and pine nuts before. Both are yummy but I still prefer baking with almonds. You can also experiment with other nuts like pecan, walnuts, macadamia nuts, cashews, etc. Just make sure that the nuts are chopped so these cookies are flat and crunchy. This is also a great way to incorporate more nuts into your baby's diet.
I didn't try to add any extra flavorings like vanilla or cinnamon because these almond crisps are surprisingly aromatic as is.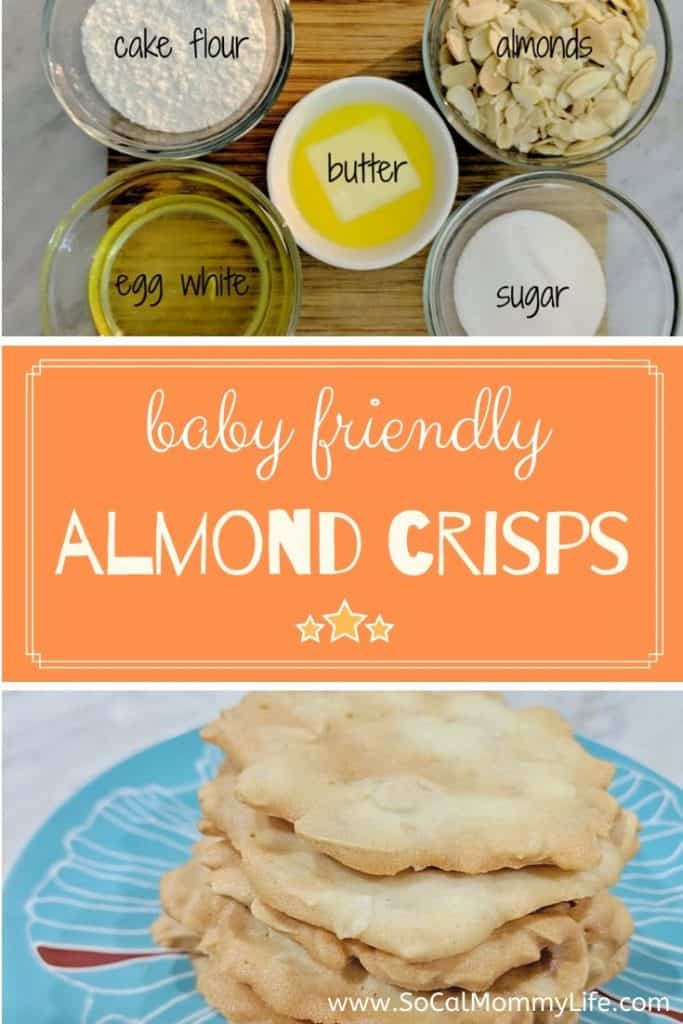 What you'll need:
200g Almond slices (without skin)
100g Cake flour
60g melted butter
80g sugar
4 egg whites
pinch of salt
Here's how:
Preheat oven to 350 degrees. Melt butter to room temperature.
Sift the cake flour. Sifting breaks up any lumps in the flour and makes it easier to mix into other ingredients. Don't own a flour sifter? Sift the flour with a fine strainer like I'm using here.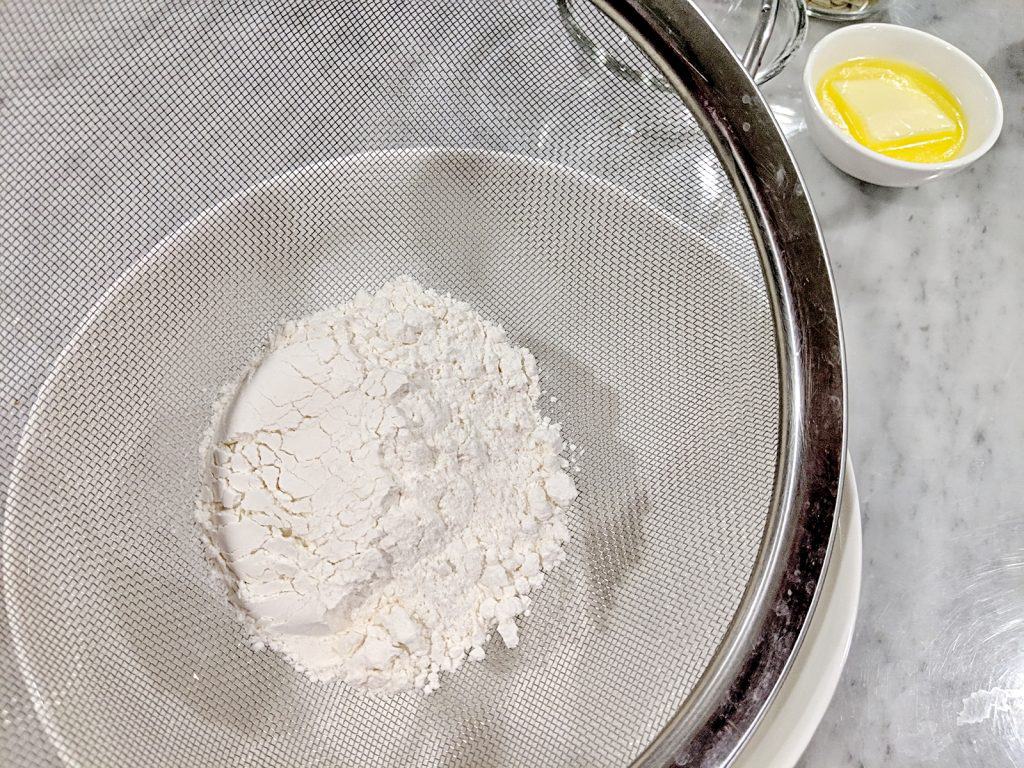 3. Whisk together egg whites, sugar, and salt (I turn my KitchenAid mixer to level 4 and whisk for about 1 minute).
4. Slowly blend in sifted flour to the wet mixture. You can either continue blending in the mixer or use spatula to hand mix until smooth.
5. Add in melted butter. Make sure the butter is not hot (if you melted in the microwave) or it will burn the wet mixture!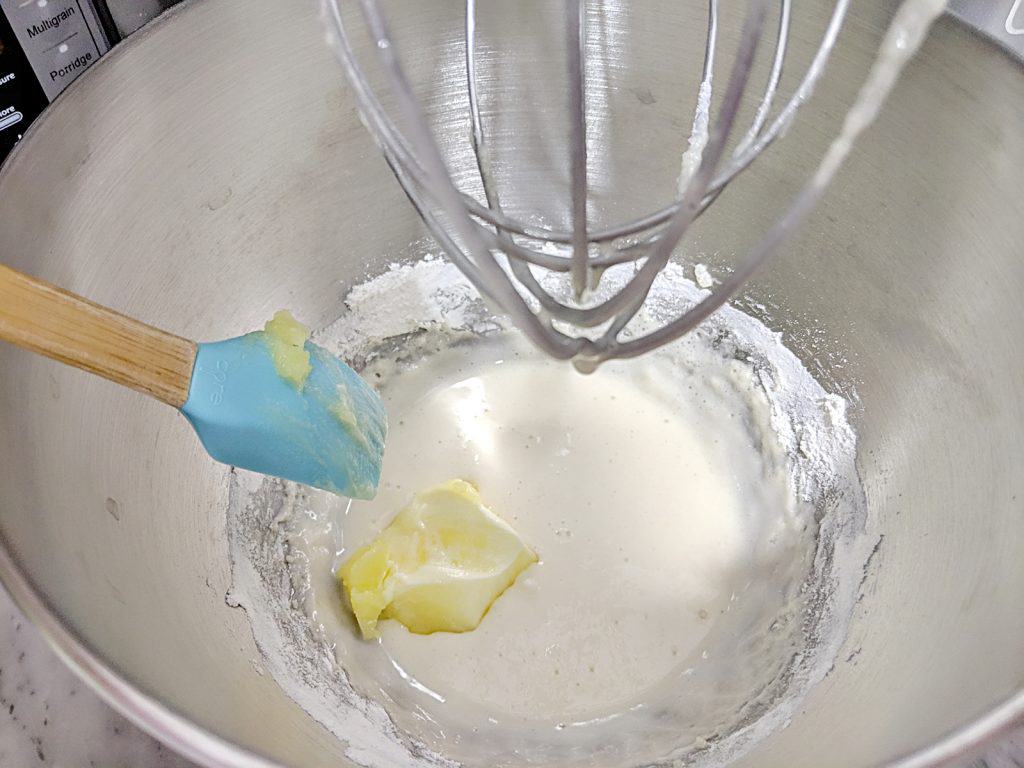 6. Pour in sliced almonds into the wet mixture and blend evenly with a spatula.
7. Line parchment paper on a baking pan. Scoop a spoonful of the mixture onto the pan and flatten with the back of a wet spoon. How flat you want the cookies to be depend on your liking, but try to flatten every cookie evenly. Since I'm making these for my 1-year-old, I tried to make these as thin as possible.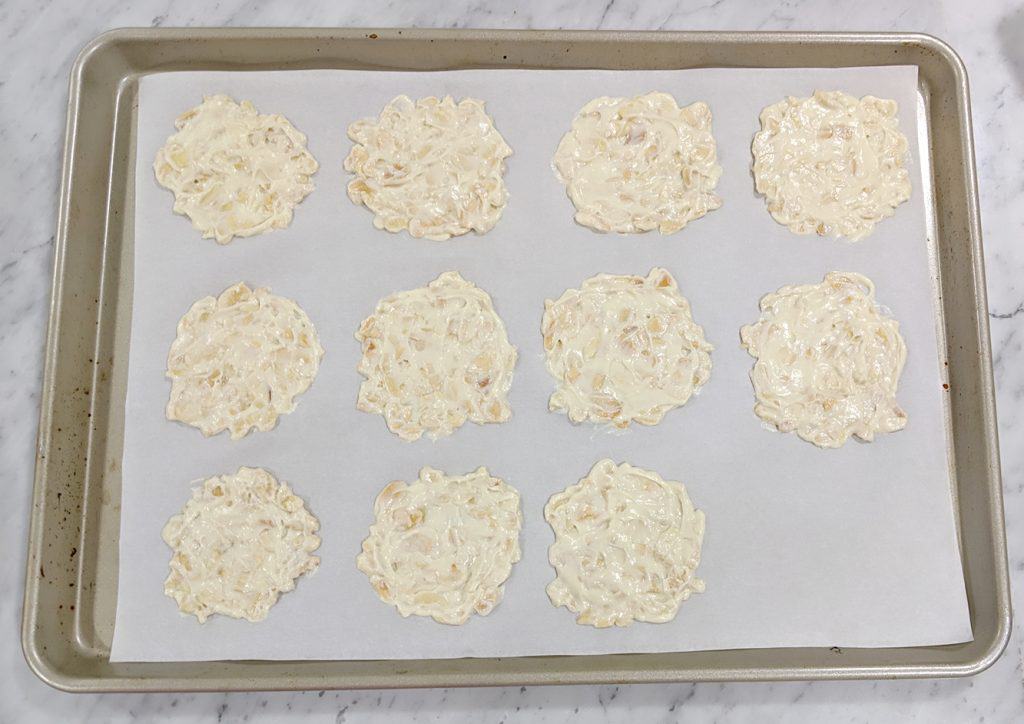 8. Bake for 20 – 25 minutes. Rotate pan halfway through (I also tested the hardness during this time 😝). Cooking time varies on individual oven and thickness of the cookie. If you're unsure when the cookies are done, press the middle, usually the thickest part, to check if it is hard. Adjust cooking time accordingly.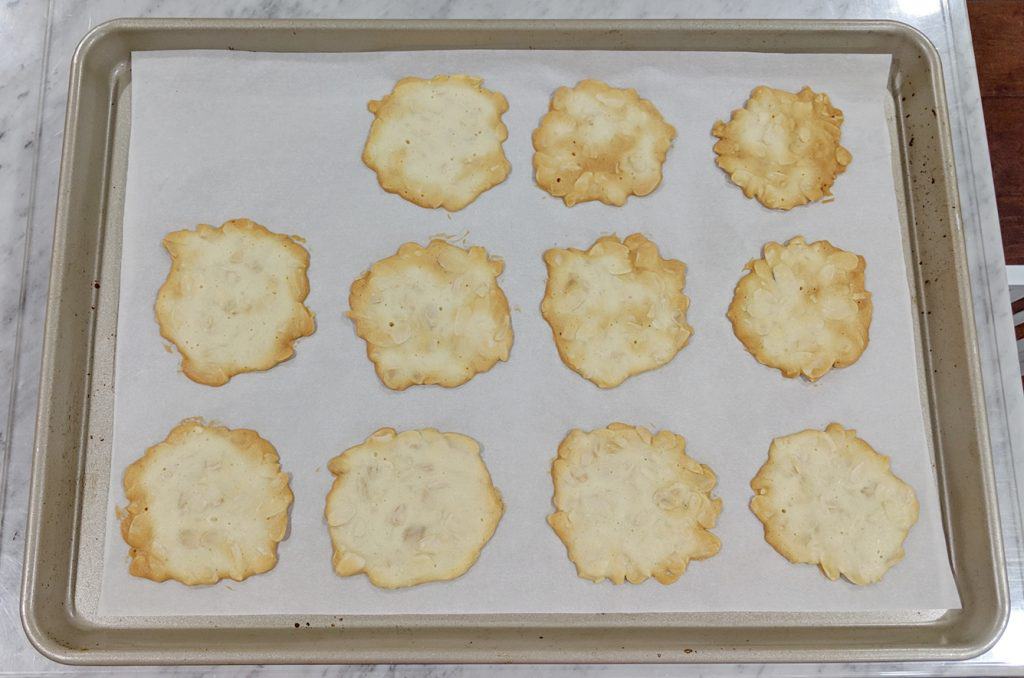 9. Let cool and store in airtight container for up to 1 week.
Since I'm making these for baby Chunbao, the sugar amount in this recipe is reduced (Our entire family isn't a fan of sugars anyways but I can always have another salted caramel macaron😜). Adjust the sugar level accordingly if you like them to be sweeter.
These super easy to bake almond crisps are a match in heaven with my afternoon tea. It has become a staple in our kitchen because my entire family (including my little extreme picky eating monster) devours them in no time. These are so simple to make so I wonder why they are so expensive at the stores?! So moms, let's roll up the sleeves 💪and make these at home!
Want more baby-friendly recipes? Check out my Apple Spiced Walnut Milk and No Bake Baby Protein Bites