We all know breakfast is the most important meal of the day. But sometimes it's hard to come up with ideas that are healthy and easy for our kids to eat. That's why I'm excited to share this egg muffins for kids recipe with you.
These little egg muffins are packed with protein and veggies, and they're perfect for the on-the-go and your kid's lunchbox too. Plus, your kids will love them! Both of my picker eaters do.
So go ahead and give this recipe a try – I promise you won't be disappointed.
What are egg muffins for kids
Egg muffins are a great option for kids because they are packed with nutrition. This recipe includes fat, protein, veggies, and omega-3 fatty acids. The cheese and milk provide the fat, the turkey bacon and egg provide the protein, the spinach provides the veggies, and the flaxseed provides the brain-boosting power.
These muffins are not only yummy but ultra nutritious for kids. So if you're looking for a way to pack some extra nutrition into your kid's diet, look no further than this recipe for egg muffins.
This post may contain affiliate links, which means I'll receive a commission if you purchase through my link, at no extra cost to you. Please read full disclosure here.
How to make egg muffins for kids
Making these healthy egg muffins is super easy. It only took me about 15 minutes from start to finish.
Sometimes, I'll add in whatever I can find in the fridge (carrots, mushrooms, onions, broccoli, ground meat, etc) to make different variations. My picky eaters love the spinach and bacon combo so I'm featuring it here.
Although I used to make these in mini-sized muffin tins for my baby. I now make these in regular-sized muffin tins for the entire family. Please note that the ingredients is for 12 muffins. You may adjust the amounts accordingly if you're making bite-sized muffins.
The ingredients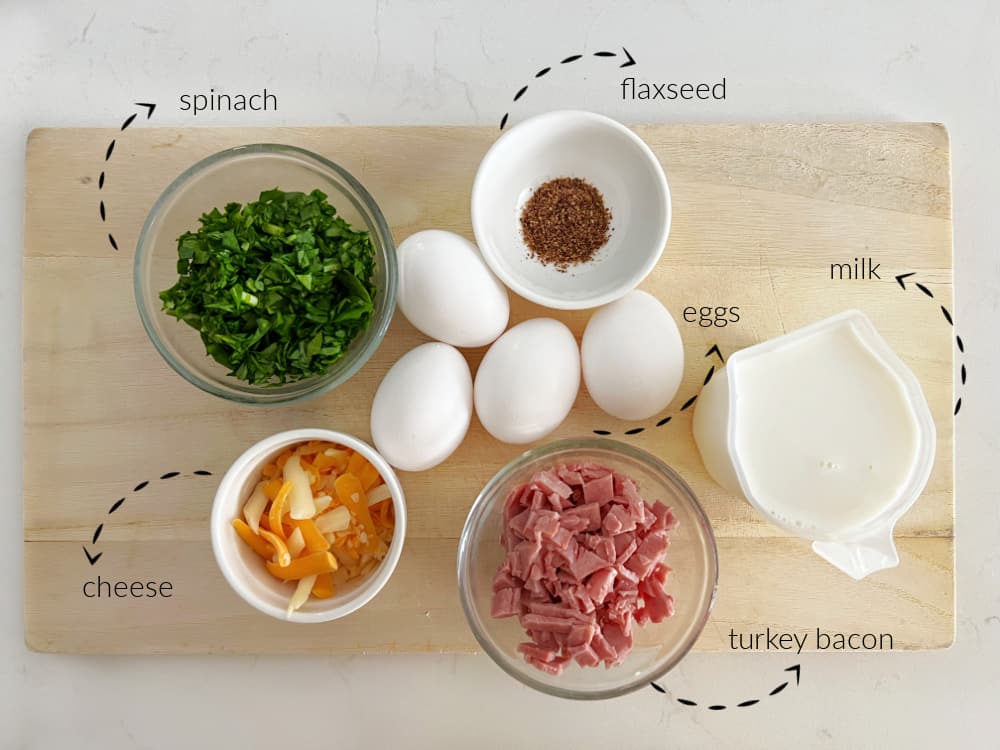 4 eggs
1 C of milk
1/4 C chopped spinach
1/4 C chopped turkey bacon
1 Tbs ground flaxseed (optional)
1/4 C shredded cheese
Instructions
Preheat oven to 350°F (180°C)
Beat eggs in a mixer or hand whisk. Add milk to the mixture and mix. Set aside.
3. Grease the muffin tray with oil. I spray the whole tray with avocado oil spray and coat it evenly with a pastry brush.
4. Distribute the chopped turkey bacon evenly onto each muffin tin.
5. Add in the chopped spinach.
6. Pour the egg and milk mixture onto each muffin cup. The muffin will 'rise' during baking so I only pour into half of each muffin cup.
7. Sprinkle flaxseed and shredded cheese.
8. Stir each muffin cup so the ingredients are well-mixed.
9. Bake in the oven for 12~15 minutes.
10. Let cook and take out each egg muffin with a spoon.
11. Serve warm
Egg muffins for kids ingredient variations
Variations for this egg muffin recipe are endless.
You can add or remove ingredients according to what you currently have, what your kids likings are, or any dietary restrictions. I've tried to replace the spinach with broccoli and honestly, it doesn't taste as good (I think it's because no one in this household likes broccoli 😅).
You can use any type of cheese as well. I've added parmesan and shredded cheddar before. You can add some butter or heavy cream if you want to make these egg muffins more caloric (I used to add these for my underweight son).
Oh, and for the avocado oil spray, I made it with ghee before instead, and it tasted really good too.
You may add shredded sweet potato, chopped mushrooms, and even Italian seasoning. The possibilities are endless!
How long do egg muffins stay good for
When stored in an airtight container, egg muffins can stay good for up to 5 days in the fridge or 30 days in the freezer.
I usually reheat the egg muffins in the microwave on high power for 30 seconds. For a crispier texture, you can reheat it in the air fryer for about 5 minutes.
Are egg muffins freezer friendly?
Absolutely! When I was making bite-sized muffins for my toddlers, I used to make a whole batch and freeze the leftovers. When serving, I pop the frozen egg muffins in the microwave or the air fryer.
Now that I'm making it for my whole family, we would gobble everything up leaving no room for the freezer 😋.
The last thing you need to know about egg muffins for kids
If you're in need of a quick and healthy breakfast that will keep your kiddos fueled throughout the morning, look no further than this egg muffins for kids recipe. These are easy to make and perfect for on-the-go mornings.
If you have any questions or comments, please leave them below and I'll be happy to answer them.
And if you make any of these yummy egg muffins, don't forget to share and tag me @socal.mommy so I can see how they turned out!
Egg muffins for kids related recipes