Welcome to the first months with your new baby! Forget about the middle of the night feedings and not brushing your teeth for days. Now is the most exciting time as you get to know your precious one.
Although Baby Chunbao spent his first 44 days in the NICU due to a traumatic birth experience, we were lucky to have worked with therapists and learned how to play with our bedridden son.
When we brought him home, we continue to receive child development, physical, speech, and feeding therapies for years. We learned so many ways to play with our infant so that he doesn't miss his developmental milestones.
In this post, I'll show you some fun developmental activities for your baby so that you can better help your child reach her developmental milestones!
Please note that this post may contain affiliate links. Please see my disclosure.
0-3 month developmental milestones
Baby's development is usually categorized into 3 buckets – motor, sensory and social. Here are some major milestones.
Motor development
Raises head when on tummy
Supports upper body with arms when on tummy
Bring hands to mouth
Opens and shuts hands
Grasps for objects when placed close to baby's hands
Stretches and kicks legs when lying on the back
Sensory development
Eyes follow a moving object
Recognizes familiar object
Turns head toward direction of a sound
Social development
Watches faces intently
Smile at familiar faces
Recognize familiar objects and people at a distance
Begins to babble
Do not get bogged down if your baby is "delayed". Not reaching a milestone does not mean a lower IQ.
Also "delayed" for now doesn't mean delayed forever.
Babies just develop at a different pace. Just like my niece started to walk at 10 months and my neighbor's son didn't start walking until he was 14 months. They are both walking, jumping, super hyper, perfectly normal kids now.
To encourage development and parental bonding, there are 2 major activities you should be doing (if not already) with your newborn.
Baby activities for reaching developmental milestones
Before we begin, I want to emphasize the importance of a play mat. If you have hard floors, you definitely need a play mat for your baby to lay, roll, crawl, and fall.
There are a couple of times I put Baby Chunbao down too fast that he bumped his head on the floor. Thank god for this play mat, he didn't even weep.
If you have carpet, more the reason to have a play mat. There are just tons of dust, molds, fungi, and other respiratory irritants for your baby's developing respiratory system.
We love this amazing mat because it is non-toxic and one-piece. It's basically like a giant yoga mat except for the super cute design. This mat is also reversible with 2 different designs.
Although there are many designs to choose from, I highly recommend the green country town mat. It is not as busy as the other designs and it's just more soothing and appealing to the eye.
Another reason I decided to go with this mat is it's so easy to clean. Unlike the conventional puzzle-like playmats, you don't need to worry about dust getting trapped in between cracks.
Developmental Activity #1: Tummy time
Do you know that healthy babies can start doing tummy time the day they are born?
Although safe-sleep means putting the baby to sleep on his back, being on track for development means playing on his tummy. The American Association of Pediatrics (AAP) recommends tummy time 2~3 times a day for 3~5 minutes.
Doing tummy time regularly will help strengthen the muscles in your baby's neck. It also will help prevent your baby from developing a flat spot on the back of his head.

AAP
Tummy Time Activity Ideas
Chest – to- chest – You can do this sitting upright or lying down. This is my favorite activity (and my son's favorite too) because we get to see each other's faces
Support with Boppy pillow – For infants that can't support themselves on the tummy, use a Boppy to give them a boost. My son had weak muscle tone (due to his stay in the NICU) so he was doing tummy time on the Boppy for months before he can barely support himself on the mat.
Fun toys – When baby is on the floor or supported with Boppy, put a toy in front of him and engage him in play. You can also have your baby follow the toy by moving the toy off the floor to help strengthen his neck muscle.
We love this Fisher-Price Deluxe Kick 'n Play Piano Gym for tummy time. The piano can be propped so that your baby can entertain with it while on tummy time!
Lap time – Place baby face down across your laps. Rocking your legs can also help to calm your baby down in this position. You can also help strengthen your infant's neck by supporting his chest while in this position.
Developmental Activity #2: Facetime
Infants love faces, especially your face!
Make eye contact, have your baby study your face, and turn to your voice to encourage his social development.
I've also printed out some faces cards to put alongside Baby Chunbao's playpen. He enjoyed studying these little faces when he was on tummy time.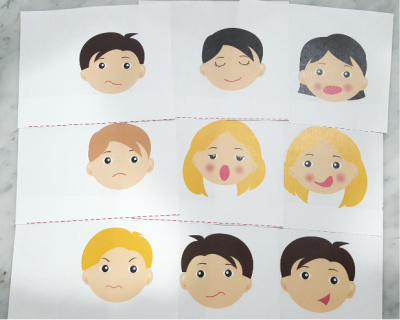 Brillbaby has tons of FREE infant simulation cards for download 🙂
Other than the two most important activities to do with your infant as mentioned above, here are additional play ideas broken down for 0~1-month-old, 2 months, and 3-months-old baby.
0~1-month-old baby developmental play ideas:
Reading to your baby from picture books that offer short sentences.
Give baby a light massage starting from the shoulders, work down to her fingers, then move down to her torso and feet.
Bicycling your baby's legs.
Offer baby dissimilar object to look at. For example, show her a round ball and a flat plate or cold towel and a warm bottle.
Introduce new objects to her and watch her expression. For example, attach a new toy to an existing one.
2-months-old baby developmental play ideas:
Bring a toy to get your baby's attention, then move it out of his sight. Wait a couple of seconds and bring the toy back into his field of vision.
Move toys slightly around the baby to help him reach for them.
Imitate your baby's sound with a high pitched voice. The more you repeat her sounds, the more she'll repeat yours.
Help your baby roll from back to tummy by gently swinging one of his legs over the other.
Slowly move toys in a circular motion and see if he tries to follow it with his eyes.
Offer baby lots of interesting and dissimilar things to grasp and explore with his mouth. For example, he'll learn that dry washcloth is rough and dry. A chilled teether is cold and firm. If he mouths a small stuffed animal, he'll discover furriness and softness.
3-month-old baby developmental play ideas:
Give baby plenty of propped-up sitting time and tummy time.
Help your baby discover cause-and-effect by placing a toy that makes noise when squeezed (like Sofie la giraffe teether) in her hand. Squeeze it for her and watch her reaction. She'll soon be squeezing herself in an attempt to make the noise.
Be creative in making different noises to your baby. Gurgle, blow bubbles, blow raspberries, puff your mouth, whistle, make teeth noises, and so on.
Offer him a variety of toys that are easy to hold. When he drops an object, offer him a different one. Then offer him another object while's he's holding something else. See what he does!
Make noise with a toy behind the baby's field of vision. Watch him try to turn his head and eyes to find it.
Playing with your baby not only helps with her development but also encourages parental bonding.
Developmental activities related articles
So, how do you play with your 0~3 month baby? Let me know by leaving a comment below!
Pin these to your Pinterest board now!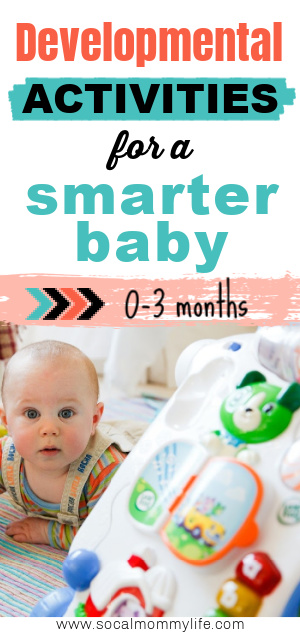 Related post: Developmental activities for a smarter baby (3-6 months)