For many kids, learning how to ride a kick scooter is a rite of passage. It's a great way for them to get outside and get some exercise, and once they've mastered the basics, they'll be zipping around the neighborhood in no time.
At age 5, little W was just getting started to ride a scooter. We are ecstatic when we received the McLaren scooter for him to try out. He was so excited to hop onto his new McLaren and finally feel just as good about himself too.
We were so excited to see how much he had learned in just one day. My son struggled a bit at first, but after an afternoon of practice, we saw that his riding skills have improved greatly!
Here's a step-by-step guide on how to teach your child to ride a kick scooter.
This post may contain affiliate links, which means I'll receive a commission if you purchase through my link, at no extra cost to you. Please read full disclosure here.
Demonstrate how to ride a kick scooter yourself
First, demonstrate how to ride the kick scooter yourself. This will help your child understand what they need to do and give them a better sense of how the scooter works. Alternatively, you can have your child observe how his friends are riding or even show him video clips of how other kids ride scooters.
Make sure the bar handles are at the right height
Make sure the handlebars are at the correct height for your child. If they're too low or too high, it will be difficult for your child to maintain balance.
For beginners, the bar handles should be closer to waist height.
Have all safety gear in place
I'm not the type of parent who lets their child wear all sorts of pads for every riding adventure. But at least I make sure they wear a helmet at all times – this is non-negotiable! Accidents happen, so it's always better to be safe than sorry. Don't forget that it's super important that helmets should fit properly. ​

Determine your child's dominant foot
Determine which foot is your child's dominant foot. This will be the foot that they use to push off with when they start riding.
To figure out which foot is dominant, have your child stand on the scooter with both feet. Then, ask them to push off with one foot. If they can do it easily, then that's their dominant foot. If they have trouble pushing off, or if they keep falling over, then that's probably not their dominant foot. Once you know which foot is dominant, you can help your child get started on riding their scooter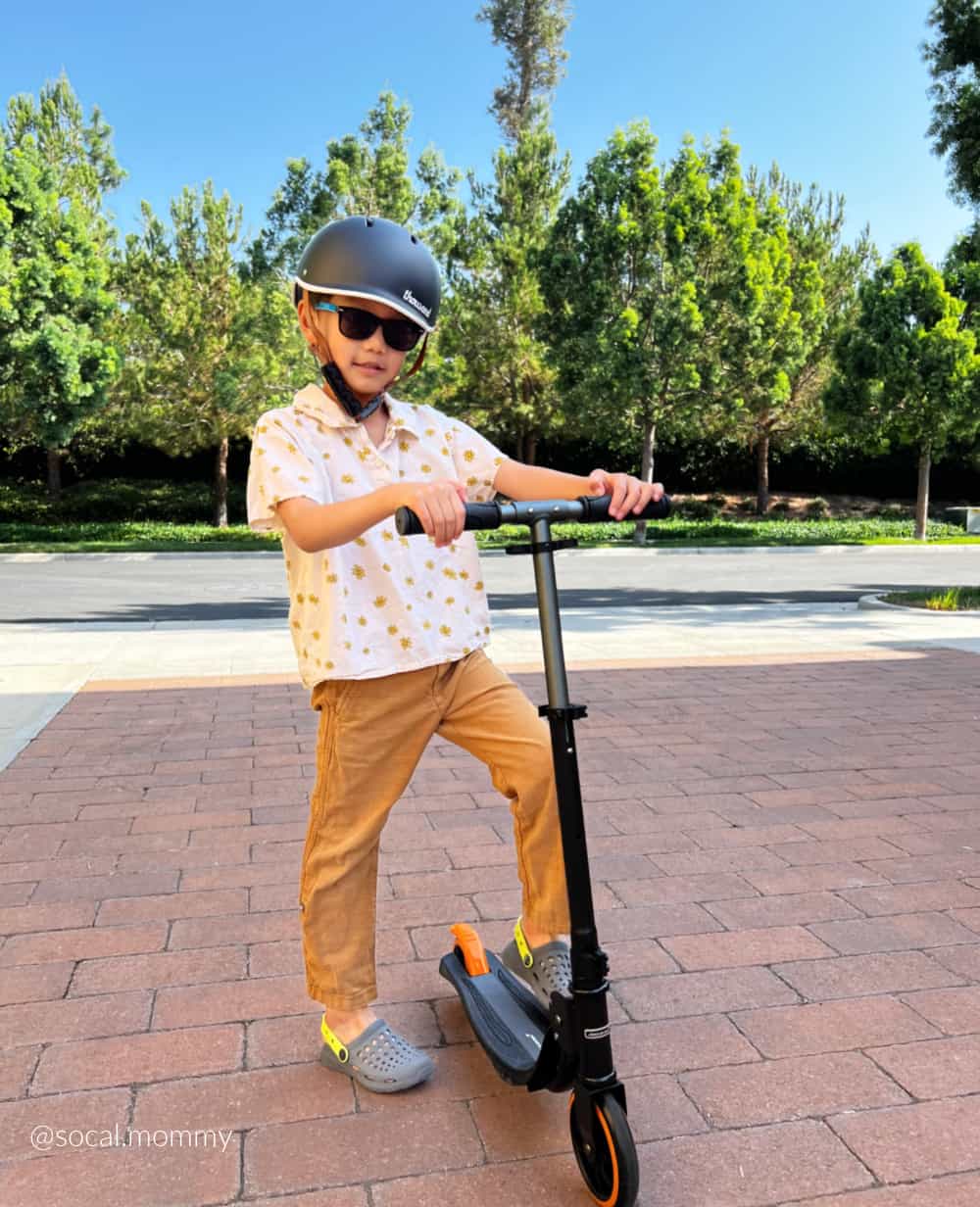 Practice balancing on the scooter
Once you've gone over the basics with your child, it's time to let them give it a try themselves. While holding your child's scooter, have your child place one foot on the scooter and slowly raise the other (dominant foot) off the ground.
Once your child gets the hang of balancing on the scooter, step aside and repeat this step without your holding the scooter for them.
Practice balancing on the scooter was a tough one for W. So, don't get discouraged if your child can't balance on the first try.
Push off the ground
When your child is ready, have them start by pushing off with their dominant foot while keeping their other foot on the ground for stability. Encourage them to keep their weight centered over the scooter as they travel. Allow your child to feel how the scooter moves while they stay balanced
Get scooting
Once they've gotten comfortable with pushing off and balancing, it's time to start scooting!
For the first few trials, have your child push off short so that you'll able to stop the scooter yourself if needed. You can stand a short distance in front of them and have them ride to you. Or, you can ride the scooter with them side by side as your child becomes better at riding.
Teach your child how to use the brake
Instruct your child that he can push down on the brake with his dominant foot. Stand a short distance in front of them and have them practice scooting and using the brake.
Give lots of praise and encouragement
As your child continues practicing, make sure to praise their progress and offer words of encouragement along the way. They'll likely get frustrated at times, but if you stick with it, they'll be zipping around like a pro in no time!
In addition to giving verbal praise, you can also offer rewards for milestones like riding for a certain distance or duration without stopping or falling off. This will help keep your child motivated as they learn.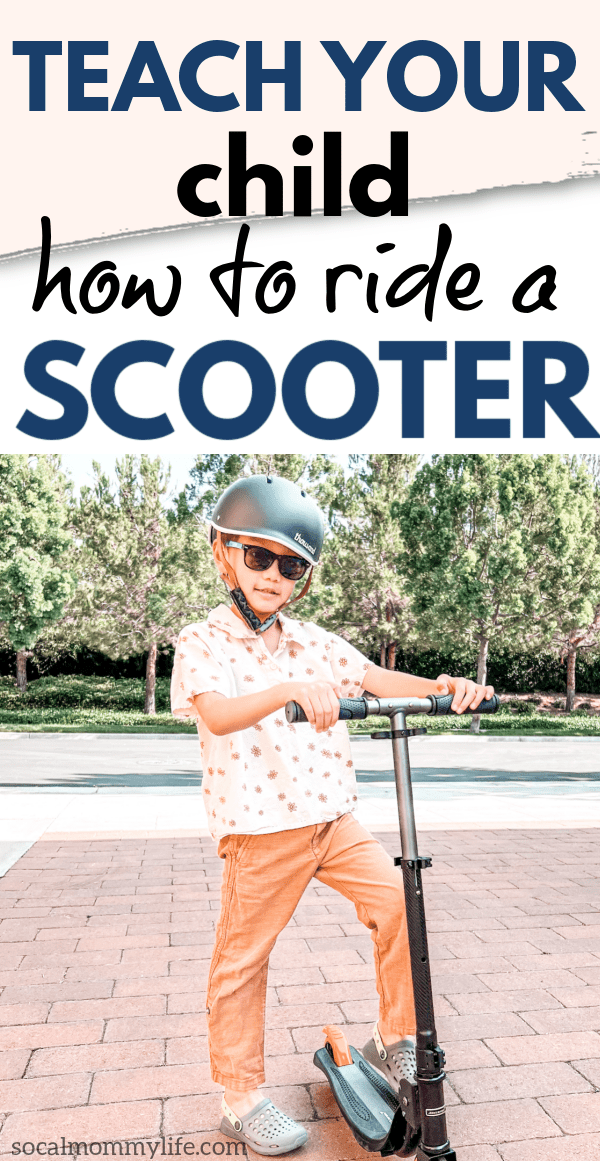 McLaren scooter review and why every child should have one
This is a sponsored post by McLaren in which I received a free product in exchange for an honest review. All thoughts and opinions are 100% my own. Please read my Disclosure for more information.
If you're in the market for a scooter, there are a lot of things to consider. But if you're looking for the best of the best for your child, then you want the McLaren of scooters. This top-of-the-line scooter has everything your kiddo wants: style, speed, and safety features that will put your mind at ease. Here's a closer look at what makes the McLaren scooter so special.
Who is McLaren
If you know anything about cars, then you must have heard about the McLaren Formula One racing cars. These supercars are widely regarded as some of the best-performing and most stylish (and most expensive) vehicles on the market.
Yup! This is the same company that makes these McLaren scooters. These scooters are designed to meet the same high standards as the McLaren supercars. They're stylish and high-performance, making them a great choice for the kiddo who deserves the best of both worlds.
What makes McLaren scooters so special
Easy to maneuver
The first thing I noticed when I ride in it was how smooth it was. Unlike many kids' scooters, there are no clanky sounds when riding. I'm very impressed with how smooth the turning was too – no more jerky movements or having to fight the scooter to get it to turn in the direction you want.
Instead, the McLaren scooter responds quickly and easily to your steering. My 5-year-old even told me how smooth and easy to maneuver it was compared to his toddler scooter.
Takes up little space
The quick fold hinges make it easy to fold the scooter down to a small size. The compact design makes it easy to store the scooter in a tight space.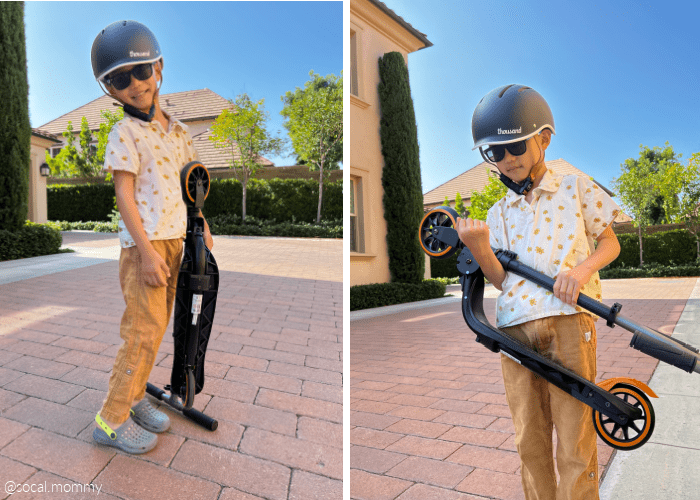 Ride in style
The High-performance PU Casting McLaren Senna wheels are inspired by their famous counterparts found on McLaren cars. The scooters have been designed with input from McLaren's engineers and designers, and they're built to the same high standards as the company's cars.
What are the different types of McLaren scooters?
McLaren scooters are available for kids as young as 2 years old to well into their late teens. But there is no one-size-fits-all here. I think this is amazing because it means that everyone can find a scooter that's just right for them (for safety reasons too!). No more struggling to ride a scooter that's too big or too small – with these scooters, everyone can enjoy the perfect ride.
MCLAREN MCS01 SCOOTER
For 2 ~ 5-year-olds
This three-wheeled scooter is the ideal height and size to fit your child perfectly. They'll be gliding around with confidence and having fun in no time with this agile scooter.
MCLAREN MCS02 SCOOTER
For 6 ~ 9-year-olds
The telescopic adjustable handlebar and sturdy rear brake system make this ultra-stylish scooter a perfect ride for kids this age.
MCLAREN MCS03 SCOOTER
For 9 years and older
Featuring a sturdy kickstand, front suspension system, easy folding mechanism, and massive 8-inch wheels, this high-performance scooter redefines the riding experience.
Are McLaren scooters worth it?
McLaren scooters are certainly on the high end of the price range, but they offer a lot in terms of quality and style. These scooters are made with durable materials and are designed to last. In addition, they boast a sleek, stylish look that is inspired by their supercar counterparts. So while they may cost more than some other brands, McLaren scooters are definitely worth the splurge for your child.
Where to buy McLaren scooters
You can purchase McLaren scooters on their official website.
Free shipping is available to Canada and the Contiguous United States (excluding only Hawaii and Alaska).
Other posts you may like