Realistic kids room organization ideas that even lazy moms will love
As a mom, you love your kids more than anything in the world. But that doesn't mean you have to love the never-ending mess they leave behind. If your kids' room is cluttered and chaotic, it's time to get organized.
Check out these genius kids' room organization ideas that even lazy moms will love.
Please note that this post may contain affiliate links. Please see my disclosure.
This post is all about kids' room organization ideas.
Get Rid of the Clutter
The first step to organizing any room is to get rid of the clutter. If your child's room is full of toys, clothes, and other items that they no longer use or need, it will be much more difficult to keep it organized. Go through your child's things with them and help them to decide what they can get rid of. You can donate items that are in good condition or throw out anything that is broken or no longer usable.
I periodically go through my kids' stuff to get rid of things they don't need or toys they've outgrown. It doesn't have to be a daunting task – a little bit of effort every season or so will do the trick. And if you follow these simple tips, you'll be able to keep your kids' room neat and organized.
Use storage furniture wisely
Storage furniture can be a great way to keep your child's room organized, but you need to use it wisely.
Avoid overloading dressers and closets with too much stuff. Instead, focus on storing items that are used regularly in easy-to-reach places. seasonal clothing and out-of-season items can be stored in bins or boxes in the basement or attic.
This kid's toy organizer is a must for every organized kid's room. we used to have toys in different corners of the room, in their closet, and on the floor. It was impossible to find a specific toy nonetheless a total eyesore. This toy organizer makes everything look so neat. It comes with two different-sized bins, making endless ways to organize.
I love that it is the perfect height for kids to identify, retrieve and put away their toys all on their own.
The removable storage bins are perfect for playtime and easy clean-up. Since we have this toy organizer upstairs, I had my kids pick out a bin and put all the toys they want to play with downstairs. At the end of the day, they put all the toys back in the bin and bring them upstairs to where they belonged.
If you're looking for a creative way to store legos, then you gotta have this multi-functional desk and chair set. There are two large pull-out drawers underneath the table. Each drawer can easily fit 2000+ lego pieces. When it's time to pack up the building blocks, just take them away to the drawers.
The tabletop can be converted to a smooth surface table and you can literally store anything (art supplies, books, toys, etc.) in the spacious drawers, not just legos!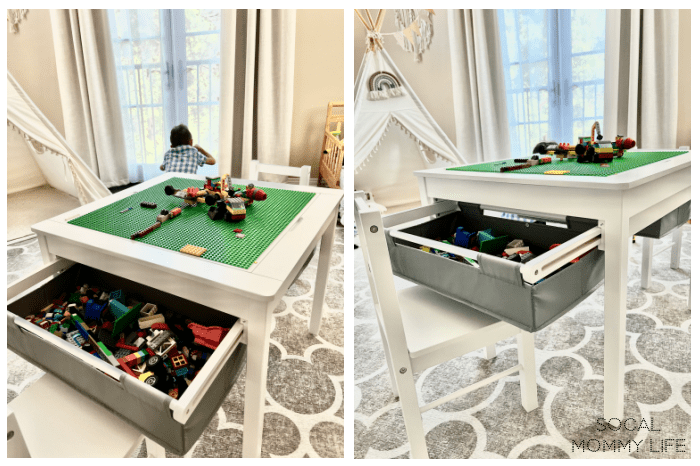 This stylish bookshelf is the latest addition to our kids' room and I couldn't be happier with the purchase. First of all, it's from Ikea, so very budget-friendly. Secondly, there is an endless way to organize this bookshelf. We opted for the top shelves to store all of the children's books and the bottom selves to store chunky toys.
These fabric storage bins complement the bookshelf perfectly. The storage baskets are topped with a sturdy metal bar frame to keep the basket in shape. It's pretty heavy-duty and makes clean-up easy for the kids.
Make use of vertical space
Another great way to organize your child's room is to make use of vertical space. This means hanging things up instead of letting them pile up on the floor. You can use hooks to hang coats, backpacks, and other items. You can also use shelves to store books, toys, and other belongings.
If you want to keep your kids engaged, periodically rotate their toys. This way, they always feel like they have new toys, even if it's just the old toys you've put away. Plus, it helps to declutter your home and keeps you from having to buy new toys all the time.
That is exactly how we utilize vertical space. Since my kids can't reach the top shelves in their closets, these spaces are reserved for the old toys I've put away for them. Whenever it's time for a toy swap, my son would point to the bin he wants and he'll need to refill the same bin with toys he wants to exchange with.
I'd suggest organizing stuff in the closet with clear bins, as opposed to fabric ones. This way, everything is easy to find and you never had to guess what's in that container up there.
Label everything
As any parent knows, children's rooms can quickly become a disaster zone. Toys are scattered everywhere, clothes are thrown on the floor, and it can seem impossible to keep things tidy.
One way to help encourage your child to keep their room organized is to label everything. You can label storage bins, shelves, drawers, and anything else you can think of. This will help your child know where everything goes and make it easier for them to put things away.
In addition, you can teach your child the importance of labeling by helping them label their belongings themselves. This will not only help to keep their room clean, but it will also give them a sense of pride in their belongings.
Organize small toys in ziplock bags
Tiny pieces get lost easily so instead of waiting for them to show up by themselves, put them in their own ziplock bags! Ziplock bags come in handy for tiny toys that are part of a set, such as puzzles. Ziplock bags are airtight and watertight, making them ideal for storing small items. By putting small items in their own individual bags, you can keep track of them and ensure that nothing gets lost.
Teach your child to be organized
One of the best ways to ensure that your child's bedroom stays organized is to teach them how to be organized themselves.
By helping them understand why it's important to keep things tidy, and giving them some simple tips on how they can do it themselves, you can encourage them to take an active role in keeping their room clean and organized.
When children are involved in the process of organization, they are more likely to develop positive habits that will last a lifetime. You may be surprised at how quickly your child takes to organize their own space if you take the time to show them how and why it's important.
Final thoughts on kids' room organization ideas
So, if you're looking for some realistic kids' room organization ideas that will make your life a little easier (and maybe help motivate your kiddo to keep their room clean), check out the tips we shared today.
And don't forget to leave a comment below and let us know which one was your favorite!
This post was all about kids' room organization ideas
Kids room organization ideas related posts