If you're wondering what to do with kids in Orange County, look no further than Irvine Park Railroad. This park has everything from a train ride to paddleboarding and a zoo. It's perfect for an easy day out with the kids.
General Park Information
Address:
1 IRVINE PARK ROAD Map
ORANGE, CA 92869
Hours:
Fall/Winter 6:00 am – 6:00 pm
Spring/Summer 6:00 am – 9:00 pm
Parking Fees:
Weekdays $3.00 per vehicle
Weekends $5.00 per vehicle
Holidays $7.00 per vehicle

This post may contain affiliate links, which means I'll receive a commission if you purchase through my link, at no extra cost to you. Please read full disclosure here.
Top things to do at Irvine Park Railroad
TRAIN RIDES
Price: $6.00 per person
Hours: Open daily at 10:00 am
Your trip to Irvine Park Railroad won't be complete without riding its famous train ride. This 1/3 scale train takes both children and adults on a ride through the beautiful and historic Irvine Regional Park.
The train ride is just off the entrance from the parking lot so I suggest taking the ride first thing. We left the stroller in our car and hop on the first ride in the morning. Throughout the 10 minutes or so ride, a train conductor explained the different attractions there are at the park.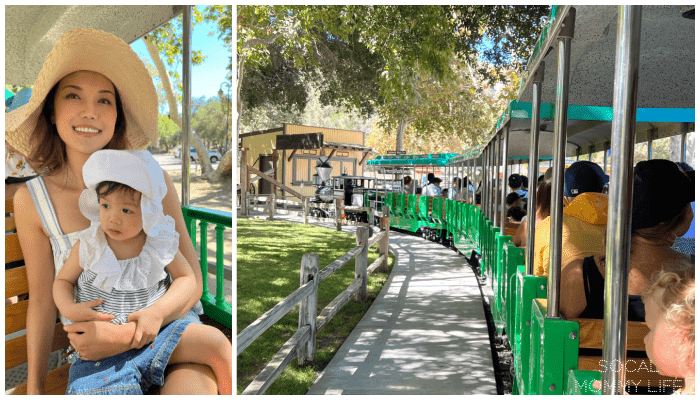 We saw peacocks strolling down the path, the oldest tree in Orange County, and historic buildings along the way. I was mentally mapping out all the picture-worthy spots to visit after the ride!
PONY RIDES
Cost: $6.00 per person
Hours: Open Tuesday – Sunday at 11:00 am; CLOSED Mondays
The pony rides are located just next to the train ride. So, we went straight to the ponies after we hop off the train.
Irvine Regional Park features both walking and trotting ponies for kids to ride. The walking ponies are open Tuesday through Sunday and the trotting ponies are open on weekends and holidays.
Baby W gets to ride his own pony and be trotted by other horse riders. I was a little bit scared for him because it was his first time riding on his own. It was nonetheless his favorite part in the park.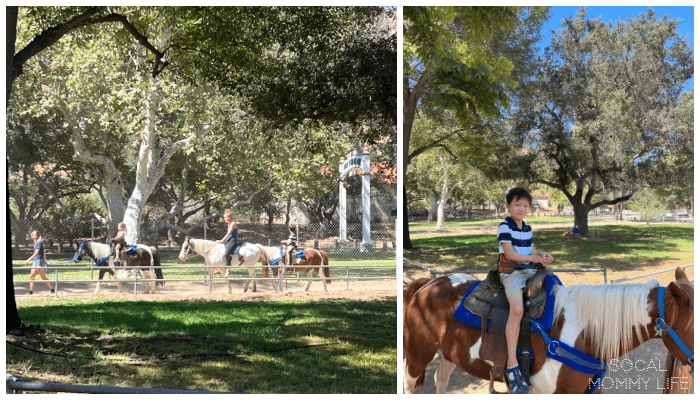 A walking pony is available for younger children and the parent gets to walk the pony.
PADDLE BOAT RENTALS
Price: $20.00 per 1/2 hour
Hours: Weekdays at 10:00 am; Weekends & Holidays at 9:00 am
Irvine Regional Park is one of the few places in SoCal that have paddle boat rentals. It's a perfect activity for sightseeing, people watching, exercising, or simply enjoying the lake inside of Irvine Regional Park.
We missed this fun activity because each paddle board can only accommodate up to 3 riders. I'll for sure come back when Baby Madi is old enough to ride!
BIKE RENTALS
Price: Varies
Hours: Weekdays at 10:00 am; Weekends & Holidays 9:00 am
Riding within the Irvine Park Railroad is a great way to sightsee and enjoy all the beautiful sceneries the park has to offer. No matter how big or small your party is, there is a bike to accommodate your group.
We placed Baby Madi in the front of the surrey and the 4 of us had a blast cruising around the park.
We didn't need to follow the map at all. Instead, we just rode on whatever roads took us.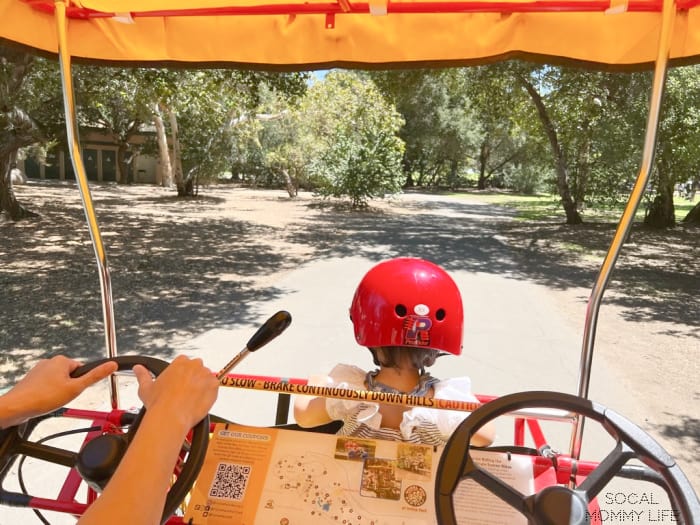 There are plenty of signs along the way to guide you so don't worry, you won't get lost!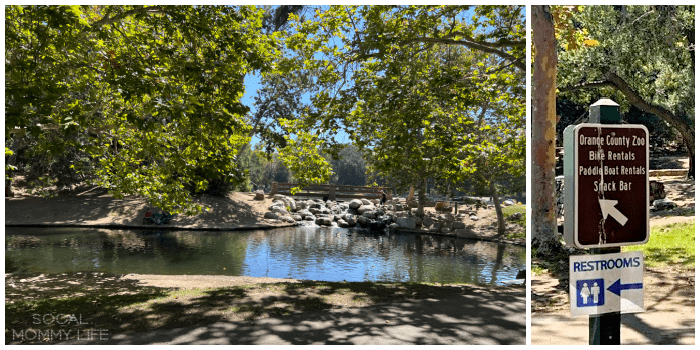 OC ZOO
Price: $2.00 per person
Hours: Open Daily at 10:00 am
Honestly, I wasn't expecting much about this zoo since the admission was only $2.00 per person, and kids under 3 go in for FREE. I was only looking forward to seeing a few animals we typically see at any zoo.
Boy, I was wrong!
We saw black bears, mountain lions, a bald eagle, great-horned owls, porcupine, coyotes, turkey vultures, and more.
The zoo is very clean and well-kept. There were many live demonstrations where we get to see certain animals in close contact.
There are lots of reptiles at the zoo including snakes and lizards. It was W's favorite exhibit in the zoo!.
We even saw a bald eagle and a giant tortoise!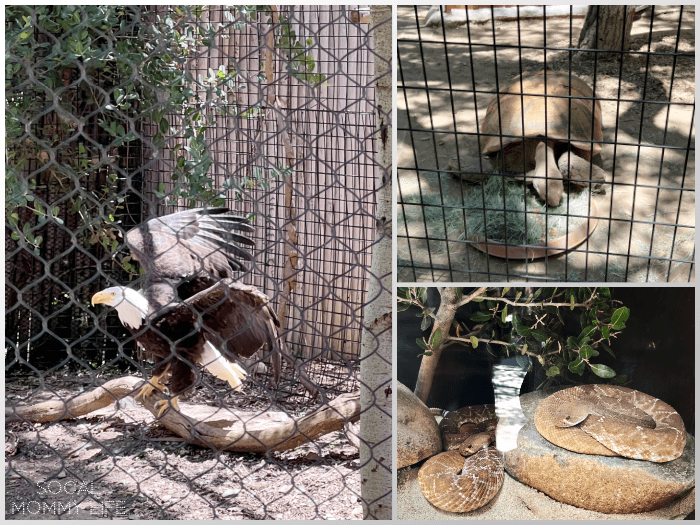 The zoo also features a barnyard (petting zoo) with domestic goats, sheep, pot-bellied pigs, doves, chickens, and pheasants. Many of the barnyard animals are available for touching contact through the fence. 
HIKING TRAILS
Open daily at 6:00 am
There are many hiking trails in Irvine Reginal Park ranging from easy to hard. Be sure to check out the map on the various trails offered.
There are so many antique buildings and decorations throughout the park making them the perfect backdrop for photos!
When is the best time to visit Irvine Park Railroad?
You know how hot Southern California gets during the summer. Although there are plenty of trees within the park, it can get up to 100°F in the summer here. If you must visit on a hot summer day, I'd suggest arriving in the morning or late evening.
We visited in July. Knowing that it'll get 90°F in the day, we arrived at 10 am when the park first opened. We did all the activities first and visited the zoo after lunch. It got pretty hot and uncomfortable by the time we left.
The park also offers many events throughout the year. The Irvine Park Raileoad pumpkin patch is particularly popular here making them one of the best places to experience fall in SoCal. There is the Easter Eggstravaganza event during spring and in December, it's worthwhile visiting Santa's Village and Santa's train.
How long do you need at the Irvine Park Railroad?
With a 5-year-old and an 18-month-old, I found that 3-4 hours at the park is sufficient. Of course, it depends on if you want to do all the attractions and how long the wait is for food and attractions.
We went early in the morning and did all the attractions except the paddle boarding and it took us about 4 hours total.
Is Irvine Park Railroad stroller friendly?
Absolutely! The park is huge so be sure to bring your child's stroller or wagon for them to sit in.
There are paved and dirt roads so it's stroller-friendly. All the attractions have designated spots for stroller parking. We never had any issues when we left our stroller while we went on the bike and train rides.
Is there food at Irvine Park Railroad?
There are 2 snack bars located within Irvine Park Railroad. Both snack bars serve essentially the same items. Its full menu includes hot and cold foods such as burgers, grilled cheese, trail mix, chips, ice creams, and sodas.
Not exactly the healthiest foods but they are convenient. I recommend packing some fruits and veggies from home and getting the hot foods from the snack bars.
For the full menu and price, visit Lakeside Snack Bar and Train Station Snack Bar.
Picnic tables are available on a first-come, first-serve basis so I suggest eating a bit earlier or later to get a good spot. We ordered food from the Lakeside Snack Bar at 12:30 pm and had to wait for others to leave in order to sit at one of the picnic tables. You can also bring your own picnic blanket to eat on the grass areas.