Fun places to visit with kids this fall and the best pumpkin patches in Southern California
It's finally Fall! The leaves are changing colors, the air is crisper and the nights are cooler. What better way to check out the best pumpkin patches in Southern California?
With so many fun places to visit, Southern California has you covered for all your fall adventures.
Check out this blog post and find inspiration on where to go with your family this fall. Whether you're looking for a pumpkin patch or just want to take your kids somewhere for cute seasonal pictures, keep reading on!
All of these places below are perfect for a day trip with the little ones.
This post may contain affiliate links, which means I'll receive a commission if you purchase through my link, at no extra cost to you. Please read full disclosure here.
This post is all about the best pumpkin patches in Southern California
Orange County Attractions
📍 Address: 5380 3/4 University Dr. Irvine, CA 92612
🕑 Operating hours: Daily: 9 AM – 6 PM
🎟️ Admission: $10; kids under 2 free
This 30-acre family-operated farm got lots to offer. Visitors can pick their own vegetables (U-pick), feed and pet the animals at the barnyard, and buy fresh produce from the market stand. There are also beautiful flower fields to wander through and wagon rides to take you around the farm!
This season's pumpkin patch runs from September 17 through October 31. It is the only pumpkin patch in Orange County where you get to pick your own pumpkin!
From Monday through Thursday, the 15-minutes Wagon Ride takes you around the farm and kids can pet all sorts of barn animals in the Barnyard Educational Exhibit.
Every Friday, Saturday, and Sunday in October, in addition to the Wagon Ride, Barnyard Educational Exhibit, they have ATV rides, the Pumpkin Cannon, food from the TANAKA GRILL, and interactive activities for kids.
Here's a video of when we visited Tanaka Farms pumpkin patch (for the 3rd time!).
SoCal Insiders Tip: Pumpkin patch at Tanaka farms is very popular in OC so be sure to book online in advance. Also, visit early in the season for the best photo opportunities, the best selection of pumpkins in the field, and the least crowded patch experience! Please note you must purchase a $10 parking pass per vehicle. There is a value pass of $20/ person that includes Entry, Wagon Ride, & Barnyard petting zoo.
📍 Address: 1 Irvine Park Rd. Orange, CA 92869
🕑 Operating hours: Weekdays 10 am – 5 pm; Weekends 8 am – 6 pm
🎟️ Admission: Weekdays $3.00 per vehicle; Weekends $5.00 per vehicle
Irvine Park Railroad offers the best family fun in Orange County. Activities inside of this great park include Wheel Fun rentals, paddle boat rentals, the Orange County Zoo, horse rentals, pony rides, and more.
Learn how we spent a family fun day at the Irvine Park Railroad here!
The pumpkin patch runs from September 17 – October 31. Entrance to the pumpkin patch is free but activity tickets are $7.00 each, which is a bit pricey. However, there are so many kid-friendly activities to do here for the entire day.
Follow @Socal.Mommy for more family travel inspirations in SoCal!
SoCal Insiders Tip: Sign up for the free eNewsletter and receive special offers. If you plan to visit on busy weekends, arrive early in the morning to avoid park entrance and parking delays.
📍 Address: [Laguna Hills] 24203 Avenida de la Carlota, Laguna Hills, CA 92653
📍 Address: [Anaheim] 2180 E. Lincoln, Anaheim, CA 92806
🕑 Operating hours: Mon-Thurs: 11:00 AM – 8:30 PM; Fri-Sun: 10:00 AM – 10:00 PM
🎟️ Admission: Free
Pumpkin City is one of the oldest pumpkin patches in California. They have been dedicated to celebrating the October Halloween season with wholesome family fun and entertainment. If you're looking to take your kids somewhere for cute seasonal pictures, definitely check Pumpkin City out.
This year, the festival runs from September 30 – October 31.
Each year, visitors are delighted to interact with dozens of cute barnyard animals in the Petting Zoo, ride a pony at the Pony Corral, sit back and watch a puppet show and take pictures with costumed characters. In addition, enjoy a host of Amusement Rides, Activities, and Game Booths all while strolling through thousands of pumpkins of all shapes and sizes.
SoCal Insider's Tip: There is no fee to enter and parking is free, but you'll have to buy tickets for every attraction.
📍 Address: 2647 E Coast Hwy Corona Del Mar, CA 92625
🕑 Operating hours: Daily; 10:30 am – 4 pm
🎟️ Admission: $5; kids under 3 free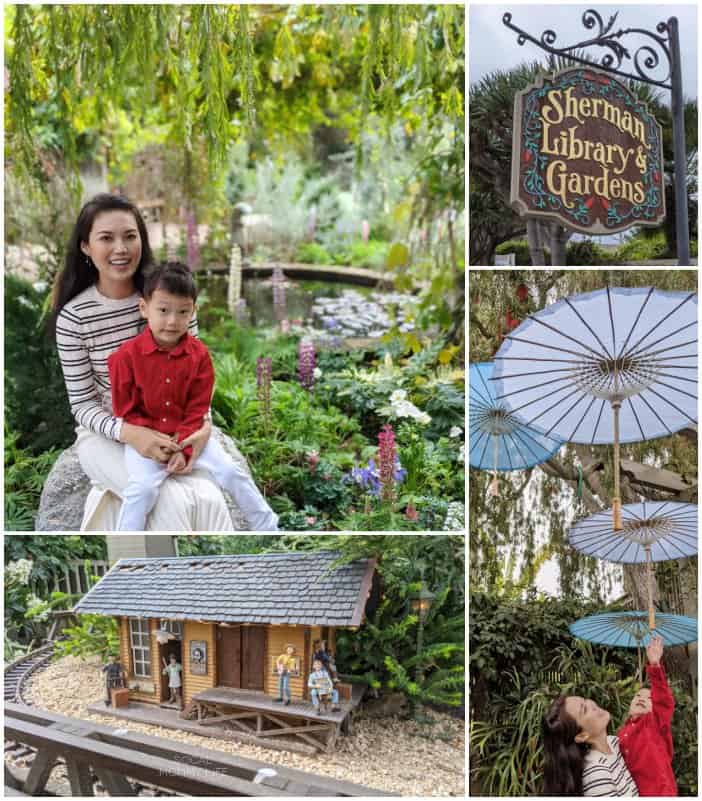 This beautiful and tranquil cultural center is nestled in the quaint Newport Beach neighborhood. The premier botanical garden showcases plants from around the world. The gardens are well taken care of and there are tons to see, making it the perfect place for photos.
In October, the grounds are filled with gourds and pumpkin decors for the fall season. Kids-friendly classes such as junior gardener, dance, and painting are available for sign up. Check out their calendar of events for more information.
Cultivar Restaurant within the garden is worth the trip itself!
SoCal Insiders Tip: Admission is free on the first Monday of every month. Free parking onsite.
Los Angeles County Attractions
📍 Address: 1418 Descanso Drive, La Cañada Flintridge, CA 91011
🕑 Operating hours: October 7 –31; 6:30–10 pm
🎟️ Admission: non-member adults, children (2–18), and seniors are $32–$35 (kids under 2 free)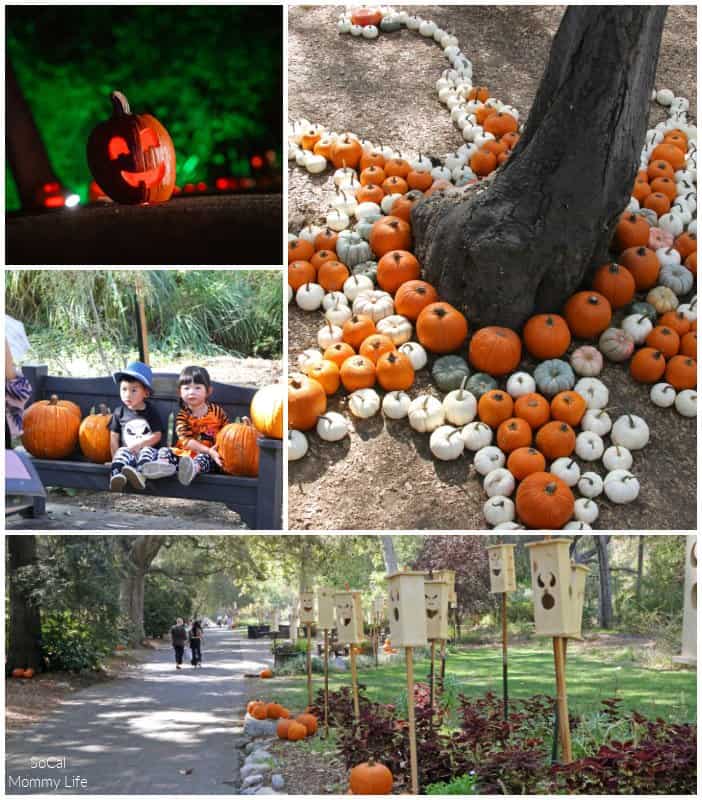 Descanso Gardens is a gorgeous place to visit any time during the year; however, during the fall it becomes a fall foliage wonderland. Plan a day to explore at a leisurely pace and take in all the Gardens have to offer. During the autumn months, you'll find roses, camellias, ginkgo, toyon berries, and more in bloom.
Carved is the official fall festival in this beautiful garden open from October 7 – October 31 this year. Hundreds of carved pumpkins will line a 1-mile walk through the Camellia Forest and Oak Grove. Along with pumpkins, there will be exciting new oversized sculptures made of sticks and other natural materials. The popular Pumpkin House, a hay maze, and themed food and beverage will all help to create a fun harvest festival ambiance.
SoCal Insider's tip: Snacks and beverage options are available for purchase at the event. Outside food is not allowed in the Gardens. Evenings in La Cañada Flintridge can be chilly so please dress warmly.
📍 Address: 3370 Sunset Valley Road, Moorpark, CA
🕑 Operating hours: September 1- October 31; 9am – 6pm
🎟️ Admission: $14 – $28 , depending on date. Check out admissions for more details (kids under 2 free)
Underwood Family Farms in Ventura County offers a wide variety of services and activities tailored for the entire family including pick-your-own produce, birthday parties, educational school tours, and seasonal festivals.
This fall, join Underwood Farms for their Fall Harvest featuring a gigantic pumpkin patch, games, rides, and more. Check out their long list of activities and attractions. Be sure to hop on the wagon ride and pick your own pumpkin to carve at home!
During the weekends, their Food Booths will offer Tri-tip sandwiches, hot dogs, hamburgers, roasted corn, sandwiches, fish tacos, chicken strips, loaded potatoes, quesadillas, shaved ice, kettle corn, pumpkin pie, and more!
SoCal Insider's Tip: Free parking on the farm. Live entertainment is only happening on the weekends. These include animal shows, live bands, pig races, and demonstrations.
📍 Address: 1545 Circle City Drive, Corona CA 92879
🕑 Operating hours: Oct 1 – 31
Mon-Thurs: 5:00pm – 9:00pm
Friday: 4:00pm – 10:00pm
Saturday: 10:00am – 10:00pm
Sunday: 10:00am – 9:00pm 
🎟️ Admission: Mon – Thurs: FREE; Fri – Sun: $5 per person (kids under 2 free)
Located in Corona, the Pumpkin Factory provides families with fun-filled memories! Go experience the wonder of pumpkin patches, rides, slides, ponies, petting zoo, games, food, and more! You can also grab a pumpkin on the way out.
Admission is free on weekdays and $5 on weekends. You'll need to purchase tickets to ride anything or play games. Each attraction was about 5-6 tickets per person.
SoCal Insider's Tip: Save on activity tickets when you buy bulk. A packet of 52 or 140 tickets is available for a discount. Ideal if you are going with a large group.
📍 Address: 4102 S. University Drive Pomona, CA 91768
🕑 Operating hours: October 1 – 31.
Wednesdays – Fridays 3-8 pm
Saturdays and Sundays 10 am-8 pm
🎟️ Admission: Wed- Thurs: Free;
Fridays: Adult: $5
Child: 3 – 12 Years Old: $4
Under 3: Free (With Paid Adult Admission);
Sat-Sun: Adult: $8
Child: 3 – 12 Years Old: $6
Under 3: Free (With Paid Adult Admission)

The pumpkin fest at Cal Poly Pomona is at its 28th year! All 5 Weekends in October will be filled with family fun activities. You can pick the perfect pumpkin at the pumpkin patch, kids can pet barn animals, and the entire family gets to ride a hay wagon, get lost in the giant corn maze, and so much more!
Along with the popular festival food and live entertainment, the pumpkin fest has fun farm demonstrations like cow milking and beekeeping. Don't forget to check out the Marketplace for some fresh produce, specialty pumpkins, fall decor, and artisan goods.
New to this year are the Moo Moo Cow Train and Children's Garden activities including Creepy Bugs and Squirmy Snakes.
SoCal Insider's Tip: This year, Admission Tickets will only be available online, in advance, and there will be capacity limits so get yours today! Admission & attraction bundle is available. Check out their tickets page for more info.
📍 Address: 3701 Lost Hills Road, Calabasas, CA 91301
🕑 Operating hours: Sunday, October 16, 2022 10:00am – 5:00pm
🎟️ Admission: $10 – advanced purchase. $15 – event day purchase. kids under 2 free.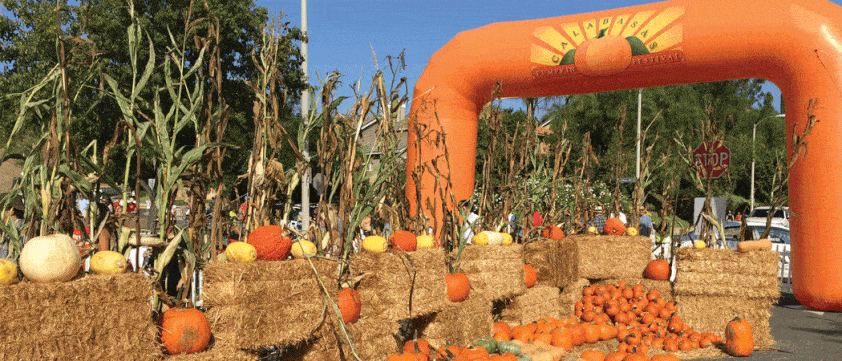 SoCal residents, do not miss this one-day event! For only $15, you get unlimited rides and games at this street fair. The festival has everything pumpkin. From pumpkin patch, pumpkin carvings, pumpkin pies, pumpkin pavilion, and more. If you're a pumpkin lover or just want a family day out, be sure to check out the Calabasas pumpkin festival!
SoCal Insider's Tip: Save $5 per ticket to purchase online in advance before Oct. 15th. Friendly dogs on leashes are permitted on the grounds. Parking is free and there are shuttles to take you to the main gate.
📍 Address: 10100 Jefferson Blvd, Culver City, CA 90232
🕑 Operating hours: Oct 7-31; 9 am – 9 pm
🎟️ Admission: $8 – $25, depending on the date. check out admissions for more details (kids under 2 free)
If you're looking for the perfect fall backdrop, this is it!
This family-owned and operated business have been bringing SoCal residents the magic of Halloween since 1987. They are known for their pumpkin houses. Lots of beautifully decorated structures with pumpkins in different sizes, colors, and textures. Perfect for that Instagram pic!
Besides from a lot of Halloween and autumn props, there are face painting, slides, giant rocking horses, straw mazes, a petting zoo, bounces, and more.
SoCal Insider's Tip: Not recommended to bring strollers as this place is covered in wood chips as ground cover to eliminate dust, and the ground is uneven. Paid on-site parking is available and there is ample street parking if you go early.
Final thoughts on kids-friendly places to visit this fall season
Fall is a great time to take the kids out and about. There are so many fun places near Los Angeles and Orange County that will make your children happy!
Where is your favorite place to visit in the fall?
Tell me by leaving a comment below.
This post was all about the best pumpkin patches in Southern California.