In the world of flashing toys and overstimulating gadgets, doing fun and educational activities with your toddler is more difficult than ever.
Thanks to Kiwico, hand-on fun projects delivered to the doorstep have sparked learning and fostered creativity for toddlers around the world.
But what's included in these crates? Will my toddler like it? It it worth subscribing to?
In this honest review, you'll learn all about Kiwico koala crates, and how they can benefit your toddler.
This post may contain affiliate links, which means I'll receive a commission if you purchase through my link, at no extra cost to you. Please read full disclosure here.
What are KiwiCo crates?
KiwiCo crate is a monthly subscription that delivers hands-on projects to kids from 0 – 14+ years old. These are enriching STEAM projects that are designed to spark creativity, tinkering, and learning.
Every crate you receive has different themes. For our koala crates, we have received rainbows, insects, music, transportation, bioluminescence, rainforest, reptiles, and more.
All projects, inspiration, and activities are created by a team of product designers in-house in Mountain View, CA and rigorously tested by kids.
KiwiCo offers eight different product lines spanning a variety of interests and age ranges. Here is a breakdown:
| | | |
| --- | --- | --- |
| | | helps babies learn by doing what they do best — playing, exploring, and interacting with the adults in their lives |
| | | fun hands-on activities to engage the natural curiosity and creativity of toddlers in play-based learning |
| | | fun hands-on projects that explore art, science, and engineering |
| | | sparks kids' sense of adventure and curiosity, inspiring them to see themselves as citizens of the world |
| | | allows young innovators to discover and learn about science, engineering, technology, and math through hands-on activities |
| | | invites young designers to build creative confidence by experimenting with art & design techniques |
| | | apply principles of science and math to engineer solutions |
| | | experiment with a new technique, draw inspiration from real designs, and take pride in a finished project |
What comes in a Koala crate? The magic inside the box
The activities that come in the crates monthly have different themes.
The materials for the crafts, an instructions guide, and a bonus magazine are all perfectly packed in each crate.
Materials needed for 3 activities
Materials that come inside the crate will be used to make 3 different activities within the same theme. For example, the crate we received on glowing creatures will have materials that will make a jellyfish, a glowing mushroom, and a firefly.
What's so clever about KiwiCo is that some of the materials will be shared between the activities. The glowing stickers will be used on the jellyfish and a glowing mushroom in this example.
Everything is very kid-friendly in that there's nothing rough, sharp, or toxic. Each piece is big enough for the little hands to maneuver but small enough for some fine motor practice.
Illustrated instructions guide
The step-by-step instructions guide is extremely easy to follow. The illustrated steps are very detailed and cute. My toddler can follow most of the instructions just by looking at the illustrations.
Each step also has a detailed explanation for us adults to follow. The instructions guide also tells you creative ways on how to play with the finished toys.
What I love about the instructions guide is that it provides a summary of how messy each project is and how much grownup involvement is needed. I can choose which activity to work on depending on how much time we have and if I'm up for cleaning up later.
Imagine! magazine
Imagine! is a mini-educational magazine that is filled with engaging stories and games.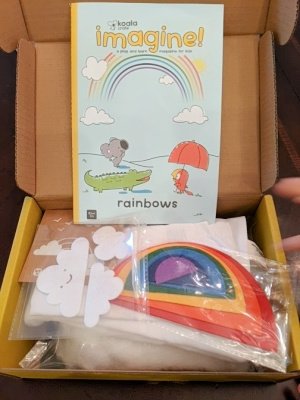 This little booklet expands upon the theme by including photos, games, stories, and more projects.
We've learned so much about the rainforest, for example, by reading the stories and facts from the magazine. These magazines we've accrued over the months have become part of our book collection now!
Koala crate pros and cons

All of the projects are designed to spark creativity, tinkering, and learning. It is evident that lots of research and thought have been put into designing these crates by KiwiCo.
Throughout the process of creating, my toddler is exposed to new materials, tools, and concepts.
Since the materials are very high-quality, he still plays with the toys he created month after months.
Koala Crates Pros and Cons

Age appropriate

Sparks creativity, tinkering, and learning

Perfect for parent-child bonding time

High quality material. Toys are reusable

Price
As for drawbacks, I honestly can't think of anything I don't like about these koalas crates.
If I were to name one thing, I would say it's the price.
Sure, these materials probably don't cost $20 if you were to curate at your craft supply store.
But for a busy mama like myself, it is worth it for me to spend that extra dollar to have everything delivered to my doorstep.
Koala crate examples
The Rainbow-themed crate is the very first crate we received. My toddler immediately picked up the colorful felt rainbow stickers and started making his own rainbow cloud pillow. He was able to complete this activity with very little guidance from me.
All I did was to help him stuff the fibers and perfectly lined up the velcro closure at the bottom of the pillow.
This activity is really good for fine motor development as my toddler places the rainbow stickers on top of each other.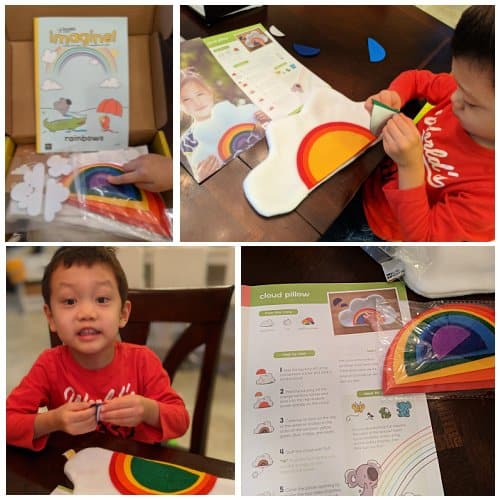 The second thing we made was the rainbow tote bag.
This is such a creative activity that exposed my toddler to color-mixing by designing and dyeing a rainbow tote bag. Colorful papers are placed on the white tote bag. And with dabs of water, the colors are transferred to the tote bag creating a tide-dyed effect!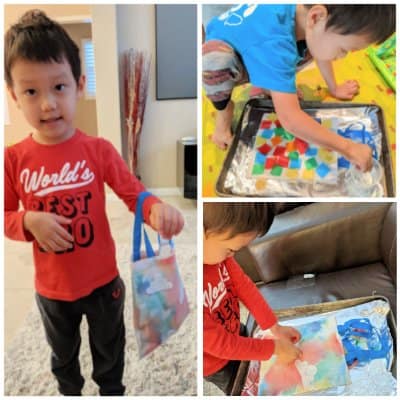 Within this crate, we also created a stained glass landscape using colorful squares and cut-out shapes of mountains and trees. Through creating toys from this crate and reading the accompanying magazine, we discovered how rainbows are formed and learned all the colors in the rainbow.
In this bioluminescence crate, we made a firefly, glowing mushroom and jelly fish.
All of these creatures light up after dark!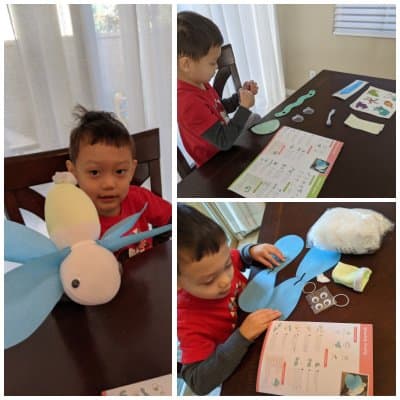 In this insects crate, we've made a bug dress-up, a ladybug pouch with a mini kaleidoscope, and an insects matching game.
My toddler loves to dress up in his bug costume and we've received so many compliments playing in the park with it!
Our latest crate – reptiles!
This is the snake we made. Included in this month's crate are a plushy snake, a turtle treasure box, and a chameleon.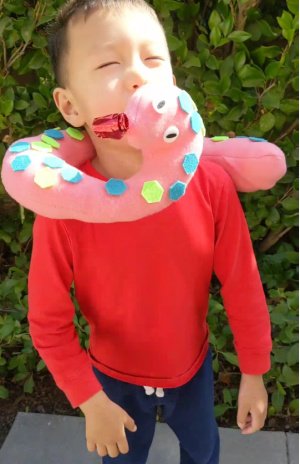 How much do KiwiCo Koala crates cost per month?
Koala crates is a monthly subscription. I usually get charged a couple of days before the crates are shipped out. And I receive them within a week after it's shipped.
If you choose to be billed month by month, it'll be $19.95 per month. You get to save more the longer you subscribe to their crates. You can cancel your subscription anytime.
Below is the current cost for Koala crates.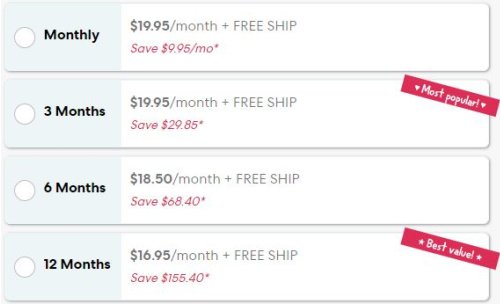 Are Koala crates worth it?
If you are looking for an easy and convenient way to build, explore, and create projects together with your child, Koala crates are for you.
My toddler was never into arts and crafts but he loves every single activity that comes in these crates.
And that's not it.
The finished toys are high quality and interactive. To this day, he still plays with the toys he made from our very first crate!
Whether you are a busy mama looking for more ways to bond with your toddler, or a parent seeking toys that stimulate thinking and enthusiasm for learning, KiwiCo Koala cates will live up to your standards.
Where to buy
Kiwico only sells its products directly on its website. All subscriptions include free shipping and they have discounts all the time. Just use the promo code provided by their website.

I hope you'll find this review helpful.
If you have additional questions about our experience with koala crates, leave a comment below!
More from SoCal Mommy Life:
Pin these pins now