As a new mom, there is nothing more exciting than bringing your bundle of joy into this world. But as you count down to delivery day, you might also be thinking about what outfit to wear!
As a seasoned mom who's endured extended hospital stays after bringing new life into the world, I've learned a thing or two about comfortable yet stylish hospital wear.
And let me tell you, the struggle to find cute postpartum outfits is real.
But fear not, fellow mamas, for I have curated a list of my favorite wardrobe essentials for those first few days in the hospital and the journey home.
From best pants after birth to going-home outfit for mom after birth, we've got options for all budgets and styles. So get ready because these outfits are sure to have you looking chic while taking on your newest role as mom!
This post may contain affiliate links, which means I'll receive a commission if you purchase through my link, at no extra cost to you. Please read full disclosure here.
This post is all about postpartum outfit for hospital.
Preparing for your hospital stay
While you may have your hospital bags packed for the big arrival, don't forget to pack yourself a postpartum outfit! In between all the excitement and packing of baby mittens and thank you cards, make sure to take a few minutes and find something comfy yet cute to bring with you.
Pack a few outfits that are comfortable yet still give you a little confidence boost so when visitors come around, your postpartum look will be ready. Trust me, it'll do wonders for your post-delivery mood!
RELATED POST: Hospital Bag Essentials Checklist – for mom, dad, and baby
How to choose the best postpartum outfit for hospital
Your priority should be comfort and ease of movement without compromising style. Choose items that are loose-fitting and breathable for your postpartum outfit.
Consider buying nursing tops for the convenience of breastfeeding, and pants with an elasticized waistband in case you recently had a c-section.
The hospital is notorious for being cold. Not to mention, our bodies are already weakened from the labor and delivery process. It's important to pack long sleeves and cozy socks to keep yourself warm and prevent any unwanted colds.
The ultimate list of postpartum outfit for hospital
A full length robe is a game-changer. Not only will it keep you feeling snuggly and secure during those first few days of adjustment, but it also makes kangaroo care and breastfeeding a breeze.
One standout piece you absolutely need is a tie closure wrap dress. Not only does it look stylish, but the front-opening design is optimal for new moms who need ease and comfort, especially after a C-section.
A print wrap dress is also a great choice for going home outfit for mom after birth.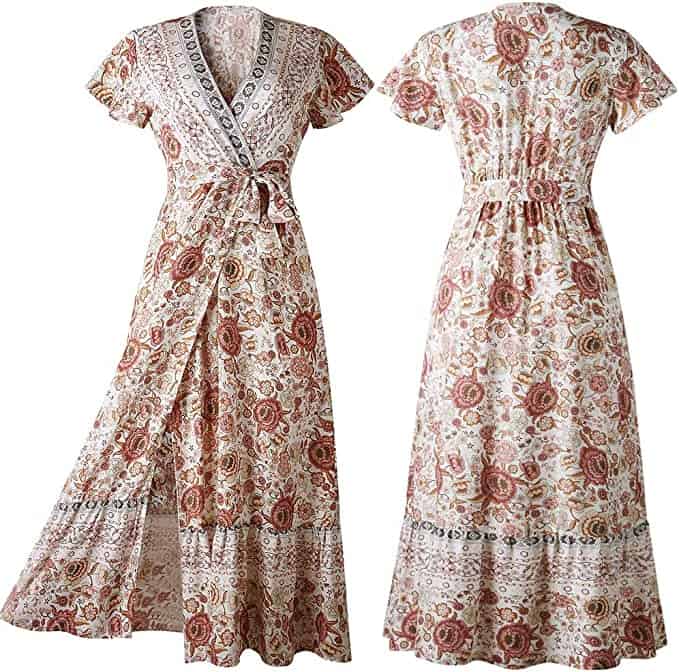 A fabulous button-down dress that's not only chic, but practical too. With easy access for breastfeeding, you won't have to worry about exposing your entire breast.
A comfortable two-piece outfit has the best return of investment. I got mine 6 years ago for Baby #1 and to this day, I still wear them at home.
These pajamas are made from bamboo fibers. They are very soft, feels cool, and light-weight. You will feel like you're on cloud nine wearing them and your baby will appreciate them as well.
Bonus – the button down shirt provides easy access for breastfeeding and pumping.
These are my favorite nursing tops I used to wear right after giving birth. They are soft and not too low-cut. The side-ruched design really flatters the body. I wear them during my entire breastfeeding journey and beyond.
Have at least 5 nursing bras washed and ready to wear in your postpartum care kit. You will be spending lots of time breastfeeding and pumping so you want a bra that is easily accessible.
These nursing bras snap down easily and they are comfortable to sleep with.
For less than $7 a piece, these nursing bras are a steal!
Bonus tip: There's no need to get a separate pumping bra. I just put on this genius hands-free pumping kit while still wearing my nursing bra. I was able to pump and massage my breasts simultaneously to get more milk in less time.
Your hospital may provide you the mesh postpartum panties, but they are super uncomfortable. It actually made me really itchy. So, packing some comfortable panties that you can wear right after delivery and months to come is important.
Give those tootsies some love after childbirth with some non-slip cozy socks! Keep your feet snug and prevent any slippery situations with their handy grips. It's a simple yet essential addition to your hospital bag.
The extra belly fat will sag after the delivery of your baby so wearing a belly wrap from day one will help to hold your tummy in. The belt will also speed up your recovery by shrinking the uterus, support your lower back, and redefine the waistline.
For both of my pregnancies, I have worn this postpartum belly wrap from the day I delivered up until 8 weeks postpartum. In order to achieve maximum results, you need to wear the band as much as possible during the day and night.
What I love about this 3-in-1 postpartum belly band is that it has 3 different belts for the waist, belly, and pelvis.
The material is very comfortable and breathable. It even comes with pictured instructions on how to wear the belt, even if you have a C-section!
Best postpartum clothes for winter
Picture this: you're on your way home with your precious newborn, but the chilly winter air is attacking and you're freezing. That's where the thermal set and plush robe come in to save the day (and your body temperature)! Plus, who says you can't still rock this cozy ensemble long after your fourth trimester? So go ahead, snuggle up and stay warm in style.
Best pants for after birth
These versatile pants are so soft and stretchy, they'll be your go-to for months. No matter how much your midsection expands (or shrinks), these pants have got you covered.
Postpartum outfit for hospital FAQs
Do you wear a hospital gown after delivery?
I was in my hospital gown for the first day but I always wear my full-length robe on top of it since the hospital is so cold. On day two and the big going home day, I swapped out the robe for my favorite dresses. After all, a little outfit change can do wonders for the spirits.
Do you wear a bra under a hospital gown?
I didn't wear a bra under my hospital gown because I was doing kangaroo care every moment my baby was awake. Whether wearing a bra under a hospital gown or not is merely a personal preference. But if you do, wear a nursing bra so that you can easily breastfeed.
Can you wear jeans after giving birth?
Keep in mind that your body just accomplished something pretty incredible, so give it the time it needs to heal and adjust. Sure, you can throw on those favorite jeans of yours, but be warned – it may feel a little like trying to squeeze back into your middle school clothes. And let's be real, no one wants that uncomfortable feeling, especially if you have some battle scars from a vaginal tear or a C-section. Your body needs time to heal and adjust, so give it the VIP treatment it deserves. Opt for some loose-fitting clothes like a dress or lounge pants that won't rub against your delicate areas.
The last thing you need to know about the best postpartum outfit for hospital
Preparing for the hospital with an ultimate post-partum outfit is a great way for you to feel comfortable and confident about your next steps into motherhood. Above all else, make sure to prioritize your health and well-being – mentally, emotionally, and physically. With the right postpartum staples, you can rest well knowing you're ready to face whatever lies ahead.
What did I miss? Let me know in the comments below how you made your hospital experience more effortless with your postpartum ensemble!
Postpartum outfit for hospital related posts