HiPP Baby Formula Summary

Certified Organic by the European Union

Contains DHA (Omega-3 & Omega-6)

Contains Prebiotics & Probiotics

Different Stages and Variations May Be Confusing

Instructions Require Translation (For German and Dutch Versions)

Summary: HiPP baby formula is for me the best and safest organic formula out there. Cows are fed on organic grass and the formulas are manufactured under the strictest guidelines. My kids are noticeably happier and stronger.

But is HiPP baby formula suitable for you and your baby?

This review will help you gain an understanding of the cult-like German company and help you make an informed choice on whether you should give HiPP formula to your baby.
So, you've heard about HiPP baby formula. You know you want a safe and organic formula for your baby, but does HiPP live up to your standards?
Is it worth spending the extra dollar on a foreign brand formula? Where do you even buy it?
My preemie son was 4 pounds when he was born. He wasn't breathing when he came out and stayed in the NICU for almost two months. He had trouble gaining weight (he failed to be on the growth chart even at 6 months old). And even worse, had developmental delays.
I was determined to give my son the best nutrition out there.
Although I had achieved an abundance of milk supply, we still opted to supplement with formula.
Why I decided to give HiPP baby formula a try
I had known HiPP baby formula from my mommy friends and relatives. All of them raved about how amazing this brand is.
To be honest, I was pretty skeptical.
Formula is formula, right? I mean, the only difference is that some are made from organic ingredients and some aren't, right?
After days of researching online for "the best organic baby formula", I was blown away by the different types out there and how a good quality formula really makes the difference.
From all the research I've done, HiPP repeatedly came up to be the most liked by parents.
So, I decided to give it a try.
I have since given HiPP to my son and now, to my baby girl.
This article will provide you with everything you need to know about HiPP baby formula including:
Pros and cons
Ingredients list
Differences between HiPP and American baby formula
Different stages and versions of HiPP
Legitimate places to buy HiPP
Ready to know why parents are raving about HiPP baby formula?
Find out below.
This post may contain affiliate links, which means I'll receive a commission if you purchase through my link, at no extra cost to you. Please read full disclosure here.
How important is a high-quality baby formula to you?
The first question you need to ask yourself before considering HiPP is how serious you are about the quality of baby formula. While some parents are content with conventional (not organic) baby formula, some are particular about the cleanliness, the ingredients, or whether it's organic or not.
If you are ok with conventional baby formula, I would recommend you opt for something easily accessible in the U.S. such as Similac or Enfamil. These are popular American baby formulas and are usually given in the hospital.
Yes, both of my babies were fed Similac and Enfamil during their stay in the NICU.
These popular American formulas are easily accessible – Target, Walmart, Costco, Amazon, convenience stores, etc. You never had to worry about short supply because you can always pick them up at a store near you.
What sets HiPP baby formula apart from other baby formulas?
HiPP is a baby food brand headquartered in Germany. For over 100 years, HiPP has been known for its ecological agriculture and sustainable values. The baby food company has won many awards including the "World Sustainability Award " Energy Globe Award in 2002 and the German Environmental Reporting Award in 2003/2004.
The company has been researching breastmilk for over 50 years so all of its formulas closely resemble the nutrition and taste of breastmilk.
HiPP analyzes its ingredients for over 1,000 different substances. Only the products that pass the comprehensive inspection system earn the HiPP Organic Seal of Quality.
The special formulas that HiPP has developed can help ease some of the most common baby feeding and digestive issues, such as:
Spit up
Acid reflux
Colic
Constipation
Gassiness
Allergies
All of HiPP's organic infant formula is:
✅ 100% organic certified by the European Union
✅ Combiotic (contains prebiotics and probiotics)
✅ Biodynamic (Cows are fed of herbs and grass naturally fertilized by the maneuver)
✅ Modeled after breastmilk
✅ Packed in a Protected Atmosphere
All of HiPP baby formula is free from:
✖️ Genetically Modified Organisms (GMO)
✖️ Pesticides, herbicides, antibiotics, and hormones
✖️ Wheat, egg, and soy
For me personally, the better taste is the obvious reason. HiPP formula tastes just like my breastmilk, but creamier. It doesn't taste "synthetic" like some other baby formulas.
I also like that there are different stages to choose from. For example, Stage Pre is for 0 – 3 months, Stage 1 is for 3-6 months, and so forth. Unlike American baby formula that serves 0-1 year. We'll go into depth about the different stages later in the post.
HiPP baby formula review for 2022
Strict regulation in European baby formula
While baby formula is regulated by the US Food and Drug Administration, the guidance is very basic. As long as the formula contains a minimum amount, and does not exceed the maximum amount, of nutrients the product is considered safe (1).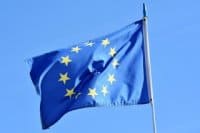 In contrast, the European Union is very strict on what are the ingredients in their baby formula.
The EU regulation on baby formula include:
a proper bioavailable mix of nutrients
sources of nutrient
specific amino acidic composition to mimic the maternal milk and ensure proper protein intake
no detectable levels of pesticide residues, veterinary drugs, mycotoxins, heavy metals, etc.
HiPP organic baby formula is strictly controlled and verified by independent supervisory institutions. The German company controls all its products on several physical and chemical parameters that are more stringent than is required by legislation.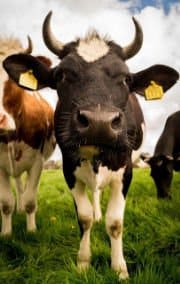 HiPP uses only milk from farms that operate strictly according to the guidelines of EU organic farming.
The cows are kept humanely and grazed on natural meadows, which are farmed without chemical fertilizers and without synthetic chemical pesticides. The natural feeding of livestock with grass, hay, or grain guarantees the absolute best organic quality, resulting in nutrient-rich milk that is not overly processed.
Cleaner ingredients that mimic breastmilk
Due to the tight regulation set forth by the EU, many ingredients found in American baby formula are banned in Europe. The ingredients that still find their way into American formula include:
Sucrose or corn syrup – These sugars are so-called empty carbs and are completely devoid of nutritional value.
Carrageenan – Used as a thickener in baby formula, these seaweed extracts have been linked to gastrointestinal diseases (2).
Synthetic Preservatives and Nutrients – Lutein, Lycopene, Beta carotene, and L-methionine are some of the synthetic nutrients found in American formula.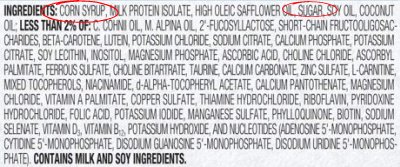 Hipp baby formula does not have any of these ingredients that the scientific community recognizes as having any negative effect on the health of newborns and toddlers.
Hipp formulates their products with vitamins and minerals and the only added nutrients that are present in these products are those that have been deemed safe by the EU.
The HiPP baby formula difference
Sweeteners
HiPP sweetens its formula with lactose. Lactose is more expensive than sucrose or corn syrup, but it is one that most closely mimics human breast milk. This is why it moves quickly through the digestive system and is very well-tolerated by infants.
Protein
The main protein in HiPP formulas is whey powder. Although there are proteins in skim milk, whey protein is truly a powerhouse when it comes to nutritional benefits. Since whey contains all nine essential amino acids, it is considered a complete protein. Also, it's important to point out that human breast milk is 60 percent whey, which means that formulas that contain whey better simulate breast milk than those that don't.
Starches
HiPP formulas contain organic starch, a complex carbohydrate necessary for growth. It takes time for your baby's body to break down complex carbs, and starches provide vital energy throughout the digestion process. Not only do starches help your baby feel fuller for longer, but they also lend a thickness and smooth consistency to formula.
Eco-friendly & smart packaging
When I received my first box of HiPP, I was pleasantly surprised that it does not come in a tin can. As a somewhat eco-friendly parent, tin can is not good for the environment. Instead, HiPP (the German version) comes in a cleverly designed paper box that is 100% recyclable.
I love that the boxes feature a leveler and a scoop holder, making the process of preparing my baby's bottle much easier. No more digging fingers in the formula to search for the scoop!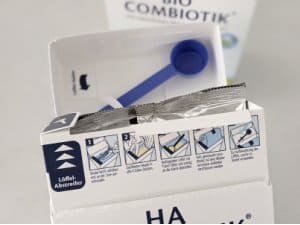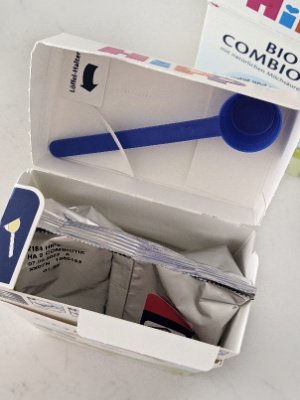 Get $5 OFF with coupon code SOCALMOMMY!
Disadvantages of HiPP organic formula
American pediatrician acceptance
HiPP, amongst other European baby formulas, is not registered with the FDA. Some American pediatricians discourage parents from using formulas that aren't regulated by the FDA as there is no system in place to notify consumers in the United States if any of these formulas are recalled.
Also, the instructions are in German so parents run the risk of making incorrect water to formula ratio. The HiPP UK version, however, is in English. I'll explain the different versions of HiPP baby formula later in this article.
Palm oil
Palm oil is a plant-based vegetable oil that is added to the formula to meet the energy needs of the growing baby. However, research has shown that calcium and fat absorption is lower in babies given formula with palm oil. The good thing is that palm oil is not the only source of plant-based fat in the formula; HiPP also contains Rapeseed oil and Sunflower oil.
If you are concerned about palm oil in your baby's formula, then HiPP is not for you.
Sourcing
Since HiPP is not registered with the FDA, it does not have official distribution channels in the United States. Unless you or someone else can bring these directly over from Europe, you can only purchase them online via a third-party vendor.
This runs the risk that the vendor may not store the powdered formula properly, raising the possibility of bacterial contamination, product deterioration, loss in nutrient density, or worse, selling counterfeit products (3).
The online vendor should be carefully vetted to ensure that you are purchasing the "real" and highest-quality HiPP baby formula.
HiPP formula ingredients
Here are the English-translated HiPP infant milk formulas. Translations for HiPP hypoallergenic and other stages can be found here.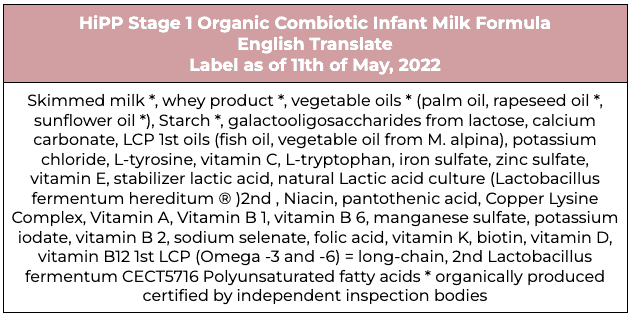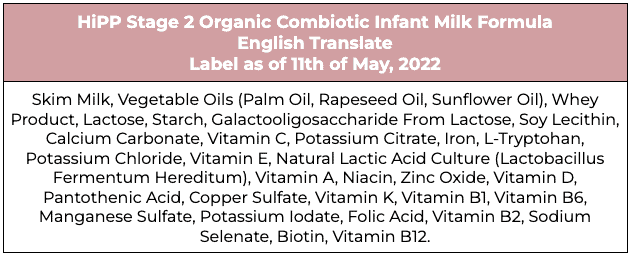 Does HiPP baby formula have probiotics?
Parents are curious about the HiPP labeling of "Combiotic" formula milk. This term was actually created by HiPP laboratories and is a phrase that defines the synergy between the prebiotics and the probiotics of the formula.
Certain HiPP formulas contain the L. Fermentum probiotic (Lactobacillus) that is found in mother's milk.
In order to survive, probiotic organisms feed off of prebiotics, a special form of dietary fiber. The prebiotics used by HiPP is galacto-oligosaccharides (GOS) that are obtained from lactose and are a natural component of breast milk oligosaccharides.
The presence of prebiotics serves to cultivate and keep alive the probiotic strands, allowing them to proliferate and establish themselves in the gut. This creates a synergistic value to the prebiotic and probiotic relationship which HiPP has termed Combiotic.
The different stages of HiPP formula

Most American baby formulas are marketed from 0 to 12 months. Instead of having this one size fits all nutrition, HiPP baby formula has different stages. A nutritional needs of a newborn are different than the needs of a 6 months old who is starting solids. This tailored approach ensures that your baby gets the adequate nutrition needed for optimal growth at every stage.
The most common difference between stages is an increase in iron.
There are also more filling ingredients such as starch to help wean off of formula and introduce more solid foods.
Stages marked as "PRE" should not be confused with Premie or Preterm Birth. These formulas generally do not contain starch compared to later stages. Stage PRE is basically Stage 1 formula designed for sensitive tummies (suitable for newborns).
Here is a comparison of the different stages. Source from Organic Formula Shop
The different versions of HiPP formula

As you can see from the above comparison chart, HiPP has many versions. This is because HiPP is manufactured for many countries in Europe, in other languages, and with other ingredients.
Each country's health administration regulates the specific ingredients contained in the formula.
I personally use the German version because it is the original version developed by the German company. However, a lot of American parents are getting the UK version because the labels are in English (no translations needed!) and no starch is added for a creamier consistency.
Does HiPP have hypoallergenic formulas?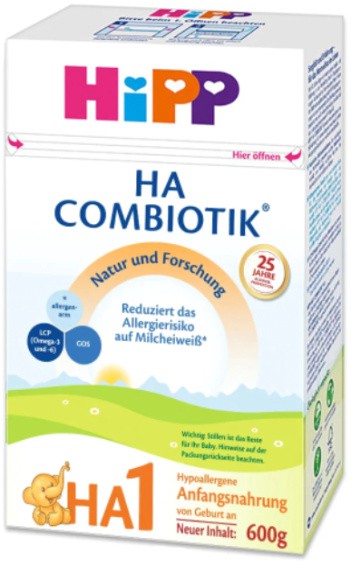 HiPP has a hypoallergenic (HA) combiotic formula tailored to the particular nutritional requirements of infants at risk of allergies.
It contains hydrolyzed protein (milk protein is broken down into smaller fragments) which can be easily digested by the baby's tummy.
This hypoallergenic formula comes in 3 stages. Stage Pre, Stage 1, and Stage 2.
I have been giving the hypoallergenic version to Baby Madi. At 3 months old, she developed severe eczema all over her body. She was prescribed steroids and antibiotics but the moment we stopped the medication, her eczema would come back.
I decided to switch over to the hypoallergenic version and within 1 month, I've noticed a difference in Baby Madi's skin. Her colic has also subsided after switching over to this version.
May 2023 update: Toddler Madi no longer needs formula but her eczema flare-ups sent us a visit to her allergist. The doctor emphasized the significance of probiotics in eczema treatment. She recommends we give Madi foods that are rich in probiotics (such as yogurt and kefir). This was an ah-ha moment for me because the HiPP HA formula contains prebiotics & probiotics. No wonder we noticed a difference in her skin when we switched over to this formula!
Here are what other parents are saying about HiPP HA formula:
Why is HiPP not sold in the United States?
HiPP baby formula, amongst other European baby formulas, is not registered with the FDA and does not have official distribution channels in the United States. Therefore, extra caution should be taken when looking for a supplier.
Where To Buy Hipp Baby Formula
I have been getting HiPP baby formula from Organic Formula Shop for over 3 years now and I'm more than happy with all of my purchases.
Organic Formula Shop was founded by health-conscious parents like you and me. Their climate-controlled warehouse is based close to the European manufacturers. This means that all of their formulas are shipped straight from the Netherlands.
I really like their customer service and how easy it is to navigate through their website. They have a support page where you can find topics from instructions, track their inventory levels, common Q&A, issues with orders, and more. They always respond to your questions via email, phone, or chat immediately.
Another perk is that they offer FREE expedited shipping. You'd think that it'll take weeks to get your orders from Europe?
Nope. I always got mine within 3 days and I'm in California!
How much does HiPP baby formula cost



* when you buy 4 boxes

** when diluted per manufacture instructions

Prices from Organic Formula Shop as of May 2022
Prices for other HiPP versions can be found here.
To give you an idea, Enfamil Simply Organic is about $0.16 per fluid ounce, and Earth's Best Organic Gentle is about $0.18 per fluid ounce when diluted per manufacture instructions.
Ways to save on HiPP baby formula
Who doesn't love savings?
The more you buy, the more you save! You can save up to 17% off if you buy bulk at Organic Formula Shop.
Also, don't forget to use my coupon code (SOCALMOMMY) to save an additional $5 off!
Final thoughts on HiPP baby formula
Babies need healthy food that tastes good and has no adverse ingredients. HiPP Organic milk is strictly controlled and formulated with the highest standards. Both of my babies are happier and less colicky thanks to HiPP. Personally, I feel good knowing that my kids are getting the best formula out there.
Start your first box today and get ready for a healthier, happier baby!
HiPP baby formula related articles
HiPP baby formula review (2023)