Top 17 Useful Gifts for New Moms That Aren't For the Baby
If you're looking for the best useful gifts for new moms, you're in luck! Here's a list of some of the most thoughtful gifts that she'll actually use. From cozy slippers to cult-favorite body creams, these gifts are sure to make her day special.
I was a new mom twice. Although receiving cute onesies is nice, I especially appreciate gifts that I actually use.
Here is a perfect gift guide for new and expecting moms (that aren't for the baby). These are the things that will make a mom, especially someone with an infant, feel more pampered, beautiful, and stress-free!
This post may contain affiliate links, which means I'll receive a commission if you purchase through my link, at no extra cost to you. Please read full disclosure here.
This Post Shows You The Best Useful Gifts For New Moms That She'll Love.
"New Mom", By Definition
Now, for the sake of this article, new mom doesn't mean a first-time mom. It simply refers to a mom who recently gave birth to a baby. A veteran mom can be a new mom if her newborn is her 5th child.
New moms deserve their own category when it comes to gifting because, during these sensitive and magical times, their needs and wants are very different than that of a mom with older children.
What Are Useful Gifts For New Moms?
When I was a new mom, I had trouble falling asleep even though I rarely got any. But when it's time to take a nap, I always find it hard to doze off. Then, I ended up only getting a few minutes of closed eyes.
I wish there was something that can help me fall asleep better…
When I was a new mom, I didn't feel beautiful at all. Every inch of my skin sags, I've got dark circles from the lack of sleep, and my hair falls off like never before.
I wish there was something that can make me feel beautiful again…
The best gifts for new moms are something that'll make her feel more pampered, beautiful, and stress-free!
Gifts To Make The New Mom Feel More Beautiful
Mama Mio Trimester 4 Body Care
For both of my pregnancies, I have used Mama Mio skincare from the moment I found out I was pregnant to months after postpartum. Mama Mio has 17 years of pregnancy skincare experience and creates effective, unique, and nourishing formulas to protect and support the mother's skin throughout the pregnancy journey and beyond.
Thanks to Future Proof Body Butter, Mega Mama Body Lotion, and TMegamama Shower Milk, I do not have one single stretch mark on my body!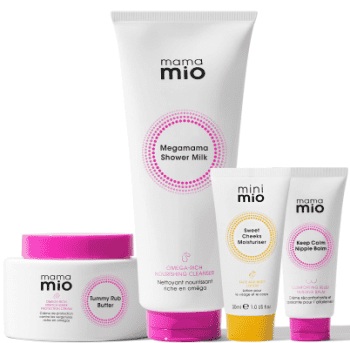 Dyson Airwrap™ Multi-Styler
I recently got my hands on the Dyson Airwrap™ Multi-Styler, and let me tell you, it's a game-changer for new moms who want to feel fabulous with minimal effort!
The genius behind this tool is its ability to curl, shape, and smooth hair without any extreme heat, making it a lifesaver for quick styling sessions, especially when juggling a newborn. Plus, the Coanda airflow technology allows you to style your hair from wet to dry in a breeze, leaving you with more time to focus on your precious bundle of joy. It's a must-have for any new mom who wants to look and feel her best effortlessly!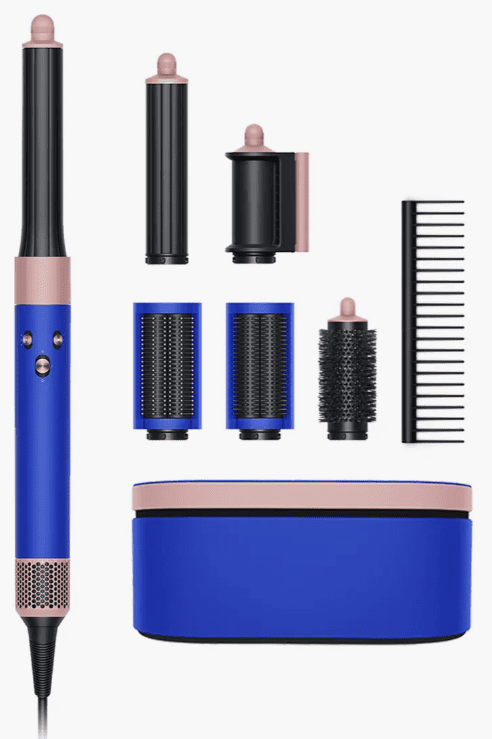 Vital Proteins Collagen Peptides Powder
Postpartum hair loss is normal is very common. Due to hormonal changes during and after pregnancy, hair can fall out in clumps into the weeks of postpartum. I was startled one day when I was in the shower when I felt something (like a tarantula) crawling down my body when I was rinsing my hair! Glancing at the floor, it was a huge blob of fallen hair!
I started using all sorts of biotin shampoo and scalp elixirs that claim to prevent hair loss but nothing seemed to work. What eventually worked for me was Vital Proteins collagen peptides. Collagen peptides are derived from animals such as cows and fish. Since collagen makes up 30% of the body's protein. adding a collagen supplement to our diet promotes hair growth, nail strength, and skin elasticity.
Preventing hair loss and promoting hair growth from within is more effective than applying anything topically.
What I love about Vital Proteins collagen peptides is that it is made with clean and highly absorbable ingredients. Not to mention it has over 199k ratings and 4.5-star reviews on Amazon!
Oribe Gold Lust Nourishing Hair Gift Set
One of my favorite gifts I've received as a new mom was this Oribe Gold Lust hair care set. My hair felt very brittle and started to fall off during postpartum. This luxurious oil helps to seal in moisture and gives my hair that extra boost of nutrients. Plus, it smells amazing and the packaging is so beautiful! I especially love the Goldlust Nourishing Hair Oil. Just a dab of it really adds sleekness and shine.
Gifts To Make The New Mom Feel Less Stressed
Neck and Back Massager with Heat
This neck and back massager came to the rescue after restless days taking care of my infant. Since I don't have time to go get a massage, I used this every night to get rid of my muscle knots in the neck and lower back areas.
I can adjust the speed level (it has 3 levels) depending on how badly my body aches that day.
I've had this massager for years and it is still working as if it's new. What's best is that it comes with a carry-on duffel bag and a car adapter so I can get some serious massages on the go!
Natural Mulberry Silk Pillowcase
Silk pillowcases are a must for any new mom in need of a little extra TLC. The smooth and soft surface not only pampers those postpartum curls but also treats the face with a gentle touch.
Made from natural mulberry silk, these beautiful pillowcases are smooth and shiny, yet extremely durable. Many reviewers have reported better sleep and less frizz with these pillowcases! Gifting a Natural Mulberry Silk Pillowcase is like giving the gift of relaxation and self-care – something every new mom deserves.
Life Around 2 Angels Bath Bombs Gift Set
These cute little bath bombs will make the new mom feel like she's in heaven! Taking care of a newborn is no joke and one of the best things to relieve all that stress is to indulge in a nice warm bath.
What I love about this gift set is that they are all unique. Each has different fragrances, colors, dried flower petals, and glitters. What's more, is that all the bath bombs are made with premium and natural ingredients in the USA.
I started to realize that I have a bath bomb addiction after giving this gift set a try!
Luxury Candle Gift Set
Aromatherapy is often used as a natural remedy to relieve stress and anxiety. Lighting up some fragranced candles is an easy way to take away some stress from the new mom.
I'm in total euphoria when I light up these candles from HAUS AND SAGE while soaking in my warm bath at night.
I especially love the white and gold candleholder, which is a patented design with a golden interior that glows when the candle is lit!
Although I love these Wonderland scents the most, check out here for their wide selection of scents.
Roborock Q7 Max+ Robot Vacuum Cleaner
If you know a new mom who could use a break from cleaning, the Roborock Robot Vacuum Cleaner is the perfect gift.
With its hands-free cleaning that lasts up to 7 weeks, this smart vacuum takes the hassle out of maintaining a tidy home. The app-controlled mopping feature and the ability to create precise maps of my home ensure efficient and customized cleaning, while the expanded dustbin and water tank mean less frequent stops for emptying or refilling.
The Q7 Max+ is truly the perfect gift for any new mom, offering both convenience and smart cleaning functions in one sleek package.
Gifts To Make The New Mom Feel Pampered
Super Soft Fleece Blanket
What's better to pamper a new mom than to snuggle her with a super soft fleece blank? What's unique about these blankets is that they come in a variety of colors and sizes (from smaller throw size to king bed size!).
With this luxurious blanket, the new mom can snuggle with her newborn while breastfeeding or tuck herself into the bed for a short nap.
This very reasonably priced and high-quality blanket is a must-have for new moms!
Cozy Slippers with Memory Foam
New moms' feet deserve some pampering as well. Especially for new moms that have hardwood floors in the house, running around taking care of the newborn can take a toll on her feet.
Bring some TLC to her feet with these cute and comfortable slippers! These Memory Foam slippers have super soft faux fur lining that keeps her feet cozy and comfortable. Also, the memory foam insole molds to the contours of the feet and hugs the arches, creating instant relief for tired feet.
Burt's Bees Gift Set
The Burt's Bees Essentials Gift Set comes with a variety of Earth-friendly, natural skin care products that new moms will love. It includes a Cuticle Cream, Hand Salve, Lip Balm, Res-Q Ointment, Hand Repair Cream, and foot Cream, all of which are made with botanical ingredients and nourish the skin.
The giftable tin is designed to be gift-ready so you can skip the wrapping!
More Thoughtful Gifts For The New Mom
Best Mom Ever Pink Marble Ceramic Coffee Mug
This "best mom ever" mug is not only stylish and practical, but it also comes with a lid and spoon, making it the perfect gift set. The design is super cute and the "Best Mom Ever" quote is sure to make any new mom smile.
Fashionable and Comfortable Nursing Dress
When I was a new mom, I got a lot of family and friends visitors. I don't want to walk around with my nipples showing (especially when there are male guests), nor do I have the time to change into something decent.
A cute-looking dress that I can wear around the house and go to sleep with was my everyday go-to outfit. I've bought 3 of these fashionable nursing dresses (with 3 different designs) to be worn throughout the week. The best part is that these nursing dresses are very soft and stretchy, and offer sizes up to XX-L.
Catch 3: Essentials Wireless Charging Tray
I was constantly on my phone either capturing precious moments with my newborn or reading articles online. I found myself having to charge my phone constantly.
Enter this elegant catch-all tray, the perfect solution for new moms. It catches every small essential the new mom needs. Not only is it stylish, but it also efficiently gathers every small essential a new mom needs. The best part? It doubles as a charging station.
I had this stylish tray beside my breastfeeding station and I'm still using it to this day!
Personalized Name Necklace with Birthstone
This beautiful personalized necklace will make a sweet and memorable gift for a new mom. She will feel that her baby is close to her heart (literally) with his name and birthstone around her neck.
I already have a personalized necklace for Baby W and I can't wait to get another personalized pendant for Baby #2 so I can wear them together!
The Book You Wish Your Parents Had Read (and Your Children Will Be Glad That You Did)
"The Book You Wish Your Parents Had Read (and Your Children Will Be Glad That You Did)" is the ultimate game-changer for new moms navigating the exhilarating rollercoaster of parenthood. This book is a heartfelt exploration into the world of parenting, offering insights so relatable they feel like a warm hug in book form.
From effective communication to nurturing emotional intelligence, the author's practical advice serves as a beacon of wisdom through the sometimes tumultuous journey of raising little ones. As a new mom myself, I found its pages filled with nods of agreement and moments of self-reflection.
It's not just a book; it's a reassuring companion, reminding us that parenthood is an ongoing learning adventure, and this gem is the perfect gift to accompany any new mom on that incredible journey.
Stroller Gloves
Any new mother will tell you that one of the hardest parts of early motherhood is leaving the house with a baby in the middle of winter. Not only do you have to bundle up your little one, but you also have to contend with the cold yourself.
These stroller gloves are the perfect solution. They attach to the stroller handlebars and provide a warm, fleecy TLC for the hands. They're also Universal-fit, so you don't have to worry about finding the right size, and they're machine-washable for easy care. In other words, they're just what any new mom needs to make winter outings a little bit easier.
The Last Thing You Need to Know About Useful Gifts For New Moms
New moms are mighty but sensitive individuals so treat her with extra TLC. Regardless of what gift you buy her, be sure to include a personalized card to show her how much you appreciate her!
Which gift have you picked for that special new mom? Let me know by leaving a comment below.
Do you love this gift guide? Be sure to click like and share!
This post showed you the best useful gifts for new moms
Useful Gifts For New Moms Related Articles