I literally froze when the nurse told me that I'm bringing my preemie home from the NICU. I've waited for an eternity for this day to come and it's finally here!
Baby W had a dramatic entry to the world and ended up staying in the NICU for 44 days. Just about a week into his stay, I was already getting ready for him to come home because I was desperate to bring him home.
As organized and somewhat obsessive-compulsive as I am, I just want to be sure I have everything prepared for that special day. As a twice NICU mom, I've listed the most important things to consider when bringing a preemie home from the NICU.
This post may contain affiliate links, which means I'll receive a commission if you purchase through my link, at no extra cost to you. Please read full disclosure here.
Get organized with your preemie's documents
When Baby W was in the NICU, I inherited piles of documents including the NICU welcome handbook, MRI scans, consent forms, caring instructions, feeding guides… and the list goes on.
I knew that there will be a lot more documents to come so I filed all of Baby W's related documents in an accordion file organizer. As we begin to see different specialists outside of the NICU, I started filing all the records we had compiled. I love it that all of Baby W's documents are in one place and I know exactly where to find them.
Put all doctor's appointments on your calendar
NICU baby needs extra TLC to ensure that he stays healthy after getting home. This is especially important when it comes to keeping up with all the necessary doctor's appointments.
If you all need to see the pediatrician, you're in the lucky bunch! However, If your baby needs to be followed by different specialists, make sure that you start scheduling them now and put all the appointment reminders on your calendar so you won't forget!
Prior to Baby W's discharge, we were told he needed to be followed by the pediatrician, hematologist, orthopedic, neurologist, pulmonologist, and the high-risk infant clinic. There are specific timeframes he needs to see each doctor (for example, seeing the pediatrician within 5 days after discharge) so I started making appointments with the doctor's offices while Baby W was still in the NICU
RELATED POST: 13 Tips to pump more milk for the NICU baby no one tells you about
Apply for the early intervention program
Early intervention programs are designed for children younger than 3 years old and at risk for developmental delays. The state-funded program consists of therapists, specialists, service coordinators, and clinicians to provide assessment and services for children at risk for delays.
Since the infant's brain is still developing, teaching babies key skills early on can help with catching up on their development faster.
Ask your NICU nurse if your baby may be eligible for the state-funded early intervention program so your baby can start receiving services. Each state has its own program for early intervention. In California, the program is funded by the Department of Developmental Services and it's called Early Start.
Prior to Baby W's discharge, his nurse recommended we apply for the Early Start program. Since it can take a couple of months before our little boy starts receiving services, I applied to the program right away.
Baby W has physical therapy, occupational therapy, and child development sessions every week. All the therapists came to our home so it was very convenient for us. His initial assessment placed him 3 months developmentally delayed. After 6 months of therapy, he's now all caught up!
I honestly feel that if it weren't for the early intervention therapies, he wouldn't be doing so well so fast.
Create medical history form
A medical history form is like a resume for your baby's health status. Within a page, it includes parents' contact information, pediatrician and/or specialist's contact information, medical history, insurance information, and current medication.
I place Baby W's medical history form in the diaper bag so we have it at all times when we're with him. The medical history form can be useful in case of emergencies and visit new doctors.
There are many free child medical history forms you can find online.
Install car seat before bringing a preemie home
The most important thing can be easily overlooked when getting your baby to be discharged. For new parents like us, we had to learn how to install the car seat. So, before bringing a preemie home make sure you properly install that car seat and learn how to use it.
Depending on where you live, your NICU may require a "car seat test" to see how your baby behaves in the car seat. For Baby W, he needs to remain in the car seat with no panic attacks for at least 60 minutes. He will need to repeat the test the next day if his alarm starts beeping. Luckily, he passed the test in a breeze.
Keep up with milk supply
Breast milk is the optimal nutrition for a baby, especially for a hospitalized one. I understand how difficult it is to pump or breastfeed while dealing with the physical and mental stress the NICU can bring. However, to help your baby grow and develop, keep up with your pumping schedule even after you bring your baby home.
If you are struggling to get your milk supply up, check out how to pump more milk for the NICU baby to get some amazing tips. I was able to create a mini freezer stash by applying all the tips I mentioned in this post.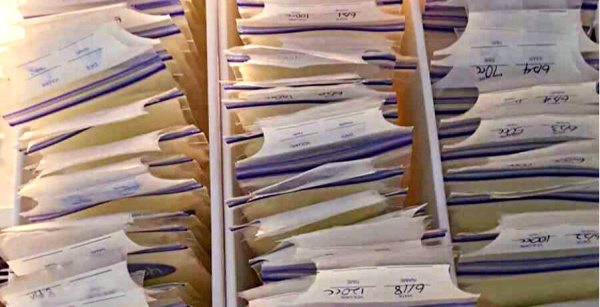 Start to look into child care
Looking into childcare was definitely not on my priority list after we bring Baby W home.
Since I took 4 months off from work, I still got more than 2 months to get the childcare situation figured out prior to returning to work. I guess I'll just start looking for daycare a week before I head back to work.
Guess what, all daycare centers I called had an average of 6 months waitlist!
So, to ensure a smooth transition from your maternity leave back to work, decide on early child care.
Setup a cozy nursery before bringing a preemie home
You may be in the middle of setting up the nursery or even haven't started decorating when your baby arrived in this world.
While you take a break from the NICU, be sure to set up a cozy nursery for when you bring your preemie home. Make sure you have everything you need to care for your preemie close at hand, including soft bedding for their delicate skin and a nursing chair for kangaroo care. With a little preparation, you can create a safe and nurturing space for your preemie to thrive.
RELATED POST: 17 newborn baby room decorating ideas you need to steal now
Get ready for the first night home from the NICU
Despite going home on oxygen, Baby W was rather healthy when he got discharged. However, he was still a preemie and underweight.
In the NICU, he was monitored for his vitals. The alarm beeps at the slightest increase in blood pressure from crying (a nice way to know it's time for a diaper change).
At home, there was no alarm to tell us if he was getting enough oxygen or if there is an issue with his blood pressure. Home care for a preemie, especially a low birth weight baby, can somewhat be frightening for parents. You should receive discharge instructions on how to care for your baby at home and things to caution on.
To name a few:
I've kept my home warmer than usual (72 degrees Celsius)
Buy preemie size diapers (I love Pampers Swaddlers and it's the same brand our hospital uses)
Feed every 2 hours with my fortified breast milk (I added Poly-Vi-Sol With Iron supplement to every bottle
Last but not least, treat my preemie like a normal, healthy kid as he is now.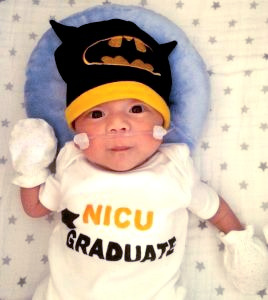 Without a doubt, you and your baby have been through so much in the NICU. Bringing them home is just the beginning of awesome motherhood.
Leave a comment and let me know what you've done to get that bundle of joy to come home.
This post was all about bringing a preemie home from the NICU.
Bringing a preemie home related posts