21 Best Non-Toy Gifts For 1 Year Old That They Will Love
It's no secret that kids love toys. But let's face it, parents can only take so many trips to the toy store before they start to lose their minds.
If you're shopping for a birthday or Christmas gift, chances are that special child already has too many toys and it's time to stand out by giving them something different.
One-year-olds are notoriously hard to shop for. They're at that age where they're transitioning out of babyish things but aren't quite ready for "big kid" items.
As a mom of two, I'm always on the lookout for the best gifts to give my little ones. But sometimes, it can be tough to find something that's not a toy but is still practical and useful.
So what do you buy the 1 year old who already has everything?
This exhaustive list of the best and most practical non-toy gifts for 1 year old is sure to help! From clothes to books to personalized items, there's something for every kiddo on this list.
This post may contain affiliate links, which means I'll receive a commission if you purchase through my link, at no extra cost to you. Please read full disclosure here.
This post is all about the best non-toy gifts for 1 year old.
TOP NON-TOY GIFTS FOR 1 YEAR OLD
"Bought this for my friend's one-year old's birthday. He is obsessed!!! It's his favorite thing. He is learning to keep his balance on it, moving his legs, and figuring it out. The quality is perfection."
"These books are fantastic for older babies & toddlers. Makes a great Baby Shower or Birthday Gift. They are sturdy, durable & very colorful."
"Been using this and we loved it. My kids have sensitive skin and we started using this and we just love it! Must buy if you want your kids' skin to be soft and healthy 🥰"
"The wagon was the best purchase I made. It was for my grandson's first birthday. The wagon is easy to get in the car you just fold it up and easy to store."
"Toddler pajama is fantastic. Good quality fabrication and great color saturation. A well quality made item"
"Gifts for all my grandchildren, they love it and use it daily!"
"This is the ONLY cup we've used with our daughter when we're on the go. It's stainless steel which is super nice and has a straw that you can take off to clean. "
"This is hands down the best money I've spent on something to keep my kid entertained. He got it for his first birthday and it was love at first site. At first, just played with the ball drop but now at 21 months, he loves to climb and slide. "
Best non-toy gifts for 1 year old
This unique bike is designed to help toddlers develop the motor skills needed to walk and eventually ride. The Cricket is perfect for kids ages 12-24 months, and its design ensures that your child's feet are always touching the ground. This way, they can stay in control of their speed, stopping, and movement. This unique gift will help your little one progress from taking their first steps to becoming a confident rider.
One of the best non-toy gifts for 1 year old is a custom wooden name stool. Not only is it practical, but it's also fun! These custom kid's stepping stools are each handcrafted and carefully sanded and smoothed down, making them totally kid-proof. A non-toxic finish is applied to protect the wood from stains and spills. Plus, the custom wooden name stool will help a 1 year old get to work learning how to spell and pronounce their own name!
These set for 4 board books are not only educational, but they're also incredibly fun for your little one to read. The ABC Book, Colors Book, Numbers Book, and Opposites Book each teach essential reading and counting skills. And, at only 4 x 4 inches, these small board books are easy for your toddler to carry around and hold. Plus, their durable construction means they'll withstand plenty of wear and tear.
One-year-olds are toddling all over the place, so they need a good pair of shoes to protect their little feet. Look for a pair of comfortable sneakers with a breathable mesh upper. The big openings make it easy for parents to put them on, and the mesh fabric will keep little feet cool and ventilated.
If you're looking for a gift for a 1-year-old that's not a toy, the Learning Tower is a great option. It brings children safely to counter height to encourage exploration, independence, and interaction with parents. Its compact profile includes a folding step that makes it a perfect fit under kitchen counters and islands, while its adjustable design grows with the little one helping them reach counter height. The solid wood tower is made of high-quality materials and is sturdy and durable, making it a gift that will last for years to come.
Both of my kids grew up in Burt Bee's pajamas. Not only are these made with 100% organic cotton, but the prints are also just too adorable that you'll want to snuggle with your 1-year-old all the time! In fact, these jammies have hand-painted watercolor prints and yarn dye stripe designs. These footed pajamas are designed with safety in mind (nickel-free snaps, Non-slip 'bee grip' footies, zipper guard & snap-tab at the neck).
This 3-in-1 Foldable wagon is the perfect gift for any 1 year old! It features hauling, 2 rider seating, and bench seating, all in one convenient package. We have had this wagon since Baby # 1 was a year old and have since taken it everywhere we go, from the park to the aquarium, to Disneyland. The zippers on the side of the wagon make it easy to transform from hauling to bench seating, and the easy one-hand fold makes it portable and easy to store. This wagon is sure to be a hit with any 1 year old, and it makes a great addition to any family!
One of the best things you can give a 1 year old is something that will help them learn and grow. This wooden piggy bank letter is a nice gift for boys and girls this age. Not only is it durable and practical, but it's also educational. It helps teach them the concept of saving money, and it's also a great decorative piece for their room. Plus, it's sure to be a hit with their friends and family.
If you're looking for a non-toy gift that will keep your 1 year old entertained for hours, look no further than the Play Ball Fun Climber With Slide. Toddlers will love climbing the stairs and zipping down the slide, and the ball drop is sure to keep them amused for hours on end. Our kids play with this climber and slide every day. You can add water or sand to the tray and make it an instant sensory bin. It's the perfect addition to any backyard or indoor play gym, and I'm sure your toddler will love it too!
The Munchkin Cool Cat Stainless Steel Straw cup is the perfect non-toy gift for any 1 year old. The cat ear design is sure to delight them, and the easy-to-open lid will make it a breeze for them to quench their thirst. The straw cup is also spill-proof and has easy-grip handles, making it the perfect cup for any toddler who is on the go. Plus, the stainless steel construction will keep drinks cool for up to 15 hours.
As that special 1 year old begins to explore the world around them, it's important to keep them safe. A helmet is an essential piece of safety gear for any child who is starting to ride wheels. And these toddler helmets are the best of the best. They're comfortable, well-ventilated, and they have really cute designs for boys and girls. Plus, they're adjustable so they can grow with your child. Any child who wears one of these helmets will be the coolest kid on the block!
The Delta Children Cozee Chair for Kids is the perfect non-toy gift for your 1 year old! They will love having their very own comfortable chair to sit in. This chair is also great for cuddling up with a loved one. The best part about this gift is that it can be personalized with that special child's name embroidered on it. This will make the tot feel like they have their very own sofa set, and they will be sure to love it.
As any parent knows, bath time can be a daily challenge. But with the ultra soft bamboo hooded baby towel, baths will be a breeze! Made of 100% bamboo, these towels are absorbent, plush, and oh so soft. Not only are they incredibly practical, but it's also unisex design makes it perfect for both boys and girls. Also, the cute ears make bath time fun for everyone! So ditch the boring, white towels and give your little one the gift of comfort with these bamboo hooded baby towels.
This set includes four essential skincare products to keep your baby clean and moisturized during and in-between bath time. The hypoallergenic, natural ingredients are gentle on delicate skin, and the set comes in a reusable drawstring bag for easy storage and transport. Whether you're looking for a gift for a baby's first Christmas or a birthday present, the Mustela Baby Bath Time Essentials Gift Set is sure to please.
The award-winning Baby High Chair is the perfect gift for a 1 year old. It's easy to use at home or while traveling, and the functional design includes a convenient storage pocket for wipes, toys, snacks and more. This hook-on chair is a total life changer! We bring it whenever we travel. My baby sits in it so well, we even use this chair at home!
The best non-toy gifts for 1 year olds are those that encourage imaginative play while also helping to develop fine motor skills and promote sensory development. Creativity For Kids sensory bins are a great option because they come with all of the fillers carefully selected and tested to provide the best at home play activities for toddlers. Plus, they're durable and easy to clean up after – perfect for busy parents!
CECORC Hooded Light Puffer Jacket is not your average one year old gift! This stylish and padded coat is perfect for keeping your little one warm, while the soft, breathable fabric and cushioned interior provide unbeatable comfort. Plus, the cute hood is sure to make this jacket a hit with any fashion-savvy tot.
The Little Unicorn 100% Cotton Muslin Quilt Blanket is the perfect gift for any little one in your life! Made from super soft cotton muslin, this quilt is sure to become baby's new favorite. The ample size also means that baby can "grow" into the blanket as they age. It is a delightful gift for a baby shower, birthday, or holiday. With so many enchanting designs and color choices, you'll find just the right one to fit a nursery's décor. The original artwork is created for boys and girls plus many are appropriate for both.
Kids can draw on the mat with the pens, and the marks magically disappear after a few minutes. The mat is also foldable, so it's perfect for travel. The best part is that it's mess free – no more markers or crayons all over the floor!
The Crayola My First Fingerpaint Kit comes with three easy-to-grip tubes of washable paint in bright colors. The finger paints are specially formulated to be safe for toddlers and are easily washable from skin and clothing. The included finger painting paper is also coated to prevent paint seepage. This painting set is perfect for encouraging self-expression and creativity in one-year-olds. It's also a great way to introduce them to the world of color and art.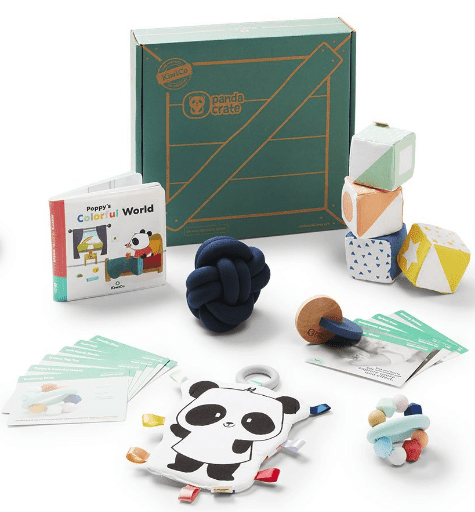 Every month, the little one will receive a box filled with high-quality, age-appropriate toys, books, and activities. The boxes are designed by child development experts to support your child's physical, cognitive, and social development. Your child will love opening their Kiwico box each month and discovering new treasures inside.
Last thing you need to know about the best non-toy gifts for 1 year old
There are so many great gift options for 1-year-olds that go beyond toys. The next time you're stuck on what to get the special little one in your life, consider one of these practical gifts that will make both parents and baby happy.
This post was all about the best non-toy gifts for 1 year old
Best non-toy gifts for 1 year old related posts
21 of the best non-toy gifts for 1 year old we found online